Stories from Australia's leading human rights advocates (SOLD OUT)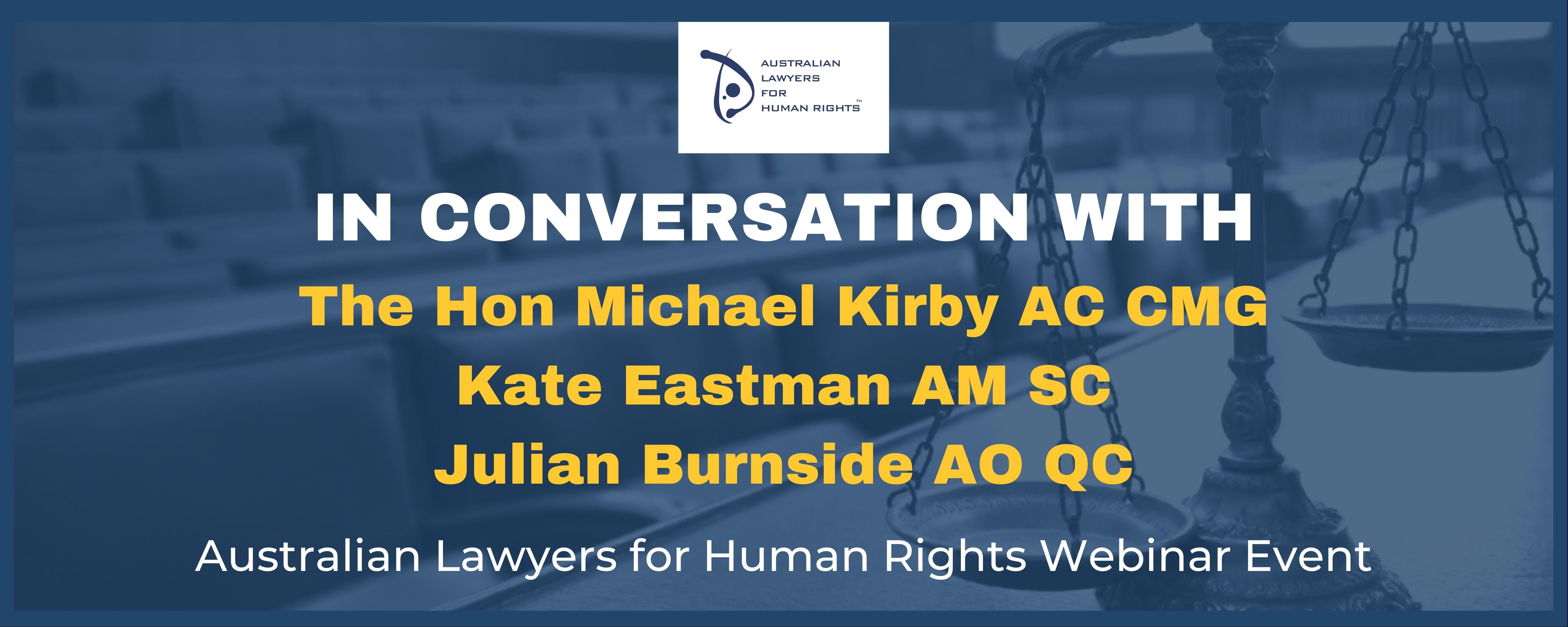 Please join us in conversation with three of Australia's leading human rights advocates:
The Hon Michael Kirby AC CMG, Kate Eastman AM SC
and
Julian Burnside AO QC
, as they share stories of their journey in the law and their experiences in advocating for human rights protections.
This Australian Lawyers for Human Rights webinar, moderated by international human rights barrister, Madeleine Bridgett, offers attendees a wonderful opportunity to be a part of an inspiring, educative and entertaining conversation with some of Australia's most eminent legal minds. It promises to be a fantastic evening for anyone interested in the practice, promotion and protection of human rights in Australia.
Location
A link will be sent to registrants 24 hours prior to the event
The Hon Michael Kirby AC CMG
Michael Kirby is an international jurist, educator and former judge. He served as a Deputy President of the Australian Conciliation and Arbitration Commission (1975-83); Chairman of the Australian Law Reform Commission (1975-84); Judge of the Federal Court of Australia (1983-4); President of the New South Wales Court of Appeal (1984-96); President of the Court of Appeal of Solomon Islands (1995-96) and Justice of the High Court of Australia (1996-2009).
He has undertaken many international activities for the United Nations, the Commonwealth Secretariat, the OECD and the Global Fund Against AIDS, Tuberculosis and Malaria. He has also worked in civil society, being elected President of the International Commission of Jurists (1995-8). His recent international activities have included member of the Eminent Persons Group on the Future of the Commonwealth of Nations (2010-11); Commissioner of the UNDP Global Commission on HIV and the Law (2011-12); Chairman of the UN Commission of Inquiry on DPRK (North Korea) (2013-14); and Member of the UN Secretary-General's High Level Panel on Access to Essential Healthcare (2015-16). He is also heavily engaged in international arbitrations; domestic mediations; and teaching law. He is Honorary Professor at 12 Australian and overseas universities.
In 1991 he was awarded the Australian Human Rights Medal. In 1998, he was named Laurette of the UNESCO Prize for Human Rights Education. In 2010 he was named co-winner of the Gruber Justice Prize. In 2011 he received the inaugural Australian Privacy Medal. The honorary degrees of Doctor of Letters, Doctor of Laws and Doctor of the University have been conferred on him by universities in Australia and overseas. He lives in Sydney with his partner since 1969, Johan van Vloten.
Kate Eastman AM SC
Kate Eastman is a well known Sydney based Senior Counsel known for her commitment to providing pro-bono assistance for individuals in human rights cases. Her work has included representing Yasidi women trafficked into Syria, David Hicks during his time in Guantanamo Bay, asylum seekers, women experiencing sexual violence, sexual harassment and discrimination, children with disabilities seeking access to education, war crimes investigations, Optional Protocol complaints to UN Human Rights bodies, Modern Slavery, preparing submissions and advice for human rights NGOs and community legal centres. She was awarded a NSW Law Foundation Award for her services to pro-bono work. In 1993 Kate founded Australian Lawyers for Human Rights (ALHR). She is a Senior Fellow of the Faculty of Law, Monash University. She teaches a range of post-graduate international and Australian human rights laws course. She has also taught short courses in Myanmar and Uganda.
Kate has 30 years experience in dispute resolution and advocacy in a wide range of employment disputes, all aspects of discrimination law (employment, services, education, transport and media), human rights (international and Australian), public law and health law. She regularly appears in the Federal Court, Federal Circuit Court, Fair Work Commission, Industrial Relations Commission and State/Territory tribunals for trials and appeals in matters arising under the Fair Work Act, Industrial Relations Act and all Federal/State/Territory discrimination laws. Kate also has extensive experience in Royal Commissions and inquiries.
Julian Burnside AO QC
Julian Burnside is well known for his work as a barrister in Australia, as well as a human rights and refugee advocate, and author. He is known for his strong opposition to the mandatory detention of asylum seekers, and has provided legal counsel in a wide variety of high-profile cases. Julian has also developed a distinguished public law practice. Burnside became involved with refugee issues during the Tampa stand-off, because he believed human beings should not be held hostage on the deck of a steel ship in the tropical sun. Julian's landmark cases include successfully appearing for the Plaintiff in Trevorrow v. South Australia. It was this case that, for the first time, led a court to recognise membership of the 'Stolen Generation' as a legal basis for compensation. In 2009, Burnside was made an Officer of the Order of Australia (AO) "for service as a human rights advocate, particularly for refugees and asylum seekers, to the arts as a patron and fund-raiser, and to the law."
In 2004 Burnside was awarded the Human Rights Law Award by the Human Rights and Equal Opportunity Commission and sponsored by the Law Council of Australia for pro bono legal work for asylum seekers and for his work in establishing Spare Lawyers for Refugees. Also in 2004, he was elected an Australian Living Treasure. In 2006 he was inducted as an honorary member of the Monash University Golden Key Society. In 2007 he received the Australian Peace Prize from the Peace Organisation of Australia. In 2014 he was awarded the Sydney Peace Prize from the Sydney Peace Foundation. Burnside is also an accomplished author, having written several successful publications on law and human rights.
Madeleine Bridgett
Our moderator for the evening is Madeleine Bridgett, an international human rights barrister and the recipient of the Peter Duffy Human Rights Scholarship and the Hardwicke Scholarship awarded by The Honourable Society of Lincoln's Inn. She has worked for the European Court of Human Rights in Strasbourg, and she has also worked for the Bar Human Rights Committee of England and Wales where she fearlessly advocated for the protection of the rights of children and vulnerable adults whilst actively promoting the rule of law in the Niger Delta of Nigeria. Madeleine is the Co-Vice-Chair of the Women Barristers Forum, a member of the Human Rights Committee for the NSW Bar Association, and Management Committee member of the HIV/AIDS Legal Centre. Madeleine is a strong advocate for human rights, access to justice and equality. She comes to law as a second career and has significant experience in the health and social care sectors, having worked as a social worker for over 15 years both in Australia and the UK. She has published work in national and international journals and has presented at conferences globally. She is known for her unrelenting advocacy in the areas of human rights and international law.
This webinar is the first in an Australian Lawyers for Human Rights (ALHR) webinar series. "So, you want to be a human rights lawyer?" offering opportunities to listen to stories of how Australia's leading human rights advocates became legal professionals and their experiences in advocating for human rights protections.
BECOME A MEMBER OF ALHR
Join with is in standing up for human rights and the rule of law by becoming a member of Australian Lawyers for Human Rights ALHR). We have several categoreis of membership accessible for non-laywers, lawyers, barristers, judicial officers, legal academics and law students: Stand with us here
Contact Details