ORRCA 'SEAS the DAY' Photography Competition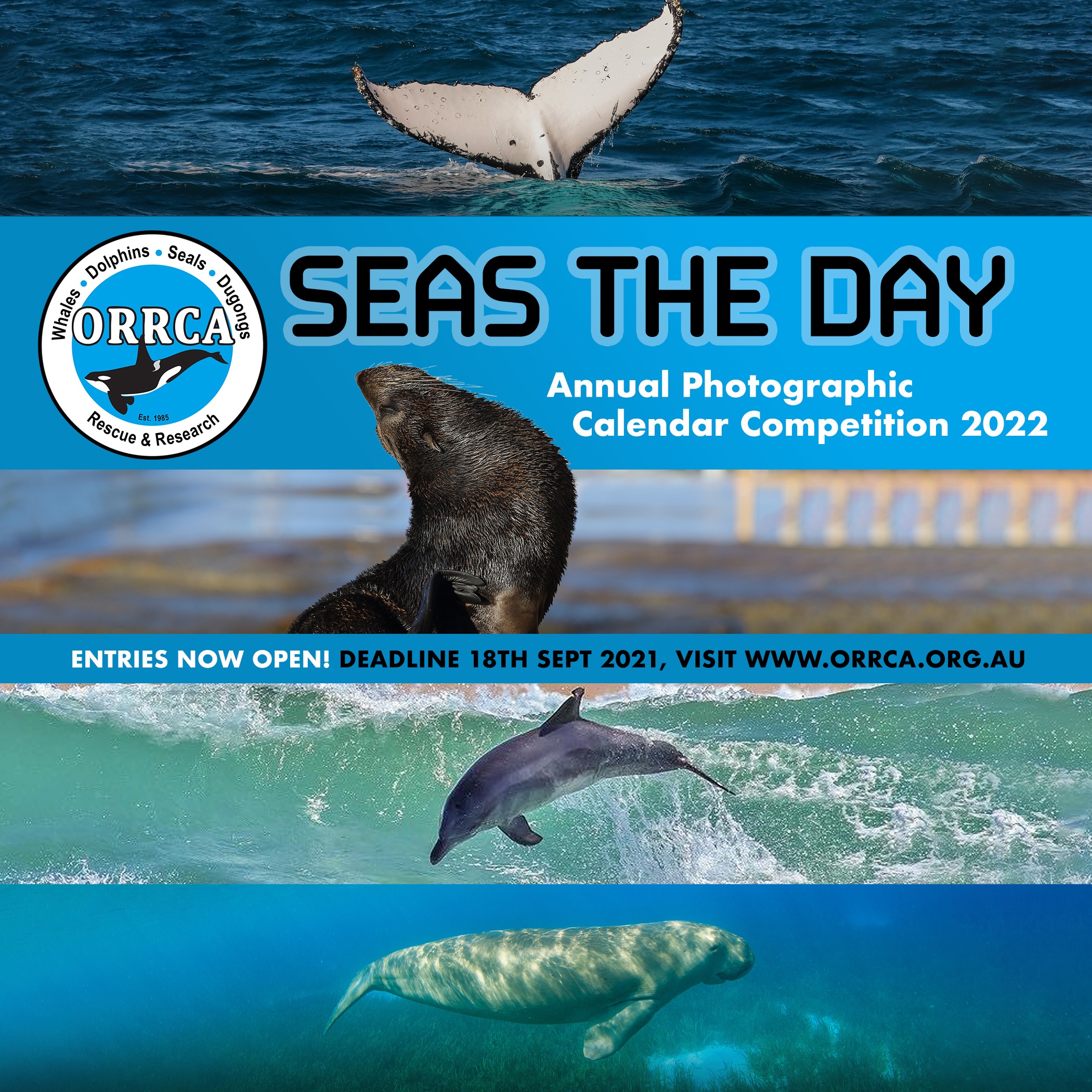 Enter your finest photos to be considered for publishing in ORRCA's much anticipated 2022 Calendar 'Seas the Day'.
No matter what your photographic background or ability, now's the time to dig out your photos or capture new memorable moments and enter this exciting competition.

All photos submitted can be entered for just a $10 donation per photo to ORRCA, helping fund future rescues, research, equipment, education, training and more.

Entries must be submitted by 11:59 pm 18th September
Criteria: Photos contain one or more of the following: whales, seals, dolphins or dugongs found in Australian waters-even if only an occasional visitor to our coasts. For 2021, due to the current lockdown conditions imposed on many, photos can be images taken in the past or present by the entrant.
Entrants: All levels of expertise, including professional and international submissions will be excepted.
Image submission: Images must be resolution files 300dpi, 3300x2550, or a minimum of 8Mb in size in JPEG format. Please ensure there are no borders, logos, copyright or identifying marks.
Note: All winning photos will be published with the entrant's name.
Image Editing: Basic editing such as cropping, colour enhancement and use of filters is permitted. No gross alterations may be made, including image removal.
Photograph Limits: Multiple photos can be entered by one person on the understanding no more than one photo per entrant can be chosen to win by the judge.
Entry Cost: Each photo entered will require a minimum $10 donation to ORRCA
Judges: An unbiased professional photographer will be judging to select 12 winning photographs.
Winner Announcement: The 12 winners will be announced via social media on 27th September 2021.
Prizes: The twelve winning photos will be featured on ORRCA's Seas the Day Calendar 2022 which will be promoted and sold by ORRCA. Each winning entrant will receive a free calendar as well as the ultimate prize, the feel good factor, knowing all proceeds from calendar sales will go towards ORRCA to help fund future projects.
Photographic Property Rights
Photographs must be originally captured by the entrant.

No third party must have rights to the photo unless the photographer has obtained written permission.

No submitted photo is to infringe on the copyright, trademark, moral rights, rights of privacy/publicity or intellectual property rights of any person or entity.

All submitted photos are entered with the understanding ORRCA has non-exclusive rights to royalty-free publishing of the images on the provisor they are credited to the photographer.