Modern Slavery: making a difference with everyday actions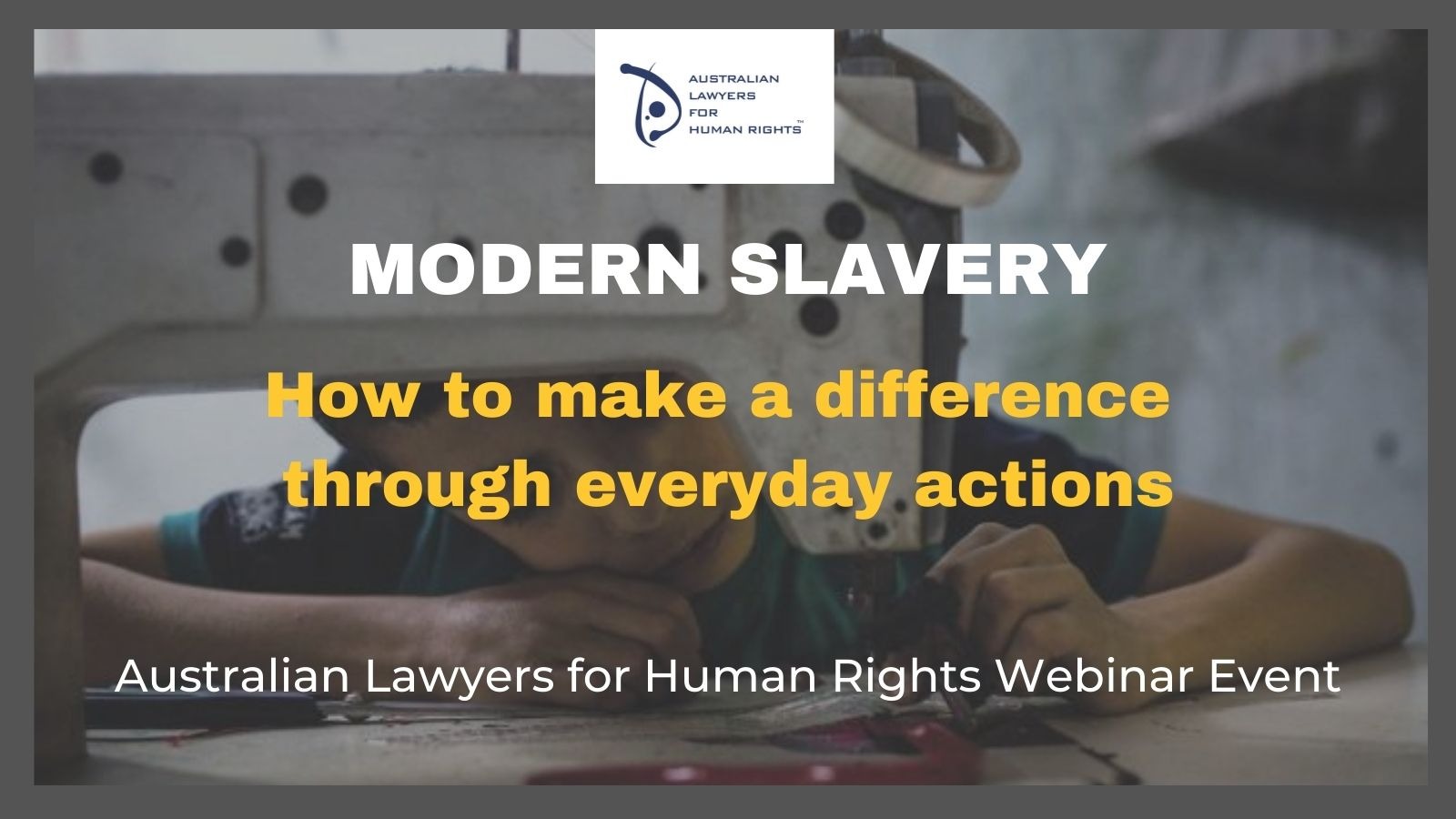 Join an expert panel to discuss how modern slavery continues to be rife in the production of many of the ordinary products that we use everyday, and examine how we all can be a part of the change for a world of freedom from exploitation, dignity and sustainable consumption through our everyday actions.
We all want a world where everyone can live a life of dignity, safety and freedom from exploitation. Yet it is estimated that over 40 million people live in modern slavery in the word today. Abuses, ranging from exploitation of people in sweatshops to toxic pollution of people's homes and communities causing human-induced climate change (IPCC Report, 2021), are rampant. Many of the everyday products that we consume were directly produced using these exploitative practices. However, it doesn't have to be this way. Along with many businesses, governments and organisations, we are working towards a world where every product we buy is sustainably made, workers are able to live and work in safe conditions with clean air and water, and are paid fair wages they can support their families with. You can easily make a big difference in driving the movement to a fairer and more sustainable world through small shifts in your everyday consumer and individual choices. This event will equip you with the knowledge and tools you need to immediately start making a difference every day for a better world for all.
We are honoured to host an esteemed panel who between them have decades of experience on the issue of modern slavery and building a solution through sustainable production and consumption:
Livio Sarandrea (Lead Advisor and Team Leader of Business + Human Rights Asia, United Nations Development Program)
Gary Shaw (Corporate Social Response-ability Manager, Kathmandu)
Peter Keegan (Director of Advocacy, Baptist World Aid Australia).
The webinar will be moderated by Dr Natalia Szablewska, Chair of ALHR's Business and Human Rights Subcommittee.
This will be an interactive session, including a Q&A panel where the audience can ask questions to the speakers. As you complete registration there is also an opportunity to send written questions that you would like the moderator to raise as part of the panel discussion.
LOCATION
A link for the webinar will be sent to registrants prior to the event
Meet our Panelists
Livio Sarandrea - UNDP Global Lead for Business and Human Rights
Livio Sarandrea, is UNDP's Global Lead for Business and Human Rights. He is based in Bangkok from where, since 2016, he has been managing the program: Business and Human Rights in Asia (B+HR Asia) in support of the implementation of the UNGPs on BHR in 11 countries. Livio started his international career in Bosnia and Herzegovina where he served from 1997 to 2003 first as Senior Human Rights Officer for the OSCE and from 2001 for the UN as Chief of the Bihac Regional Human Rights Office. From 2003 to 2010 he worked for the OSCE Mission to Serbia as Senior Coordinator for Judicial and Legal Reform and Deputy Head of Rule of Law and Human Rights Department. Livio Joined UNDP Mozambique in 2011 where he worked as an embedded Chief Technical Adviser in the Ministry of Justice and the National Human Rights Commission. Livio is from Italy and holds a Law Degree with specialisation in International and Criminal Law from La Sapienza University, Rome.
Gary Shaw - Corporate Social Response-ability Manager, Kathmandu
Born and raised in Christchurch, New Zealand, Gary completed a degree in Psychology & Sociology at Canterbury University before traveling to the USA where he completed a master's degree in Third World Economic & Community Development. He then enjoyed 20 years in the New Zealand Police, serving as a Detective for the majority of that time. Working for an international human rights agency, Gary spent four years investigating cases of Modern Slavery around the world, working undercover inside criminal networks trafficking women and children into the commercial sex industry. In 2011 he launched a New Zealand anti-trafficking organisation to combat human trafficking and Modern Slavery in the Asia/Pacific region. In 2016 Gary accepted the role of Corporate Social Response-ability Manager for adventure brand Kathmandu, empowering the company to have a greater social impact through its business activities and global supply chain. Working across the three sectors of Government, NGO and Corporate as well as covertly inside a number of cultures and nations has provided him with a unique perspective on business and those factors that facilitate positive social and economic transformation.
Peter Keegan - Director of Advocacy, Baptist World Aid Australia
Peter joined Baptist World Aid International Programs team in 2017 and then became the Director of Advocacy in 2019. He has worked in the global development sector for over 15 years, previously with World Vision UK, Uniting World, and Micah Challenge, with experience in both program and advocacy roles. Peter is passionate about development that puts the priorities and voices of vulnerable people at the center. And looks at the policies and systems that need to change in order for vulnerable people to experience the flourishing life God intends.
Dr Natalia Szablewska - Business and Human Rights Committee Chair, Australian Lawyers for Human Rights
Our moderator for the event is Dr Natalia Szablewska. Natalia is a Chair of ALHR's Business and Human Rights Subcommittee. She has 20 years' experience spanning the public sector, governmental and non-governmental organisations and academia in five countries. Her background in human rights and the law of armed conflict positions her well to examine the linkages between business and human rights, and her most recent focus on modern slavery and sustainable development.
Contact Details