EGA Microdose Webcast 8: John Safran takes on Big Tobacco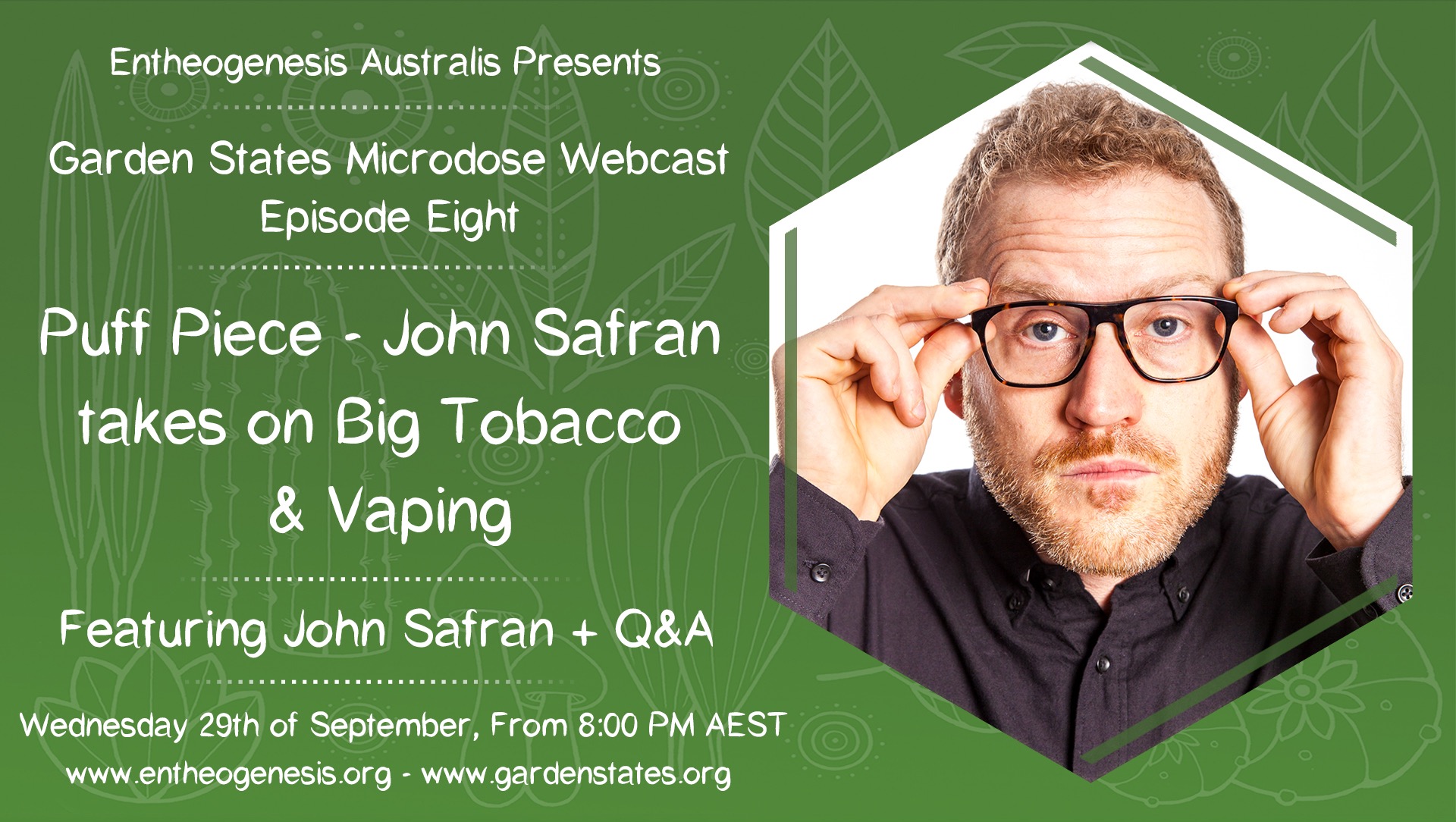 Our Eighth Microdose Webcast episode will feature John Safran discussing his new book, in which he takes on big tobacco and vaping. John will also take questions about his book and past projects.

Hosted by Nick Wallis & EGA.

Registration for the Microdose Webcasts are free, but donations are encouraged to support EGA's important work (booking fees apply).
Episode Eight - Puff Piece - John Safran takes on Big Tobacco and Vaping
Puff Piece - John Safran takes on big tobacco and vaping
John Safran's new book, Puff Piece, is a hilarious but thought-provoking probe into big tobacco, their relationship with the vaping industry, and when words literally become a matter of life and death.
Tobacco giants Philip Morris are slowly dying as cigarettes lose favour with everyone from world governments and investors to, increasingly, smokers - so, what's their plan? Philip Morris have announced they'll shut down as a cigarette company and relaunch as a health enterprise, dedicated to convincing the one billion smokers of the world to quit. WHAT?!
In Puff Piece, the ever-curious John Safran attempts to get the real story out of Philip Morris. While digging, John discovers a company up to brand new shenanigans, wangling their way into unexpected places. They're also upending language itself, changing the meaning of words. Will they slip past bans by convincing governments they don't sell 'cigarettes' but rather 'HeatSticks', that don't emit 'smoke' but 'aerosol'?
Nick Wallis spoke to John in the research stages of Puff Piece while also hosting him on 3CR's Enpsychedelia. Nick previously worked on the adult industry's lobbying efforts for nicotine vaping devices and viewed the battle in a similar lens to other drug law reform and harm reduction initiatives. Puff Piece focuses on the murkiness of vape lobbying and the efforts of Big Tobacco's Philip Morris to push for a different kind of device, a 'heat not burn' leaf-tobacco device. There is a far more nuanced battle behind the vape clouds and smoke screens of modern tobacco regulation which we will blow away on this latest installation of EGA's Microdose webcast.
John will also take questions about his book and past entheogenic related projects such as John Safran VS GOD.
Subscribers will have the chance to win a copy of John's new book.
Bio - John Safran
John Safran is a writer and filmmaker who always gets in too deep for his own good. His debut book, Murder in Mississippi, won the Ned Kelly Award for best true crime. His follow up, Depends What You Mean by Extremist, found him lost among radicals and was shortlisted for the Australian Book Industry Awards. His wild and hilarious documentaries, such as 'John Safran vs God' and 'Jedis & Juggalos', play fire on the outer edges of religion and have received accolades from the Australian Film Institute and Rose d'Or Festival. Puff Piece: How Philip Morris set vaping alight (And burned down the English language) is his latest book.
----------------------------
About Garden States Microdose Webcasts
The EGA Garden States Microdose Webcasts are designed to cover various topics from the field of ethnobotany and psychedelic culture, sustainability, and related areas of interest to the community. The forums are part of the program leading up to the highly anticipated Garden States 2021 Botanical Conference. Registration for the Microdose Webcasts are free, but donations are encouraged to support EGA's important work.
About EGA
Entheogenesis Australis is a charitable, educational organisation established in 2004. We provide critical thinking and knowledge sharing opportunities on ethnobotanical plants, fungi, nature, and sustainability. Through our conferences and workshops, we aim to celebrate the culture, art, politics and community around medicine plants in the hope of better wellbeing for humankind and the planet.
To find out more about what we do, head over to our organisational website. If you like what you see, take a look at our upcoming Garden States 2021 Botanical Conference program.
Warm Regards,
The Entheogenesis Australis Team
Planting seeds for the earth, body and mind
www.entheogenesis.org
www.gardenstates.org
Note: Small booking fees may apply.
Location
Online event access details will be provided by the event organiser