Garden States: Ethnobotany, Conservation and Psychedelics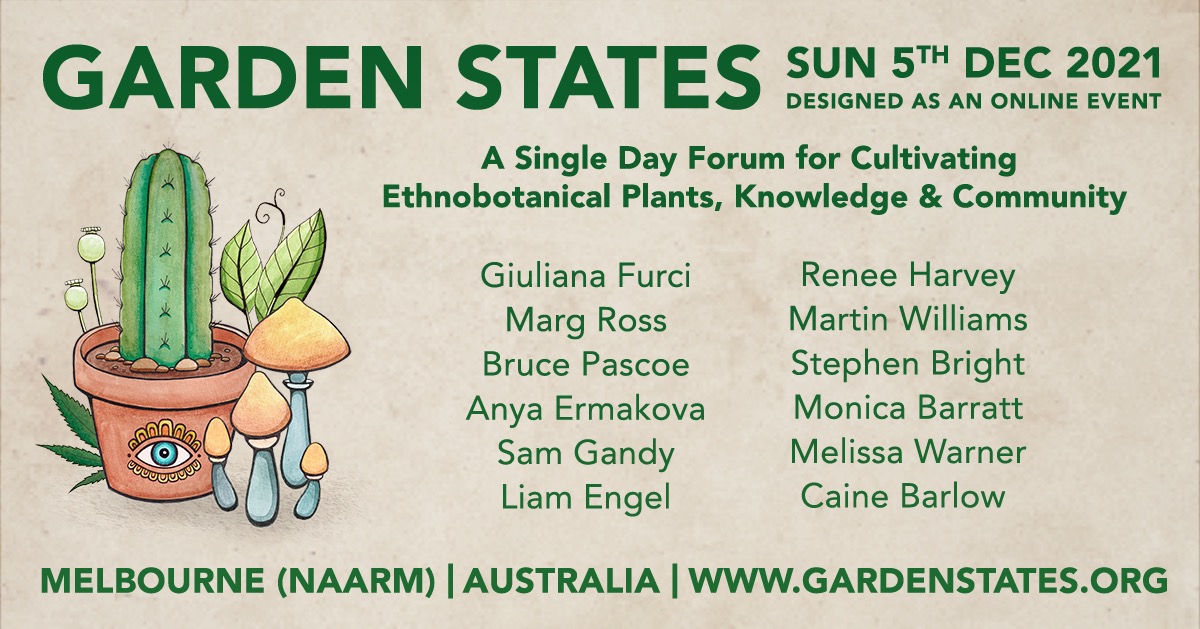 Entheogenesis Australis (EGA), presents Garden States webcast: A forum cultivating ethnobotanical plants, research, knowledge and community. All full day of webcast programing as a special fundraiser event – Sunday 5th December 2021

The Garden States webcast fundraiser is a not-for-profit initiative, designed by EGA to encourage community building around medicinal plants, research, and psychedelic culture.
Garden States: A forum cultivating ethnobotanical plants, research, knowledge and psychedelic culture
Our program is designed to explore relationships between humankind and plants, including gardening, conservation, sustainability, culture, art, altered states and psychedelic culture.
We have had to move the original conference planned for the first December weekend to next year, following continuing restrictions on larger social gatherings due to COVID-19. As we have all put time aside and are so sorely needing the ethnobotanical community to connect, we are hosting this special all-day webcast in lieu of the physical Garden States conference.
We have curated content from a selection of the finest psychedelic and botanical minds from the international and local entheogenic communities. We will also run the infamous EGA raffle on the day, giving our audience chance to a win a variety of rare and valuable magical plant memoribilia.
The presenters and contributors are donating their valuable time and energy to show support for EGA. We hope you will also consider supporting us and being part of this important day of ethnobotanical knowledge sharing. All ticket holders will be able to access the lecture and panel content for four weeks after the event, so if you miss something on the day you can go back and catch it later.
This day-long forum will be made up of lectures and discussion panels consisting of both live and prerecorded elements. Through this program, the EGA team will help you along the journey to plant seeds for earth, body, and mind.
Hosted by Martin Williams, Nick Wallis, Meredith Drinkel, Liam Engel & EGA.
EGA PROGRAM
Lectures
Giuliana Furci - Conservation of Fungi
Renee Harvey - Psilocybin-Assisted Therapy
Anya Ermakova - Entheogenic Conservation: Protecting naturally-occurring psychoactives
Sam Gandy - Psychedelics & Nature Connectedness
Bruce Pascoe - The European Mind
Monica Barratt - Encrypted communications, digitally mediated drug trading, and psychedelics
Martin Williams - Beyond Psilocybin: The clinical potential of other psychedelics
Stephen Bright - MDMA-Assisted Psychotherapy: An overview of international & local research
Carl Smith & Melissa Warner - Cyberdelics: Context Engineering with Psychedelics to Develop Altered Traits

Other Content
Marg Ross - St Vincents's Psilocybin-assisted Therapy for end of life
Caine Barlow - Species Spotlights on Australian Psilocybin Mushrooms
Liam Engel - Species Spotlights on Mescaline Cacti
Discussion Panel – Ethnobotanical Conservation: Seed keepers or seed thieves?
Workshop - Grok this Sound and Vision (DJ Krusty and VJ Mandala) – Put your dance shoes on, folks!
Don't forget to subscribe to EntheoTV and also have a look at our ethnobotanical Resources Page.
Regards,
The Entheogenesis Australis Team
Planting seeds for the earth, body and mind
www.entheogenesis.org
www.gardenstates.org
Location
Online event access details will be provided by the event organiser