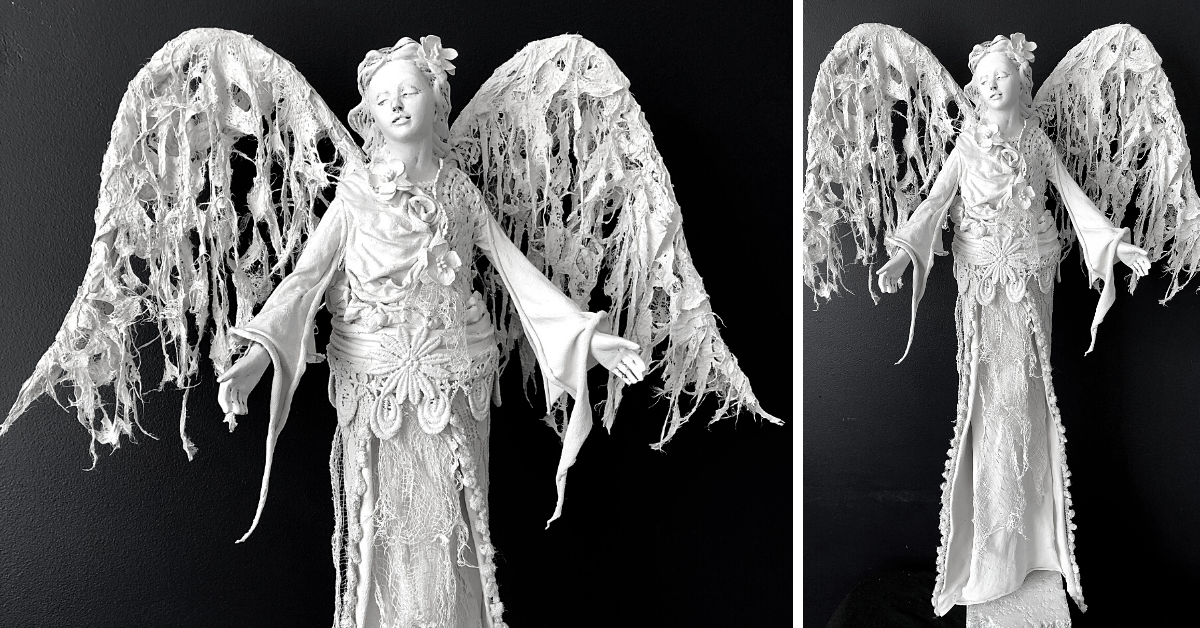 FULL DAY WORKSHOP WITH ARTIST ASHLEY HAY
BACK BY POPULAR DEMAND…

DECK YOUR HOUSE OUT with gorgeous artwork that you've made… or give the gift of creativity to someone special this Christmas.

You will LOVE this fun workshop as Ashley guides you step-by-step through the process of how to make this beautiful Angel! Re-Ignite your passion for art today…
Don't think you can make this beautiful sculpture? Guess what… you CAN!
This is a great workshop for beginners, so if you long to create but don't think you're good enough… you will discover that you are! Amaze yourself with what you create…
In this workshop you will learn:
How easy it is to create sculptural form with Powertex
How to drape fabrics and fibres in beautiful layers…
Tips and tricks for working with Powertex
How to 'antique' your artwork with Bister Patina sprays
The joy of creating with others
Time: Sat 20th Nov 9am-5.00pm
​Cost: $165 (Includes tuition and all materials).
Powertex Australia Studio, Safety Bay
Be inspired… BOOK today!!!
ABOUT ASHLEY
Artist & Importer ​Ashley Hay conducts the majority of art classes at Powertex Australia. As a Master Trainer in Powertex, Ashley has a wealth of knowledge to impart to workshop participants and loves inspiring others to create. In her workshops you are guaranteed success whether you are a beginner or professional artist... you will be amazed at what you create. Experience the difference... and walk away with an incredible artwork that you've made yourself! Join Ashley... and start creating today! Book now...
Location
Powertex Australia
230 Safety Bay Rd, Safety Bay WA 6169
COVID-19 COMPLIANCE
For everyone's safety, as per government guidelines, the studio has a COVID-19 Safety Plan in place.
Participants will have their own workstation and are asked to maintain social distancing throughout the day.
We look forward seeing you in the studio for some creative FUN!