CCL: Commanding the heart: Vengeance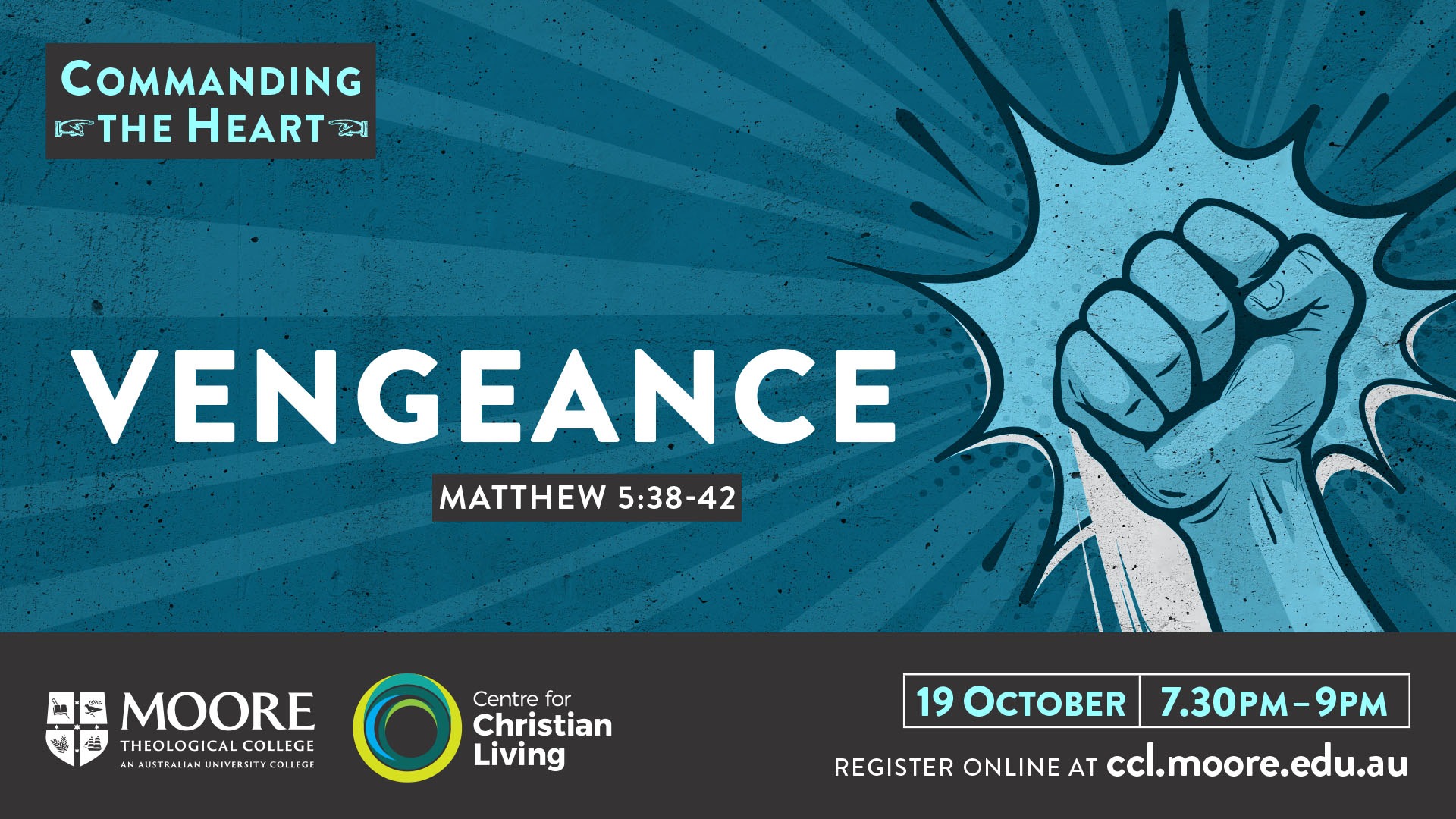 When?
Wednesday, 19 October 2022. Talks and Q&A: 7:30-9:00pm; supper for in-person attendees: 9:00-9:30pm (GMT +10 Australian Eastern Standard Time).
If you can't tune in on the night, the event will be recorded, and everyone who has registered will have access to rewatch the video almost immediately after the event's conclusion.
Where?
In person in Marcus Loane Hall, Moore Theological College, 1 King St, Newtown.
Via livestream (URL supplied upon registration).
Cost
In person tickets: earlybird: $15 ($20 after 12 October).

Please note: bookings for in-person tickets close 3pm Wednesday 19 October.

Household licence (livestream): $10.
Groups/churches licence (livestream): $60. (Please note: Under this licence, all members of the group may livestream the event from wherever they are.)
All event attendees agree to the storage and use of their information in accordance with the Moore College Privacy Policy and use of photography/video footage in accordance with the Moore College Information Release Statement.
About
"You have heard that it was said, 'An eye for an eye and a tooth for a tooth.' But I say to you, Do not resist the one who is evil. But if anyone slaps you on the right cheek, turn to him the other also. And if anyone would sue you and take your tunic, let him have your cloak as well. And if anyone forces you to go one mile, go with him two miles. Give to the one who begs from you, and do not refuse the one who would borrow from you."

(Matt 5:38-42 ESV)
From the dawn of time, systems of justice have demanded recompense for wrongs. The most fundamental systems have been kind for kind—an eye for an eye, a tooth for a tooth, a life for a life. This sort of rudimentary justice system is biblical and lies at the foundation of much of the law in Scripture.
But in God's Kingdom, Jesus tells us that there is no room for vengeance. Indeed, life in the Kingdom demands forbearance and forgiveness.
What does this mean for us practically? Is there any justice? Join us as Andrew and Lauren Errington help us discover how Jesus transforms our expectations and pursuit of justice, and lead us away from vengeance.
About our speakers
Andrew Errington is the rector of Newtown Erskineville Anglican Church. He is married to Lauren.
Lauren Errington is an accredited mental health social worker and clinical family therapist who holds clinical membership with the AASW and AAFT. She is married to Andrew.
Hear Andrew talk about the event:
Location
Moore Theological College
1 King St, Newtown, Newtown NSW 2042
Contact Details
Centre for Christian Living
Moore Theological College
1 King St
NEWTOWN NSW 2042
Australia