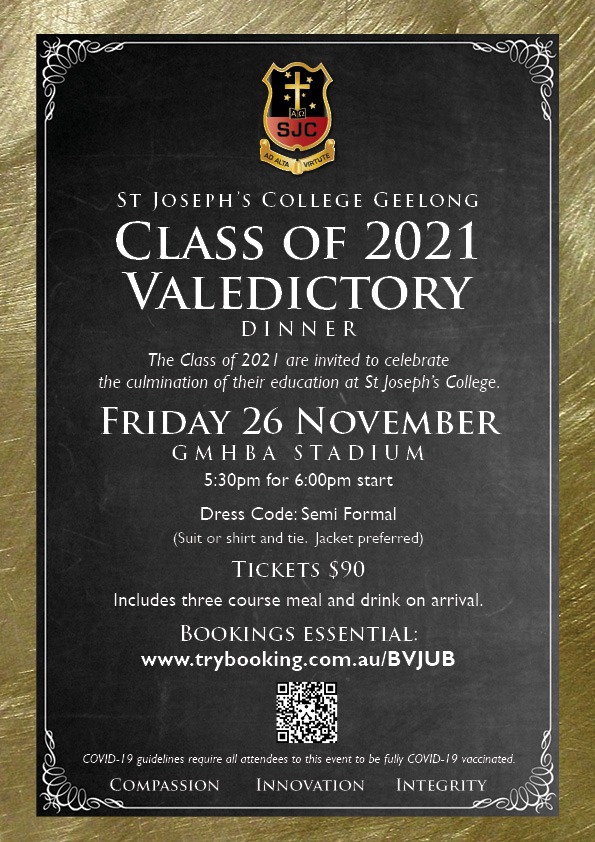 Each student has a maximum of 4 tickets allocated. This allocation is for the student plus three guests. The ticket limit will ensure each student has a fair opportunity to bring guests to the dinner as there is limited space at the venue. Any booking that deliberately exceeds the 4 ticket allocation will risk their booking being cancelled
Recommendation if you wish to sit on the same table as friends:

As there is a strict 4 ticket limit, you will be unable to book an entire table. If you have a particular person you wish to share a table with, it is recommended that you discuss with them before you book as to which table number you would like to select. Then arrange for both parties to book online at the same time and have both parties select the same table as their seating option. Booking early will give you maximum chance of finding enough seats available for this purpose.
Event Guidelines during COVID-19
COVID-19 guidelines require all attendees to this event to be fully COVID-19 vaccinated.
Due to the uncertainty that the COVID-19 pandemic has created around holding public events, we would like to reassure our future guests of the following:
All of our events will be held in accordance with the latest COVID guidelines. Guest and staff wellbeing will be our priority.
If restrictions prevent a scheduled event from occurring, we will attempt to reschedule. If rescheduling is not practical, then tickets to the event will be fully refunded.
Guests unable to attend our event due to being unwell, awaiting COVID tests or restricted by quarantine regulations can contact us to organise a refund.
We look forward to continuing to host a variety of events in 2021 for our community to enjoy. Thank you for supporting St Joseph's College Geelong.
Location
GMHBA Stadium, Brownlow Stand, Main Entrance to the Cats Shop
370 Moorabool St, Enter via LaTrobe Tce, Park Cresent or Kilgour Street, South Geelong VIC 3220
Contact Details