The Talent 2021 Winners' Recital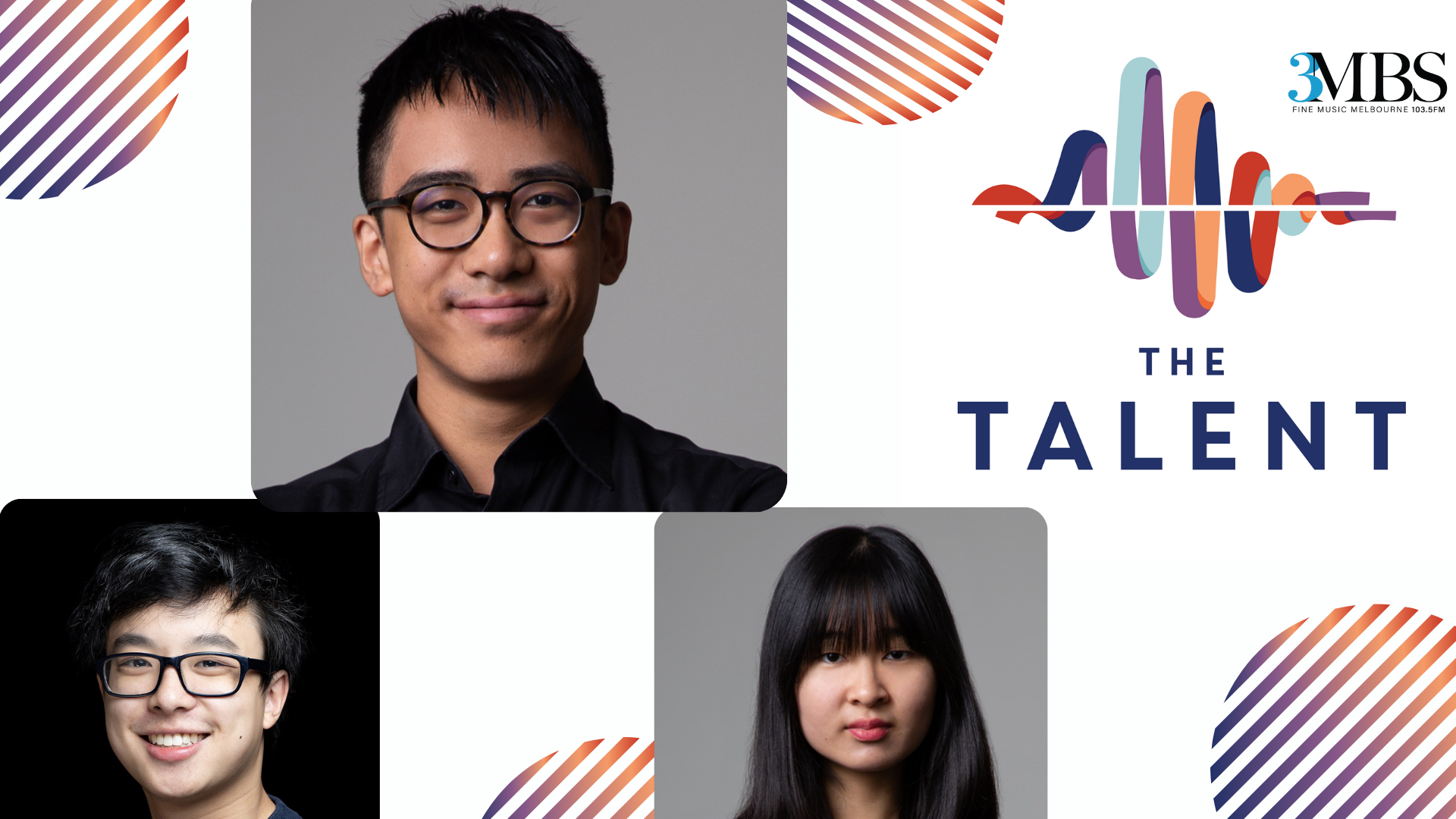 Join us for a night of wonderful music performed by rising star pianist Brian Luo, first prize winner of the 2021 season of The Talent. He'll be joined by guest artists and fellow finalists, pianists Ray Liang and Hannah Shin in an evening of stunning piano music by Liszt, Ravel, Bartok, Haydn, Miriam Hyde and Scriabin.
Sunday 5 December, 7pm - 8.30pm
Tickets: 3MBS Subscriber $10 | General $15
This event is a 3MBS digital event, streamed from the 3MBS Lady Marigold Southey Performance Studio.
PROGRAM
Hannah Shin (piano) –
Scriabin: Mvt 1, Sonata No. 3
Chopin: Ballade No. 1
Ray Liang (piano) –
Hyde – Wet Night on the Highway (1958)
Hyde – Valley of Rocks (1975)
Hyde – Brownhill Creek in Spring (1942)
Brian Luo (piano) –
J. Haydn: Keyboard Sonata in D major, Hob.XVI:37
F. Liszt/F. Schubert: Litanei S. 562 No. 1 in E-flat Major
F. Liszt: Réminiscences de Don Juan (S. 418)
M. Ravel: "Ondine" from Gaspard de la nuit M.55
B. Bartok: Etude Op. 18 No.1
---
ARTIST BIOS
Hannah Shin (piano) – 3rd Place Winner
Photo credit: Daniel Spellman
Hannah Shin is a Bachelor of Music (Hons) student at the Melbourne Conservatorium of Music, studying with Glenn Riddle. Numerous international competition prizes include 2nd prizes in the Zhuhai Mozart and the Thailand Competitions, top prize in the ASEAN Chopin Competition, and 3rd prize in the Virginia Waring Competition in the US, as well as various prizes in Australian competitions.
Numerous concerto appearances include works by Mozart, Beethoven, Chopin, Liszt, Tchaikovsky, Grieg, Prokofiev, Gershwin with orchestras including the Salzburg Chamber Soloists, the Thailand Philharmonic Orchestra, and the Ningbo Symphony Orchestra (China), as well as with numerous Australian orchestras. She recently performed Prokofiev's Piano Concerto No. 3 with the MCM Symphony Orchestra in Hamer Hall, Arts Centre Melbourne.
She has given recitals in the USA, Germany, Greece, Denmark, Russia, China, Thailand, Korea, Malaysia, and Indonesia.
---
Ray Liang (piano) – 2nd Place Winner
Photo credit: Cameron Jaimeson
Ray Liang is currently a pianist completing his honours year of music performance at the University of Melbourne, under the guidance of Jerry Wong. He finds enjoyment in the music of the early-to-mid 20th century, taking a keen interest in the works of Miriam Hyde, who he will be presenting three favourites from in this performance.
---
Brain Luo (piano) – 1st Place Winner
Photo credit: Daniel Spellman
Adelaide-born Brian Luo began piano lessons at the age of six, studying with Prof. David Lockett AM from age eight. In 2015, Brian was offered a full scholarship place at the renowned Purcell School in London, where he studied with Patsy Toh, and later received a British Government scholarship. Now based in Melbourne, Brian is a 3rd year BMus student at the Melbourne Conservatorium of Music studying with Glenn Riddle.
---
3MBS is a fine music community radio station in Melbourne, Victoria, Australia. Founded in 1975, 3MBS was the first FM station in Victoria and led the way for the introduction of community radio in Australia.

3MBS passionately supports fine music, especially Melbourne musicians and composers, and is the only locally-based classical music radio station in Victoria.

3MBS relies on listener support in the form of subscriptions, donations and bequests.
If you have any questions about how you can support 3MBS, please contact the station on (03) 9416 1035 or email info@3mbs.org.au, or you can come to our station at 1 St Heiliers Street, Abotsford Victoria 3076.