SCHOOL HOLIDAY WORKSHOP: Tuesday January 18th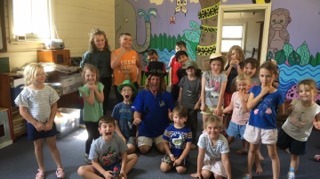 WORKSHOP SCHEDULE:
-Join the Circus with Jess from Alchemy of Arts: This workshop will include learning new skills like juggling and balance, PLUS you get to dress up and have a chance to perform in your very own BIG CIRCUS show!
-Sibling rivalry: This is common in every family, so Counsellor Nicole Neave gives the children tools to help them deal with it.
-MUSIC FORUM with Liam Thompson: Liam will share how music has been therapeutic and encourage the kids to perform their own compositions.
We also have outdoor play with bikes and equipment, an open art and craft station, and access to all costumes and stage.
*Early bird price of $50*
Additional hours available on request (8.30am-6pm) at extra fee, call 0422183566 to discuss.
We are NDIS available and a nut-free zone. All food, drinks, and sunscreen to be supplied by parents.
*** All adult Authentic Child staff are double vaccinated for your child's safety as required by the Australian Government. If, due to COVID restrictions, we are unable to continue with the workshops, we will return all funds promptly***
** All holiday workshops are developed and supervised by Child professionals and counsellors-as well as bona-fide professionals in their creative crafts.
To complete further enrolment please fill out form: http://theauthenticchild.com.au/new-enrolments/ (this only needs to be done once throughout your duration with the Authentic Child).
Location
The Authentic Child
178 Glebe Road, (green hall behind main hall), Merewether NSW 2292