BoSP: Managing Fee Variations Part 2 - The Q&A session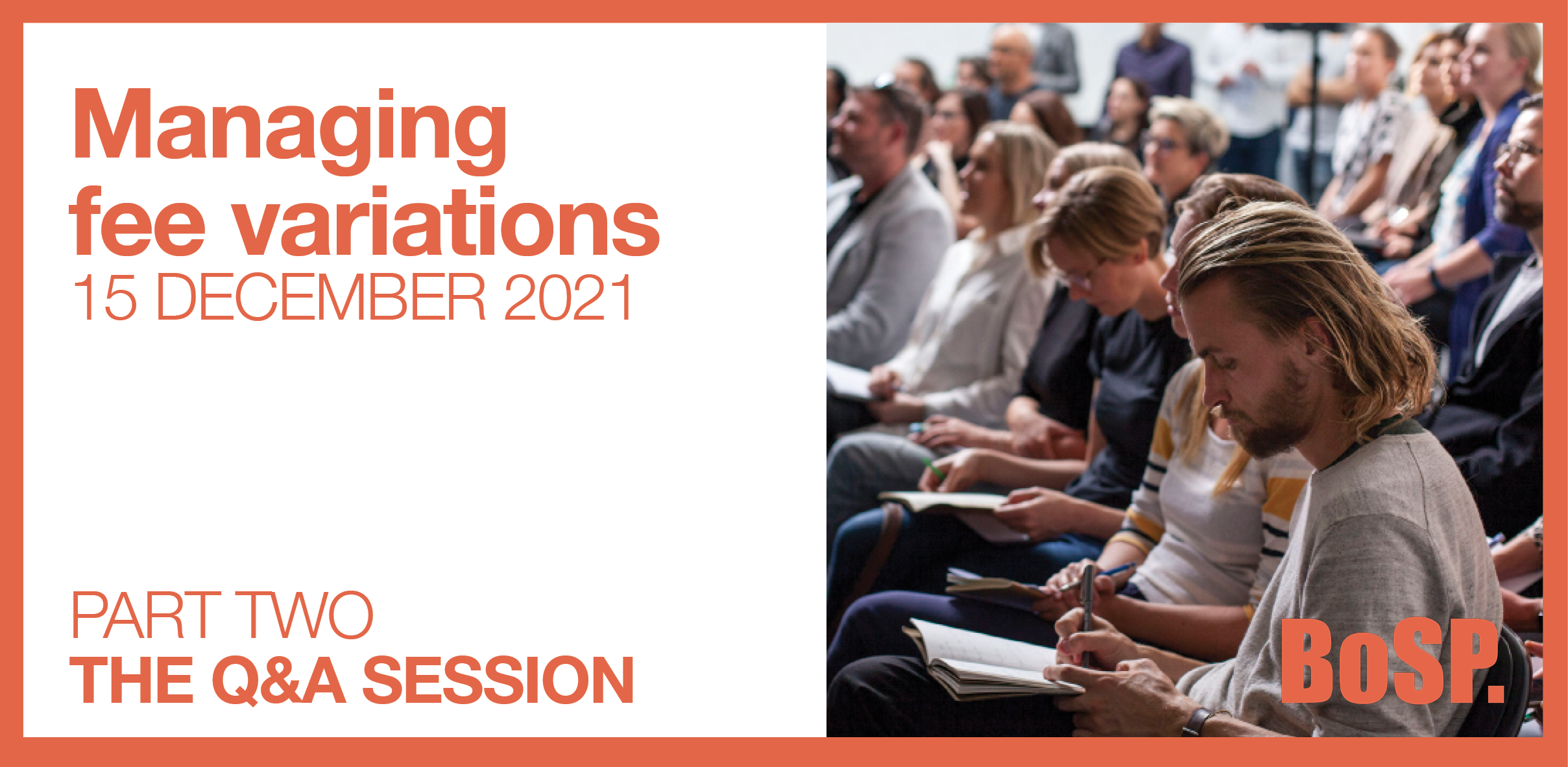 DATE CHANGE – Join the ACA and the Business of Small Practice (BoSP) for a follow-up Q&A chat to delve into the detail about Managing Fee Variations on Wednesday 15 December. Book now!
In August 2021, Kate Fitzgerald, Warwick Mihaly and Mick Moloney (the three players behind the Indetail podcast*) spoke about the price of construction skyrocketing and what impact this is having on fees and services for small practices across the country. During and after that session, the ACA & BoSP received some brilliant questions about Contract Administration retainers, client guides, agreements and the 'how' of varying fees during rising construction prices. This session will be an open Q&A discussion based on these questions, and we warmly invite practices across the country to take part in this chat about how small practice Directors are dealing with this unique moment in time so we can all stay informed and connected.
It will be an hour-long conversation facilitated by ACA WA Branch Vice President, Kate FitzGerald - Come prepared to ask questions and share your own experiences – both good and bad – with fellow BoSPers around Australia!
You can read a recap of Part 1 of the conversation or dive into BoSP Managing Fee Variations Part 1 via our CPD on Demand.
Our Speakers
*In Detail is the passion project of Mick Moloney, Warwick Mihaly and Kate FitzGerald, three small practice Directors working in Perth, Melbourne and Ballarat, Vic. The In Detail podcast takes listeners behind the scenes of creative business and lifts the veil of silence on running a business to share all the things Mick, Kate & Warwick wished they'd known when they started out. The trio tackled the taboo issue of fees in a two-part episode in Season One, and received an overwhelming feedback from their listeners about the use of Client Guides, Quantity Surveyors and things they've added to their fee proposals which are relevant to the conversation happening in the BoSP community about fees, budgets and industry price increases.
Kate Fitzgerald is the Co-Founder of Whispering Smith, a Fremantle-based practice delivering residential and commercial projects, Vice-President of the WA Branch of the ACA and Co-Founder of the BoSP. Warwick Mihaly is a Co-Founder at Melbourne-based practice, Mihaly Slocombe with his wife and partner Erica, Director at Architeam and the writer behind Panfilo, Australia's most widely read business blog for architects. Mick Moloney a Co-Founder of Ballarat and Melbourne based practice Moloney Architects which he runs with his wife and partner, Jules. He is a Registered Architect and is university educated in both Architecture and Construction Management and is a generous advocate for small practice, and for his regional home-town of Ballarat.
WHEN
Wednesday 15 December 2021
1–2pm AEDT (WA 10–11am; NT 11.30am–12.30pm; Qld 12–1pm; SA 12.30–1.30pm; ACT, NSW, Tas & Vic 1–2pm)
HOW
Select a 'live access' ticket to join us for the live broadcast. If you're not available to join live, please select a 'recording access' ticket to receive the recording registration link and materials after the event.
Note:
This event will be recorded in Zoom and made available to ticket holders for educational purposes. Your recorded image or name may be captured in this recording through showing your webcam or in discussions. By attending this live event you are agreeing to the ACA using recorded content for the stated educational purposes.
COST
Members $25
Non-members $40
*One ticket per attendee.
CPD
Participation in this 1 hour webinar will deliver 1 formal CPD point.
Learning outcomes - After participating in this event participants will have a better understanding of more detailed issues of managing fee variations such as Contract Administration retainers, client guides, agreements and the 'how' of varying fees during rising construction prices, amongst others.
ACA NSCA: 9. Practice management
APBSA Core Area: Practice Management
Written CPD questions based on live event content will be circulated after the event. A link will be provided to upload your own responses to CPD questions, to self-check answers and for issue of a certificate of completion. Please keep your receipt and completed questions for your records.
CONTACT
For more information, contact Katherine Ygosse webinars@aca.org.au 0413 520 548.
This event is brought to you by ACA WA and their branch sponsors: