WA Transport Works Safety Forum 2022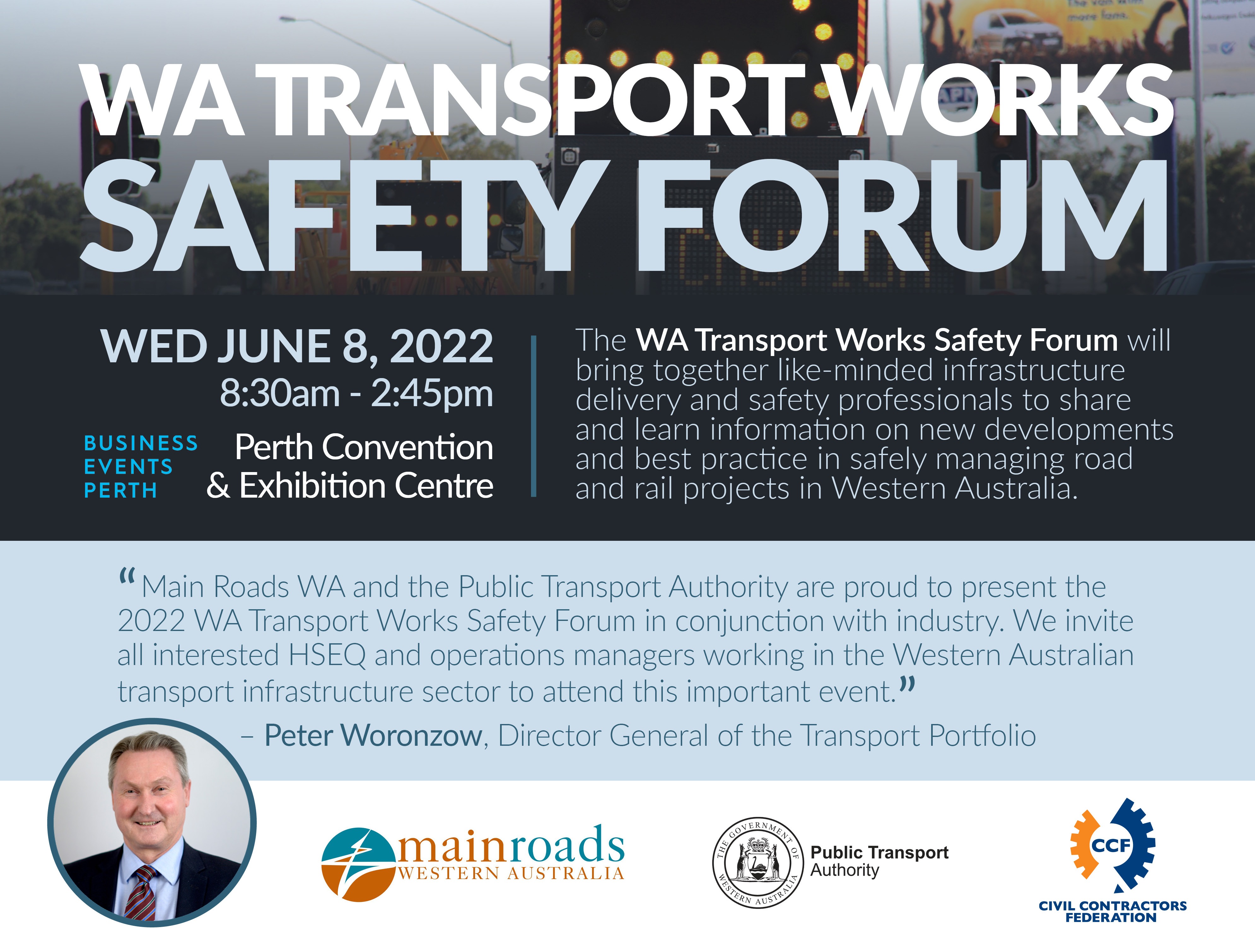 The WA Transport Works Safety Forum will bring together like-minded infrastructure delivery and safety professionals to share and learn information on new developments and best practice in safely managing road and rail projects in Western Australia.
Perth Convention & Exhibition Centre - Level 2, River View Room 4 & 5
WA Transport Works Safety Forum Order of Proceedings
FIRST SESSION
Peter Woronzow, Director General of the Transport Portfolio – Welcome address
Presenter: Max Line, Director, LGC Traffic Management - Innovation in the Traffic Management Sector
Presenter: Stephen O'Dwyer, Board Member, Traffic Management Association of Australia – Modern Traffic Control
A snapshot of the Traffic Management industry today and what it is likely to look like in the next few years. Stephen will be presenting an outline of a recently completed TMAA White Paper on the state of the industry.
Presenter: Gareth Peers, Road Safety Policy Coordinator – Main Roads WA - Main Roads' perspective on current initiatives
An overview of the recent updates to the Traffic Management for Works on Roads Code of Practice and upcoming initiatives in temporary traffic management.
Panel Discussion/Q&A: Challenges and opportunities in traffic management
Presenters Max Line and Stephen O'Dwyer will be joined by Gareth Peers and Maria Drysdale from Main Roads to discuss current issues in traffic management and address audience questions.
MORNING TEA
SECOND SESSION
Presenter: Lara Ellson, Associate Strategic Growth, Aurecon – How connection drives safety outcomes
Engaged employees who have meaningful work, quality connections and an opportunity to have their opinions heard have better safety outcomes than disengaged teams. Lara will share practical ways that line managers and colleagues can improve connection on any project and how this creates the link to improved mental health outcomes, high performing teams and excellent project delivery.
Presenter: Dylan Ogilvie, General Manager Operations, Melchor – Are they really okay? Supporting mental health at work.
Good mental health at work and good management go hand in hand. When we create workplace cultures where people can be themselves, it is easier for people to speak about mental health concerns without fear and reach out for help when they need it.
LUNCH
THIRD SESSION
Regional Road Safety Initiative – Scoping to maximise the safety impact
Presenter: Brett Belstead, Director Network Management, Main Roads WA
Main Roads WA's Rural Road Safety Improvement Program is aimed at cost effective crash reduction by sealing shoulders and applying audible edge and centre lines. This presentation explains why this scope has been adopted and what is the expected impact on crash numbers.
Presenter: Brian Ross, Operations Manager Infrastructure Projects, Downer Group
Learning from previous experiences and applying lessons to our delivery strategy is paramount in achieving our goal of Zero Harm. Downer successfully developed strategies and actions from previous experiences across various projects and delivered a remarkable achievement during the major '20 Day Blockade', Dec 2021 – Jan 2022, in the middle of the Kwinana Freeway.
Panel Discussion/Q&A: Delivering an accelerated program in a resource constrained market
Panelists Brian Ross (Downer), Sarah Iwaniw (Aurecon), Craig Hyde (Servicestream) and Anton Piccinin (Rob Carr)
(Program subject to change)
Location
Perth Convention and Exhibition Centre, Level 2 River View Room 5
21 Mounts Bay Road, Perth WA 6000
Contact Details