The Ukraine Crisis - A Forum on Legal and Other Issues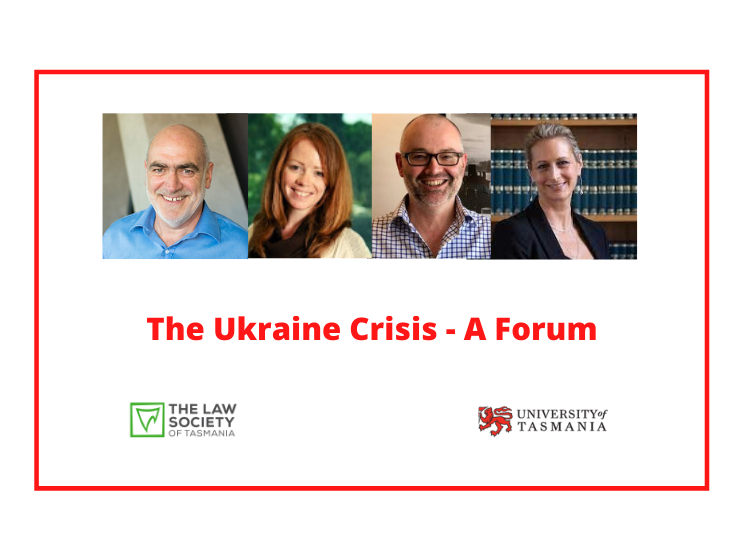 About
A Forum on International, Legal, Political and Humanitarian Issues.
Join a panel of Tasmanian subject-matter experts who will discuss the Ukraine Crisis and engage in a detailed Q and A. The panel includes Professor Tim McCormack, Dr Matt Killingsworth and Dr Tamara Wood and is moderated by Regina Weiss. CPD Guide: 1.5 SL
This free event can be attended in-person at the Law Society of Tasmania (seating is limited and in-person attendance will be on a first in basis) or livestreamed. Bookings are essential.
For those attending in person , please join the panellists and colleagues for post-forum drinks and nibbles. Before attending the Society's offices, please review the Society's COVID-19 protocols below.
Topics for discussion include:
Some background on how this came to Russian invasion.

International legal issues incuding the jurisdiction of the International Court of justice and the International Criminal Court.

The international refugee crisis.

About the presenters
Professor Tim McCormack
Tim McCormack is a Professor of Law at the University of Tasmania. He is also Special Adviser on War Crimes to the Prosecutor of the International Criminal Court in The Hague and an honorary Professorial Fellow at Melbourne Law School. He is one of the world's leading experts in international humanitarian law (law of war).
Dr Matt Killingsworth
Matt Killingsworth is a Senior Lecturer in International Relations in the School of Social Sciences currently researching the history of the laws of war and new forms of international criminal justice. He is the immediate past Chair of the Tasmanian Red Cross International Humanitarian Law Committee, and is a regular contributor to local and national media.
Dr Tamara Wood
Tamara Wood is a Postdoctoral Research at the Hertie School, Berlin, and a Visiting Fellow at the Kaldor Centre for International Refugee Law, UNSW. She is an expert on refugee protection, forced migration and international law. As an expert advisor and research consultant, Tamara has advised the United Nations High Commissioner for Refugees, World Bank, Platform on Disaster Displacement, Nansen Initiative on Disaster-Induced Cross-Border Displacement, and Institute for Security Studies, Africa.
Moderator - Regina Weiss
Regina Weiss recently returned to Hobart to join Derwent & Tamar Chambers after nine years in The Hague and five years in Canberra. She is a graduate of UTAS and commenced her legal career as Associate to the Honourable Chief Justice Alan Blow. She was a Federal Prosecutor with the Commonwealth DPP in Hobart, and then moved to The Hague. From 2007 to 2016, Regina prosecuted war crimes and crimes against humanity as a trial lawyer at the International Criminal Court. In addition to trial advocacy and case preparation at the seat of the court in The Hague, Regina also worked on the ground in situation countries with witnesses and victims, predominantly in east Africa. Regina is Chair of the Tasmanian Red Cross International Humanitarian Law Committee.
---------------------------
COVID-19 Protocols - The Law Society of Tasmania has determined that the following visitor access policy is in place until further notice. This is also displayed on signage at the front of its premises.
All visitors to Society premises must show upon entry, evidence of vaccination status, unless you hold an exemption status.Whilst you are not legally required to produce vaccination or other evidence, the Society may refuse entry to you if you do not produce your vaccination evidence.

All visitors must also be masked before entry and for the duration of their visit, regardless of vaccination exemption status.

Please do not enter the Society's premises if you have COVID-19 like symptoms, such as a cold or the flu.

Visitors to the Society premises are also asked to adhere to physical distancing requirements and follow any other related instructions that are made available on the premises.

Please contact the Society at info@lst.org.au or call 03 6234 4133 for further information about evidence and exemption in advance of your visit.

All Law Society of Tasmania staff are fully vaccinated. Staff assisting or engaging directly with visitors will also wear masks.
Location
The Law Society of Tasmania and Livestreamed
28 Murray Street, Hobart Tas 7000