THE BECKONING- 7 Day Life Changing Women's Retreat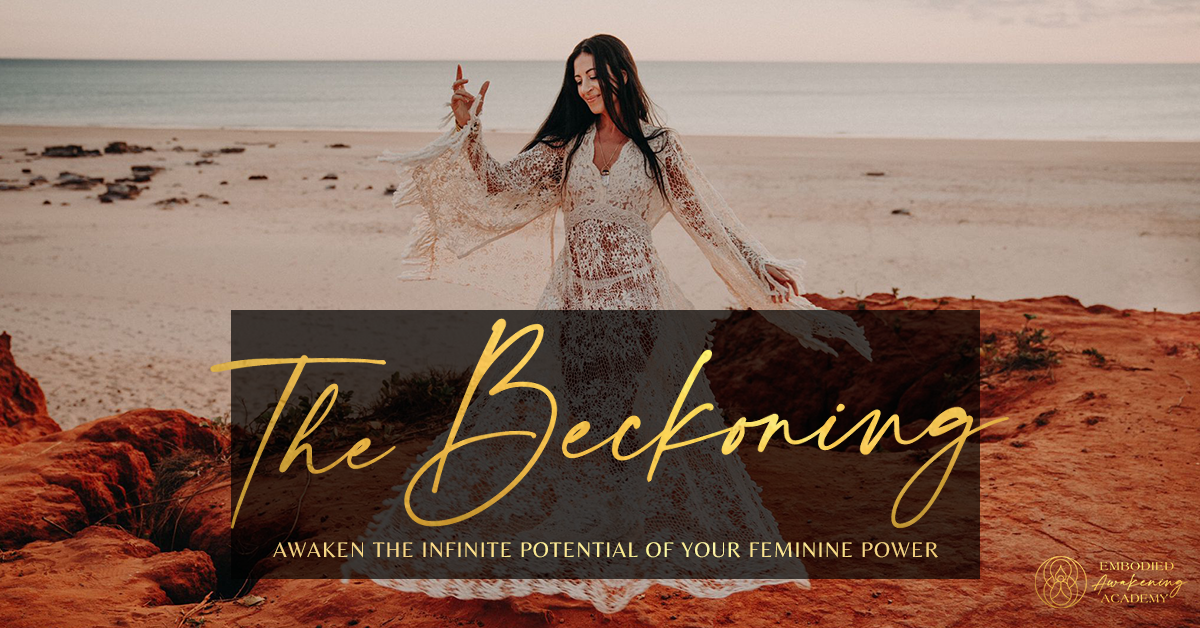 SUNDAY 15 MAY- SUNDAY 22 MAY 2022
The day always comes when we feel a calling. It beckons us from our familiar world into listening to the voice of our heart and soul. It grows with time. The call becomes louder and louder until we realize that we must answer.
Do you feel the calling?
ARE YOU READY TO AWAKEN THE INFINITE POTENTIAL OF YOUR FEMININE POWER?
Imagine spending 7 days in the lush, earthy forest of Denmark connecting to the MAGIC of your womanly body, heart and soul.
Imagine immersing yourself in the depths of your sexuality, emotions and vulnerability in the total safety and power of a deeply loving authentic sisterhood.
We live in a world that has little understanding of the unique power of feminine magic. Most women's lives and careers are based on an outdated masculine model of over-doing and under-being. The feminine realm is that of intuition, flow, ritual, mystery, connection, play, dance and creative juice.
It is time for us to wholeheartedly embrace the feminine realm, together. An overly masculine mode of keeping busy will simply no longer do. It is time for us to wake up and live from the core essence of our true feminine nature.
DO YOU FEEL CALLED TO BE INITIATED INTO THE ARCHETYPES OF THE LOVER, WARRIOR, SEDUCTRESS, PRIESTESS, MOTHER & QUEEN?
This retreat is themed around initiatory rites into powerful feminine archetypes. We will explore the relationship between different Goddess energies within us - in both their dark shadow and radiant light. You will experience practices to activate each archetype as well as magical rituals to call these powerful energies forth.
You will also Experience:
Morning Movement and Meditation Sessions with Ava Irani
Morning yoga and meditation sessions with Ava are a gentle flow and restorative practice to strengthen and open. Expect a delicious medicine for the physical, emotional, energetic and mental body, for all body types and shapes.
Ava uses the movement practice as a portal for therapeutic embodiment that opens the heart and unlocks a profound healing and creative wisdom that lies within you.
Temple Dance Nights with Ava and Raven
Ava and Raven will guide you through Temple Dance; a sensual dance journey to tap into how each archetype feels at an embodied level. These evenings are a place to come home to your body, to say yes to your aliveness, your authentic expression and your true feminine power. From the time you enter the temple, you will experience the most magical, juicy, radiant and creative version of yourself through a shedding of the performer and an embrace of who your true soul essence.
Other themes of the 7 days include:
INNER UNION - THE SADHANA OF OUR TIME
The dance of masculine and feminine energies within you is the secret source of your personal power. This is why the sages of the Shiva-Shakti traditions in Tantra put so much emphasis on cultivating inner union. Whether you are wanting to improve your relationship, attract your ideal partner, live your dream job, or experience ultimate liberation, you require the grace of your own inner union.
AWAKENING SEXUAL POWER
As women, for us to fully open to our magic, we must reconnect to the true power and radiant love that vibrates up from our yonis and pulsates through our bodies so that we are in true, full bodied alignment. You will be taken through an intensive experiential journey of opening to the flow of feminine sexual energy, preparing you to naturally share what you learn with a lover or partner. Together, we will form a loving relationship with our breasts and our yonis. We will connect our heart and with our sexuality, drop the performer and learn how to process feelings deeply and fully.
CLEARING AND BIRTHING THE NEW
Each archetype correlates to an energy centre in the body. These energy centres hold specific unconscious patterns that need to be cleared. This retreat is an opportunity for a shamanic clearing of these blockages. We will then create magic together in mystical evening rituals to call forth the power of each archetype within the context of our inner union.
WHO IS THIS RETREAT FOR?
This retreat is suitable for women who have not worked with Raven before, as well as those who have worked extensively with her. These teachings are mystical and magical, and relevant to right now.
You will be met exactly where you are.
It is also very well suited for women who would like to facilitate this type of work for circles of women and/or who would like to incorporate what they have learnt into an existing practice with women.
ON THIS RETREAT YOU WILL:
• Dance, play and create magic
• Awaken female sexual energy as a spiritual force in your own being
• Enjoy guided regenerating hands on healing from each other
• Discover and experience the unique qualities of the feminine archetypal wheel
• Learn to listen to your heart, body and intuition over the mind
• Come into deep intimacy and aliveness with your body and with other women
• Be guided in clearing blockages in the flow of your sexual and emotional energy
• Deepen the relationship between your masculine and feminine
• Clear the armour that keeps your heart closed
• Expand your capacity to feel bliss, love and joy
• Experience initiatory rites and rituals in nature as well as in the beautiful temple
• Feel safe to be sexual
• Create a powerful field of sisterhood
• Reconnect to the wonder and beauty of your body beyond the physical
• Redefine what it means to be beautiful
* Discover the jewels of receptivity and finding joy in your aloneness
Do you feel the calling?
Are you ready to respond? If so, then please join us.
RETREAT SPACE
Our retreat will be held at The Cove- twenty four hectares of native karri, tingle and jarrah forest on the edge of Wilson Inlet, only minutes from Denmark town and the beach. Accommodation options range from a number of craftsman-built, private and semi-private/shared timber chalets, complete with log fires and timber decks providing glimpses into the forest canopy. Local trails ramble along the water's edge and to the crown of Weedon Hill, and over 50 species of local birds have been identified, from ponderous pelicans to petite pardalotes. More info: www.thecovechalets.com
INVESTMENT
All prices include delicious nourishing food and wholesome, cozy, share accomodation.
- Early-bird: (until 21st April) $3,333
- Deposit Option: $1000 to hold a spot. If the full payment is made by the 21st of April it will be the Early-bird price. After that date will be the full ticket price due before retreat commences.
-Paying in Instalments: Contact Metisse to discuss part payments.
* Please note: The Beckoning has limited spots so secure your spot early to avoid disappointment!
WHEN
Sun 15th May 5pm – Sun 22nd May 12pm
Accommodation check-in is 2pm, and check out is 10am. We will stay on premises for an extra couple of hrs on the Sunday but rooms will need to be checked-out of. Our first meal will be dinner on the 15th, and breakfast will be our last meal together on the 22nd.
CONTACT
For any questions, please contact:
Metisse Wilson
Email: metissecreative@gmail.com
Phone: 0487277581
About your Facilitator:
Chantelle Raven (Embodied Awakening Academy)
Chantelle is the Founder & primary teacher of the Embodied Awakening Academy. She has a passion for spiritual awakening, a deep love for people and a unique understanding of the psyche, the body and sexuality.
She has a particular interest in supporting women to deepen in their love for themselves and others, and does so through The Living Tantra Series, as well as residential and online trainings and coaching.
Originally trained as a lawyer (LLB, University of Melbourne) with Hons in Philosophy, Chantelle went on to complete two years training in Rudolf Steiner Education, followed by the completion of a certificate in Holistic Counselling. A committed mother of two, her career started in wellness and women's health whilst at the same time pursuing a corporate career, working her way up to become CEO of an interstate sales business. When Chantelle experienced a massive personal health crisis (cervical cancer) she then placed all her time and commitment into the alternative healing arts where she uncovered her heart's vocation in Tantra.
Not long after surrendering to her calling, Chantelle trained with one of the world's largest contemporary sacred-sexuality training organisations. After supporting on trainings for several years and learning under some of the best Tantra Teachers in the world, she became a facilitator and trainer, covering Australia, Europe, Asia and the Middle-East. Chantelle has been working in the field of human development for almost two decades now and has dedicated her life to supporting individuals and groups across the planet to awaken consciousness in our sexuality and in our bodies, to release sexual trauma and de-armour blocks in the subtle body, to bring more awareness to the relationship between the inner and outer masculine and to awaken the deep feminine in women's work.
For more information on Chantelle and the Embodied Awakening Academy, visit: www.embodiedawakeningacademy.com
About your Guest Facilitator:
Ava Irani (Functional Spirituality)
Ava is the director of Functional Spirituality and the Fremantle-based yoga studio 'Spanda School'. Her deepest passions are embodied movement, therapeutic sensuality and inquiry into the mystical nature of 'Being'. Her yoga journey started in 2008 when she tasted her first, sweet savasana at the end of a 90 minute hot yoga class. Hooked on the Bikram practice, she practiced daily while completing her degree in philosophy at the University of Sydney.
In 2011, she completed her first 500hour yoga teacher training, along with her very first 10 day silent meditation retreat. She would follow this up with another 500hr YTT from Hridaya, countless yoga trainings, silent, dark and solo retreats, as well as teaching at both the Agama and Hridaya headquarters and worldwide.
In 2016 she moved back to Perth to open her studio Spanda School in Fremantle. Spanda School is the home of an open-hearted community of hundreds of yogis across W.A. Her journey started with the fervent passion for sexual awakening and non-dual libration. However over the years her path has matured with a more functional approach that considers the wide-spread complex trauma that lies at the heart of almost every obstacle to happy, healthy and connected living. She has trained with Paul Muller-Ortega (Blue throat yoga), NARM (complex trauma), Cecily Milne (yoga detour) to name a few.
Ava is predominantly known for her thriving yoga studio, silent retreats and the phenomenal teachers that emerge from her yoga and trauma-informed certifications. She lives in beautiful Western Australia with her husband Jarred of Kommunity brew and their fur-child Honey.
CANCELLATION POLICY:
* Deposits are non-refundable
* Cancellations: Strictly no refunds
* You may transfer your spot to someone else, but this is your responsibility to organise.
* 100% refund or credit if any Covid related booking cancellation
HEALTH DISCLAIMER & LIABILITY:
We may engage in practices that require some gentle movement – if you have any serious injuries now or in the last 5 years, or health issues that may interfere with your participation, please discuss this with the facilitator (Raven).
You are responsible for your own health and wellbeing during this evening. Chantelle Raven or Embodied Awakening Academy will not be held liable for any injury or other medical, physical, mental or emotional issues that may arise, are sustained or aggravated during or after this event.
Location
The Cove
45 Payne Rd, Denmark WA 6333