Music, she wrote | Live at venue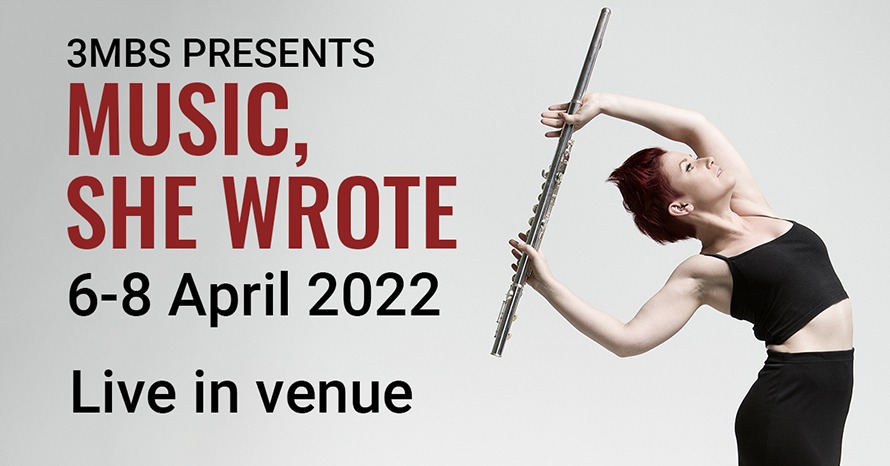 3MBS Fine Music Melbourne proudly presents MUSIC, SHE WROTE following a sold-out inaugural festival in 2021. The festival moves from the suburbs to the city, held over three nights from April 6-8 at the stunning Chapter House on Flinders Lane, with a whole new line-up of Melbourne's most celebrated, imaginative, and engaging classical, baroque and folk musicians.
In accordance with government regulations, proof of full COVID-19 vaccination or valid medical exemption
will be required for anyone attending Music, She Wrote
Concert 1: RESTORE
Wednesday 6 April, 8pm: Eliza Shephard, The Consort of Melbourne
Sally Whitwell/Hildegard von Bingen - O wisdom
Raffaela Aleotti - Vidi speciosam (I saw the fair one)
Vittoria Aleotti - O dolce eterno Amore (O sweet eternal love) & Io, dal sofferto fuoco (I, scorched by the fire)
Maddalena Casulana - Io di odorate fronde (I, from the scented fronds) & O notte, o cielo, o mare (Oh night, oh sky, oh sea)
Cecilia McDowall - Alma redemptoris mater (Loving Mother of the Redeemer)
Clara Schumann - Abendfeier in Venedig (Evening celebration in Venice)
Fanny Mendelssohn Hensel - Schöne Fremde (A beautiful foreign land) & Schilflied (Reed song)
Alice Chance - Shadow

Concert 2: RENEW
Thursday 7 April, 8pm: Hannah Lane and Chloe Lankshear, Big Fiddle Little Fiddle
Anonymous - Ave Maris stella per le feste della Madonna, Codex Chigi
Anonymous - Toccata, Codex Chigi
Barbara Strozzi - Che si può fare, Arie Op.8
Anonymous - Toccata, Codex Chigi
Francesca Campana - Semplicetto augellin, Arie a una, due e tre voci
Anonymous - Partite sopra Ciaccona, Codex Chigi
Barbara Strozzi - L'amante segreto, Ariette a Voce Sola Op.6
Anonymous - Toccata, MS Doria Pamphilj
Lucretia Orsina Vizana - O Magnum Misterium, Componimenti Musicali de Motteti a una e più voci
Jessica Foot - The Not So Short One Comes to Plow St
Nancy Kerr/Claie Patti - Something for Liam/Daisy's Sunrise
Josefina Paulson - Louise
Louise Godwin - Not a Hambo/Something in 7/8

Jessica Foot - A Cake in the Post
Louisa Wise - Witches Reel
Concert 3: REBEL
Friday 8 April, 8pm: Music, She Wrote String Quartet
Kyla Matsuura-Miller and Emma Hunt (violins), Katie Yap (viola), and Elina Faskhi (cello)
Florence Price arr. Elaine Fine - Thumbnail Sketches of a day in the life of a washerwoman
Hilary Kleinig - Cockatoos
Emily Sheppard - Aftermath
Missy Mazzoli - Lies You Can Believe In
Elena Kats-Chernin - Blue Silence
Grazyna Bacewicz - String Quartet no. 4
3MBS is a fine music community radio station in Melbourne, Victoria, Australia. Founded in 1975, 3MBS was the first FM station in Victoria and led the way for the introduction of community radio in Australia. 3MBS passionately supports fine music, especially Melbourne musicians and composers, and is the only locally-based classical music radio station in Victoria.
3MBS relies on listener support in the form of subscriptions, donations and bequests.
If you have any questions about how you can support 3MBS, please contact the station on (03) 9416 1035 or email info@3mbs.org.au, or you can come to our station at 1 St Heiliers Street, Abotsford Victoria 3076.