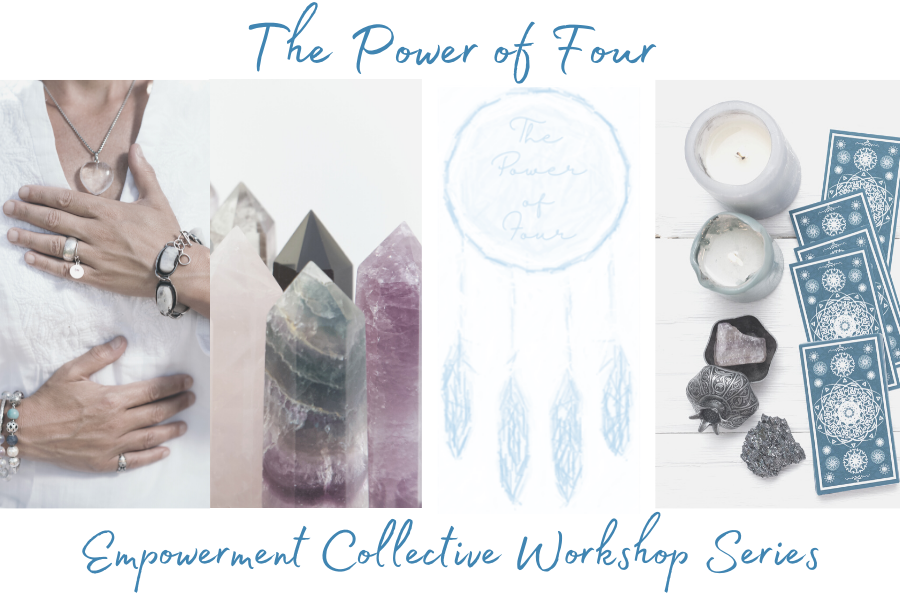 ,
Finding balance and harmony in a modern world by tuning into your inner wisdom, encompassing the four key elements of LOVE+PROTECTION+WISDOM+WELLNESS.

What is intuition and learning to see the signs? Looking at external energy, its effect on us and how to protect ourselves. The importance of crystals and essential oils for their wisdom and protection. How to tune into our Angels and Guides.
The take away from our signature workshop is all about learning to tune into your inner wisdom for guidance in the four key areas of life, LOVE+PROTECTION+WISDOM+WELLNESS.
Each of these four powers encompass a balanced life and we will explore tuning into our Angels and Guides, looking at supporting our life with Essential Oils and Crystals and even how to pick up the signs and protect ourselves from the negative and draining energy of others and daily protection and grounding rituals.
You will leave armed with you own set of The Power of Four Crystal Set to keep you feeling protected and energetically motivated.
Let's not forget the importance of connecting with some other beautiful, intuitive souls on a Saturday making connections and sharing afternoon tea together with nibbles, tea and some alcohol-free bubbles.
There will also be an opportunity to shop for crystals and other goodies at our pop-up store.
We are so excited to share this popular workshop with you, that will leave you feeling aligned with your inner wisdom.
Details for this event are-
Eight Petals