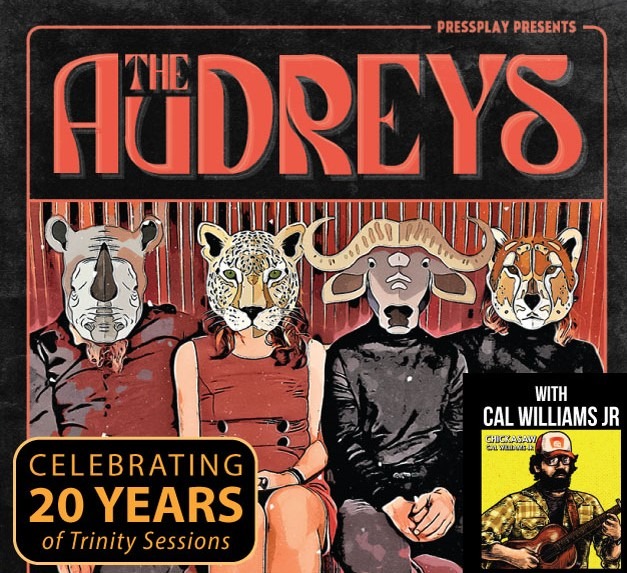 About
The Audreys are back to help celebrate Trinity Sessions 20th Birthday. The City of Unley is a sponsor for the July concerts and there is a discounted ticket for City of Unley Residents.
IF YOU BUY FULL PRICE TICKETS TO ALL FOUR JULY CONCERTS WE WILL PROVIDE YOU WITH A REFUND OF $30 WHEN YOU NOTIFY US.
Live favourites and multiple ARIA award winners The Audreys ARE BACK with a brand new lineup and a brand new tour.
Led by sultry songstress Taasha Coates, The Audreys have graced almost every major festival in Australia and played more gigs than they can count. They've rocked festivals and clubs in Europe and North America, sold songs to films and tv shows far and wide, written music for live theatre, won awards, hit the charts, gone gold and pawned their very hearts for rock and roll.
Launching in 2006 with Triple J favourites "You and Steve McQueen", "Oh Honey' and "Banjo & Violin" from their debut album, The Audreys now have five albums worth of songs to choose from and just as many hilarious anecdotes. The Audreys will be back in the studio in spring 2022 ready for a new release in 2023, so be the first to hear some of the new songs - along with all the old favourites of course.
Supporting The Audreys at this special show will be Cal Williams Jr, who first played at Trinity Sessions in 2009. Multi-award winning blues singer/songwriter, Cal Williams Jr, combines the gentle fingerpicking of British folk with the raw intensity of delta slide blues to create a sound that is both intricate and powerful. Blues Blast agazine, USA, said "Cal Williams Jr's guitar work is impeccable under his gorgeous voice. a marvellous quilt of tones and textures from this masterful player"
Sponsored by the City of Unley - Unley residents have access to discounted tickets.
Bar Opens 6.30pm. Concert Space doors open 7pm. Music at 7.30pm
Location
Get directions
Trinity Sessions
318 Goodwood Road, Clarence Park SA 5034