Microdose 14: For the Love of Weed and Justice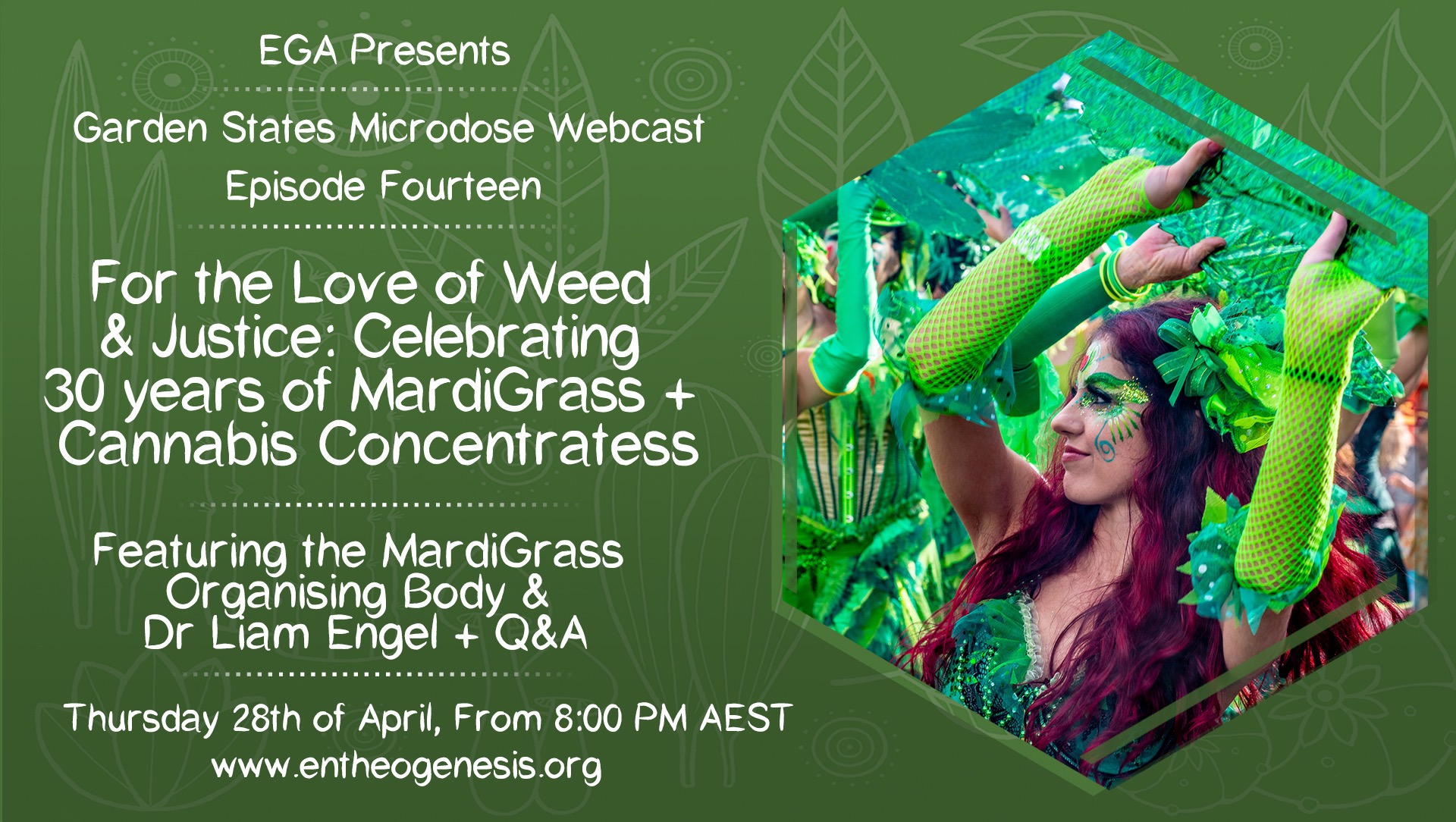 The 14th Microdose Webcast will head north, partnering with the Nimbin Hemp Embassy to explore the long running MardiGrass Cannabis law reform protestival. We will be joined by a panel of local plant freedom fighters to take a trip through the highs and lows of this passionate movement. Dr Liam Engel will also be stopping by to discuss Cannabis concentrates and vaporisation.

Registrations for the Microdose Webcasts is free, but donations are encouraged to support EGA
AEST
EGA and the Nimbin Hemp Embassy present, Garden States Microdose Webcast, Episode 14
Microdose 14. For the Love of Weed and Justice: Celebrating 30 years of MardiGrass
The 14th Microdose Webcast will head north, partnering with the Nimbin Hemp Embassy to explore the origin and evolution of the long running MardiGrass Cannabis law reform protestival. We will be joined by a panel of local plant freedom fighters to take a trip down memory lane and discuss some of the highs and lows of this passionate grassroots movement. After the panel, there will be a short live Q&A.

Dr Liam Engel will also be stopping by to keep things green with a discussion of Cannabis concentrates and vaporisation. Liam will follow on from EGA's Cannabis Concentrates Reference Guide, emphasising a harm reduction approach amidst modern cultures of Cannabis consumption.
More about Nimbin MardiGrass
For 30 years MardiGrass has aimed to expand the mind as much as that special weed herself, and continues to provide a space to inform, learn, agitate, inspire and connect in this massively important green revolution to overgrow the government! 2022 is the 30th year of MardiGrass and our friends at the Cannabis Broadcasting Network have created a precious documentary of this important and enduring force for drug law reform in Australia. You can watch it online for free here: https://cannabisbroadcasting.com.au/mardigrass/
For more information about the protestival, check out their website: https://nimbinmardigrass.com/
Bios
Michael Balderstone
Michael Balderstone abandoned a successful career as a stockbroker to look for a deeper meaning in his life. He settled near Nimbin thirty-odd years ago and has been involved with the HEMP Embassy and MardiGrass since they began. He is also President of the federally registered political party, the Legalise Cannabis Party. He's passionate about injustice in all forms but in particular the war on drugs, believing drug use should be a health issue and not a fight over who gets to profit from pain.
Miss Guidance
Having attending MardiGrass since the late 90s, in 2011 Miss Guidance started helping with the MardiGrass conference, AKA the Hemposium. Miss Guidance also volunteers at the Nimbin Hemp Embassy and is a member of Entheogenesis Australis.
Neil Pike
Neil Pike is a musician, video-maker, life-time activist and professional weirdo. He is an active proponent of Optimistic Cynicism™, and lives in the rainforested hippy warrens surrounding the rural Australian town of Nimbin. Raised by peace activists in the '50s & '60s, he has been making music and causing trouble since the early 1970s, involving himself in a range of causes from environmental protection to various social justice issues. Neil is the founder and Grand Authenticated Bush Turkey of the Pagan Love Cult inc, probably the longest running contemporary psychedelic music group in Australia. He is a multi-instrumentalist and singer-songwriter who has performed at gigs & festivals extensively all around the world. "The best thing about being the Grand Authenticated Bush Turkey" says Neil "is that only other turkeys take you seriously".
----------------------------
About Garden States Microdose Webcasts
The EGA Garden States Microdose Webcasts are designed to cover various topics from the field of ethnobotany and psychedelic culture, sustainability, and related areas of interest to the community. The forums are part of the program leading up to the highly anticipated

Garden States 2022 Botanical Conference

. Registration for the Microdose Webcasts are free, but donations are encouraged to support EGA's important work.
About EGA
Entheogenesis Australis is a charitable, educational organisation established in 2004. We provide critical thinking and knowledge sharing opportunities on ethnobotanical plants, fungi, nature, and sustainability. Through our conferences and workshops, we aim to celebrate the culture, art, politics and community around medicine plants in the hope of better wellbeing for humankind and the planet.
Warm Regards,
The Entheogenesis Australis Team
Planting seeds for the earth, body and mind
www.entheogenesis.org
www.gardenstates.org
Note: Small booking fees may apply.
Location
Online event access details will be provided by the event organiser