Scattered People Movie Screening 2022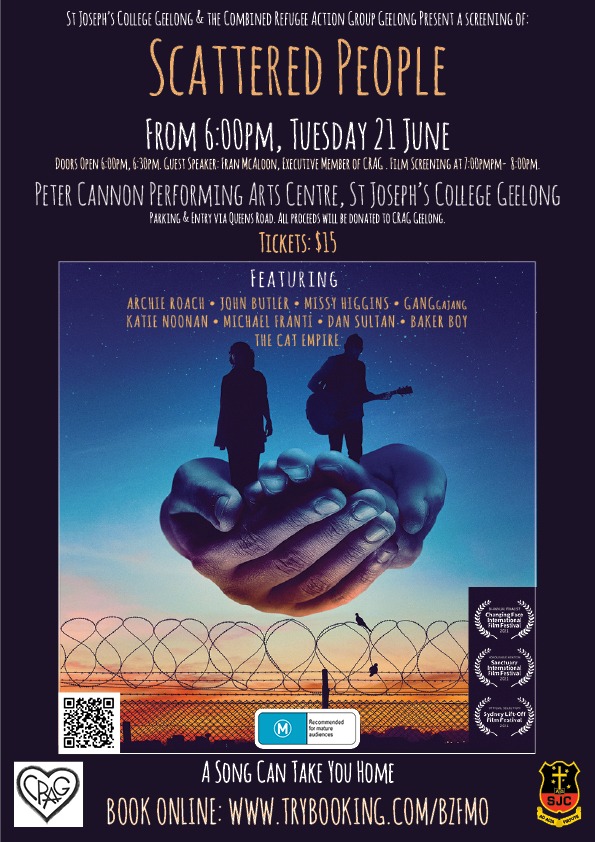 SEATING NOTE: This event will have allocated seating, and seats can be selected on our seating plan. Be aware that seats designated with a 'wheelchair' symbol are designed for attendees who arrive in a wheelchair to select - as these are open spaces that allow for wheelchairs to be parked. There is no actual 'seat' in this space.
Scattered People
Produced by John and Lizzi Swatland
www.scatteredpeoplefilm.org
When Australian musicians go into a Brisbane detention centre to share music, they meet two Iranian musicians, Mas and Saha, who sing on their three albums.
Missy Higgins, John Butler, Harry James Angus (The Cat Empire), Katie Noonan, Michael Franti, Archie Roach, Dan Sultan, and Robbie James talk about the power of music, its ability to break through barriers, unite people and create shared experiences.
What does the music we produce, sing and listen to tell us about ourselves, our country and life experience?
Academics, psychologists and refugee specialists talk about the role artistic expression plays in building personal and national identity, and the healing power of creative expression and shared stories.
Event Guidelines during COVID-19
Due to the uncertainty that the COVID-19 pandemic has created around holding public events, we would like to reassure our future guests of the following:
All of our events will be held in accordance with the latest COVID guidelines. Guest and staff wellbeing will be our priority.
At this stage, current vaccination status is not required to be shown for event attendance, however we will be ultimately bound by the current rules on the day of the event.
If restrictions prevent a scheduled event from occurring, we will attempt to reschedule. If rescheduling is not practical, then tickets to the event will be fully refunded.
Guests unable to attend our event due to being unwell, awaiting COVID tests or restricted by quarantine regulations can contact us to organise a refund.
We look forward to continuing to host a variety of events for our community to enjoy. Thank you for supporting St Joseph's College Geelong.
About
St Joseph's College and the Combined Refugee Action Group present a screening of "Scattered People" with special guest speaker: Fran McAloon, Executive Member of CRAG.

When a band of Australian musicians share their instruments with people seeking asylum, they discover their music speaks louder than words, and builds bridges, opens hearts, brings hope and has the power to restore lost human dignity. This is a story of a changing Australia.
Location
Peter Cannon Performing Arts Centre
St Joseph's College Geelong, 135 Aphrasia Street, NEWTOWN Victoria 3220