Dungog Picnic Train (SOLD OUT)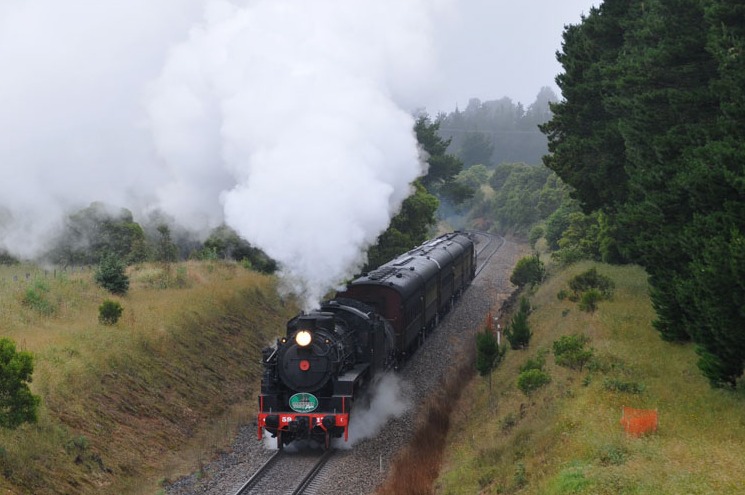 Enjoy a half day tour behind one of our heritage steam locomotives on a short journey up the picturesque North Coast line from Maitland to Dungog (return) on Saturday 2 and Sunday 3 July 2022. There is a choice of morning or afternoon trips.
Maitland–Dungog (return)
Saturday 2 July 2022
Sunday, 3 July 2022
(Two trips departing Maitland)
Your journey begins at Maitland Railway Station and travels along the scenic North Coast line to Dungog.
The town centre in Dungog is a short walk from the railway station and you will have ample time to check out this delightful country town before the return trip to Maitland.
Ticketing options are perfect for couples, small groups and families.
For more information on the destination, please visit www.aussietowns.com.au/town/dungog-nsw
Fares:
Please Note: All fares are for same-day return travel on the same service.
Private Compartment — $320 per group
Enjoy the benefit of an entire closed-off compartment to yourselves in a heritage side-coridor carriage — great for larger families and social groups!
One booking is good for up to a maximum of eight (8) people including children.
Family of Four — $220 per family
Four seat booth in a heritage railway carriage with table and window seats guarentee'd
Classic Duo — $150 for two people
Window seating for two people in a classic heritage carriage in a spacious booth with table.
Full Carriage Hire — Call for Quote
Timetable*
Trip 1:
Outbound Journey
Maitland dep8.50am
Dungog arr9.55am
Return Journey
Dungog dep11.00am
Maitland arr12.30am
Trip 2:
Outbound Journey
Maitland dep2.15pm
Dungog arr3.30pm
Return Journey
Dungog dep4.50pm
Maitland arr6.30pm
*Preliminary times only. Please arrive at least 20 minutes prior to departure. An update email will be sent to the ticket booking a couple of days prior to the event with final trip details.
Buffet Car:
The Buffet car will not be available. We encourage passengers to bring their own picnic hampers.
BYO alcohol is allowed, however, large eskys will not be permitted
Toilets:
Toilets are available in most carriages.
Mobile Phones:
There are no charging points on the heritage equipment. It is recommended that you bring an external battery charger for your mobile devices.
Motive Power:
One of our heritage steam locomotives will be the motive power for the Dungog Picnic Trains
Location
Maitland Railway Station
Station Street, Maitland NSW
Contact Details