RED RATTLER SHUTTLE RIDES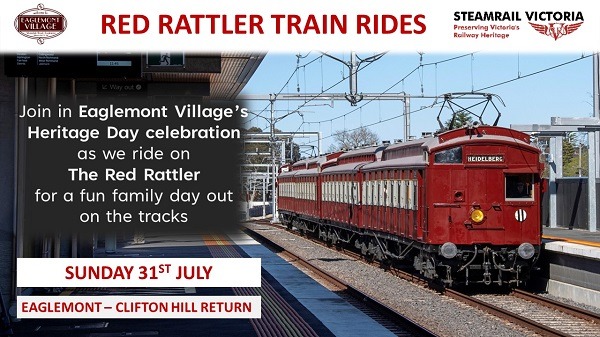 Be part of the Eaglemont Village Experience as Steamrail VIC operates the vintage 'Red Rattler' Tait Train shuttle rides as part of the Heritage Day celebrations on Sunday 31st July 2022.
Come along for a ride on The Red Rattler for a fun family day out through Melbourne's northern suburbs.
7 x return shuttles will depart Eaglemont station at 11.00am, 11.40pm, 12.20pm, 1.00pm, 1.40pm, 2.20pm and 2.56pm. These will operate to Clifton Hill Station and return, passengers will not be able to join/leave the train at any stop.
One way transfer trips will depart at the following times:
Flinders Street Platform 3 (10.29am) to Eaglemont arriving at 10.55am
Eaglemont Platform 2 (3:40pm) to Flinders Street arriving at 4.05pm
PRICES
Adults - $20
Under 17 - $10
Family - $50 (2 adults & 2 children OR 1 adult & 4 children)
Baby - Free (up to 12 months / seated on adult lap)
PRAM & MOBILITY AID PARKING
Please note: the restrictive design of Tait Eelectric Trains does not allow for easy access with prams or mobility aids. Steamrail VIC staff are offereing free 'Pram Parking' at Eaglemont Station, where your bulky goods will be safely stored whilst you enjoy your Red Rattler experience.
COVID SAFE PRACTICES


Under current COVIDSafe practices, Face Masks will be required for all passengers travelling on our trains unless a lawful reason not to wear one applies. Face Masks are strongly recommended where physical distancing of 1.5 metres from others cannot be maintained, such as on platforms and when joining / leaving trains. Movement about the train will be restricted to your seat and our on-train services such as our toilet facilities and Souvenir sales where provided.
Steamrail VIC staff will ensure high touch areas such as door handles and handrails are cleaned regularly.
BOOKINGS AND REFUNDS
Any passengers who experience any symptoms of COVID-19 prior to or on the day of travel, are not permitted to travel with us. Please contact us by replying to the email sent by Eaglemont Village with your ticket details sent via TryBooking, to request a full refund of the ticket price* prior to travel. COVID-19 related refunds will only be issued if notification is sent no less than 2 HOURS prior to the booked departure time. No refunds will be issued due to missed shuttle sessions.
* NOTE: All COVID-19 related refunds are of the ticket price only, this excludes TryBooking service fees as per their Terms and Conditions.
In the event that the train is unable to operate due to COVID-19 restrictions, all passengers will be contacted via the email in which was provided at the time of your booking. Where an event can be rescheduled, tickets will be automatically transferred to the next available date. If you are unable to make the alternative date, please reply to our email within 7 days and a full refund of the ticket price* will be provided. Where an alternative date is unable to be provided, a full refund of the ticket price* will be provided by Steamrail Victoria within 7 days of the tour date.
Eaglemont Village office will be unattended on Sunday 31st July.
No booking alteration requests will be processed and queries will not be followed up until Monday 1st August.
Location
Get directions
Eaglemont Train Station
60 Silverdale Road, PLATFORM 2, Eaglemont VIC 3084