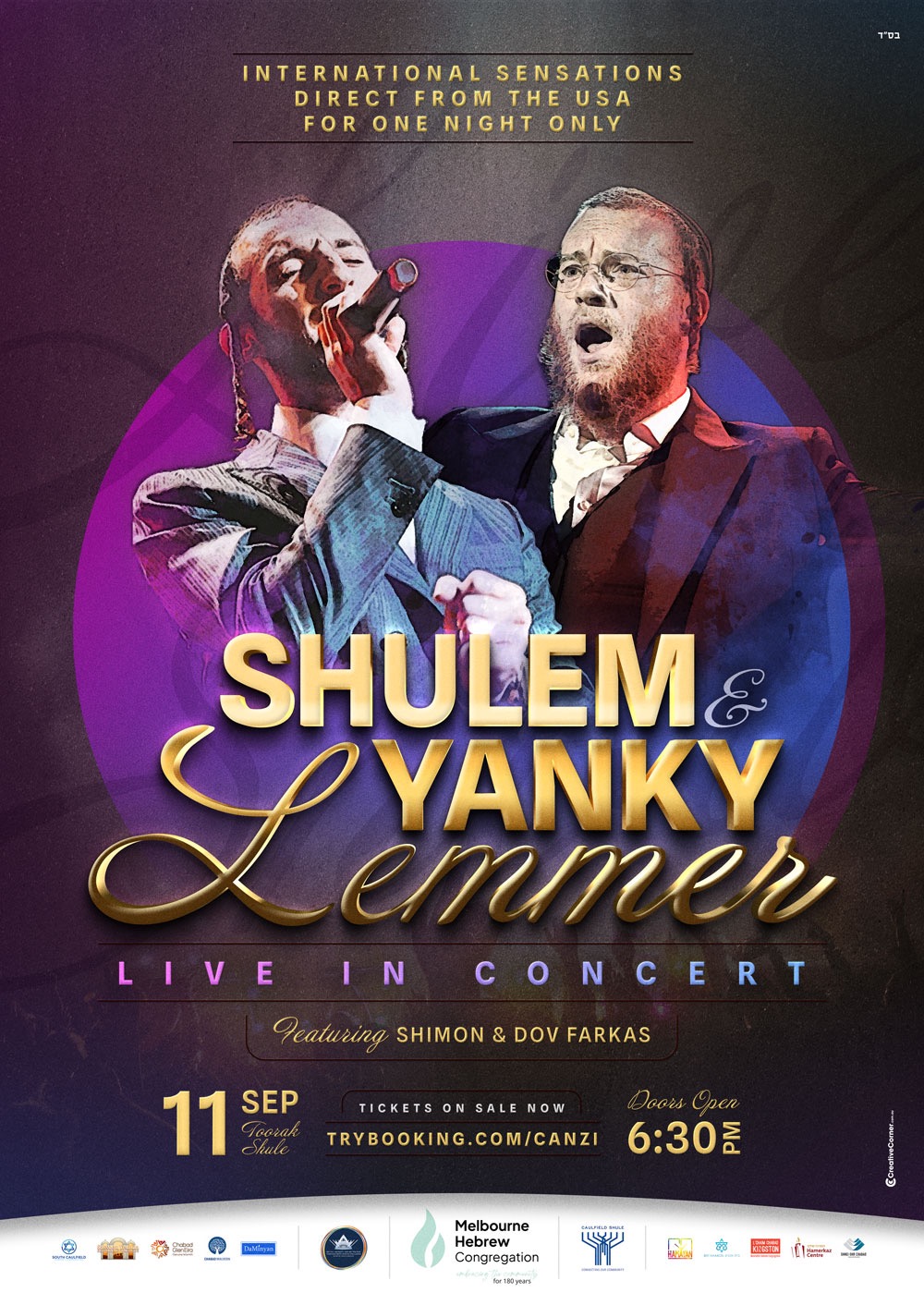 SHULEM AND YANKY LEMMER LIVE
IN CONCERT
From New York to London,Tel Aviv to Milan and now coming to
Mebourne Australia for ONE concert only THE LEMMER BROTHERS
For the first time in Melbourne,we welcome world renowned artist and most sought after Jewish singer today .
SHULEM LEMMER
Raised in Boro Park, Brooklyn, Shulem's singular voice has gained widespread attention worldwide.Lemmer made history as the first born-and-raised Orthodox singer to ever sign a major record deal in the U.S. His recent contract with Universal Music's Decca Gold Label positions him as an artist primed to break through to a global audience with the release of his album, The Perfect Dream.One of the most sought after Jewish singers today, Shulem has performed in front of a wide range of audiences across the Jewish spectrum as well as those of other faiths. Shulem provides an authentic taste of Jewish music and culture with his proud Jewish appearance and style.
There are some voices that have to be heard – and Shulem's is one of them.The Perfect Dream finds Shulem masterfully embracing a broad range of material reflecting his varied musical tastes. His considerable vocal talents are supremely showcased in the two singles of the album, Les Miserables' "Bring Him Home " and 'Jerusalem Of Gold
He performed the National Anthem at San Francisco Giants Stadium and G-d Bless America at Fenway Park and Citi Field.
We welcome back
YANKY LEMMER
Yanky is one of the leading New Age Cantors on the Jewish music scene. He performs at culture festivals and philharmonic halls the world over. He has recorded with Grammy award winner Frank London and was recently featured on PBS as part of the NY Cantors Broadcast. Yanky is known for his colorful repertoire and vibrant interpretations spanning a wide range of languages including Broadway, Opera, Yiddish, Hebrew and more.
He currently serves as chief Cantor of Lincoln Square Synagogue in NYC.
11 September,2022
7.00 pm
Location
Melbourne Hebrew congregation
2/8 Toorak Rd South Yarra VIC 3141
Contact: ilsalevin@bigpond.com