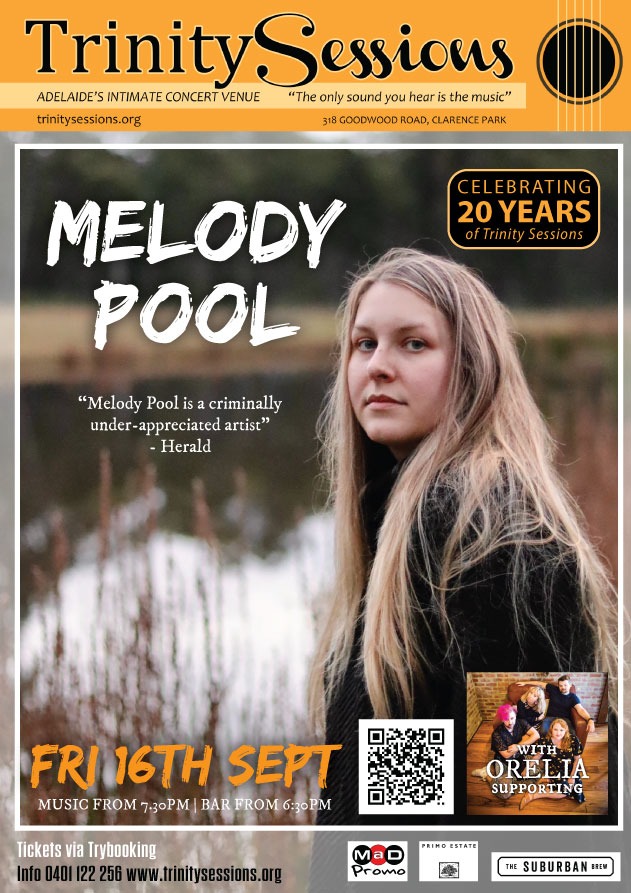 About
Time to welcome back one of our favourite Australian artists Melody Pool, helping to celebrate 20 years of Trinity Sessions; supporting original songwriting and artists.
Following the release tour for Deep Dark Savage Heart, her second album in 2016, Melody went on to share a more literal account of her experiences when she featured on Australian Story in 2017. At this time, Melody announced she was to take a break from music to focus on rehabilitating her mental health.
During her time off, Melody focused on writing her third studio album which she's self-produced and recorded on her home on a 160 acre farm in regional NSW. It draws on her recovery and progress and also the angst and pain experienced along the way
In 2022, Melody Pool tours Australia with new music penning its way into her sets as she toured the east coast playing to sold out rooms, exploring a new and re-birthed brilliance hinting at subjects of empowerment, resurgence and uprising. We are so excited to have Melody back at Trinity Sessions, she won so many new fans who saw her at her electric show with us last year. Can't wait for what she has in store in September. She is a 'criminally under-appreciated artist'.
Supporting Melody is the exciting Adelaide band Orelia. We first heard them on Radio Adelaide's Songcatcher and were blown away. Orelia create songs of love, loss and hope, combining melodic keys, soaring vocals, smooth bass and energetic percussion. Their single, 'Parachute' released in march this year puts you in the driver seat of your first car, on your first road trip, to see your first love, feeling like you are floating on a breeze. We've fallen in love.
Bar from 6.30pm Concert Space Doors Open 7pm Music commences 7.30pm
Location
Trinity Sessions S
318 Goodwood Road, Clarence Park South Australia 5034