In Transit (Emily Granger) (SOLD OUT)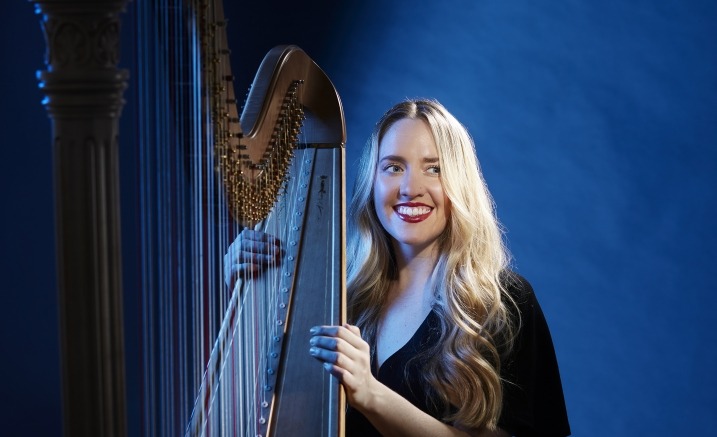 Greenaway Studio welcomes Emily Granger, one of Australia's top harpists, for In Transit which celebrates her life as an American artist living in Australia.
This is a rare opportunity to experience the musical skill and talent of one of the world's leading harpists up close in a private concert setting.
"...spectacular playing, both skilled technically and emotionally poignant.." Limelight Magazine
The concert will feature contemporary works that unearth the breadth and beauty of harp music from the two countries.
From Australia, much-loved composers Elena Kats-Chernin and Ross Edwards feature with exciting emerging voices. Equally breathtaking are works by American luminaries Libby Larsen, Laura Zaerr and Deborah Henson-Conant.
With themes of travel and isolation; serenity and solitude; this music paints a vivid portrait of an artist's life in transit between opposite sides of the globe. Rich in imagination and overflowing with stories, this is a chance to observe Emily's artistry like you've never heard it before in the intimate setting of Greenaway Studio.
American-born, Australian-based Emily Granger effortlessly straddles the worlds of classical, popular, and art music - including glittering appearances with Yo-Yo Ma, Sarah Blasko, and Renée Fleming. Emily's considerable talent finds her equally at home in intimate chamber recitals and thrilling performances of daring new works. Emily has performed recitals from Carnegie Hall to the Kennedy Center and has appeared with the Chicago, Sydney, and Tasmanian Symphony Orchestras. Her debut solo album, In Transit (AVIE Records), was Featured Album on ABC Classic and 2MBS Fine Music Sydney. The album was praised by BBC Music Magazine as 'beautiful' and Limelight Magazine as 'an impressive debut'.
Dedicated to expanding the repertoire for harp, Emily was a Finalist in the 2021 Art Music Awards for Performance of the Year. Her interest in new music began during her studies at IU where she spent three years performing with the IU New Music Ensemble. While living in Chicago she performed with Ensemble Dal Niente, Fulcrum Point New Music Ensemble and at the Ear Taxi Festival. Emily has premiered works by Ross Edwards, Elena Kats-Chernin, Sally Whitwell, Sally Greenaway, Richard Mills, Bernard Andrès, Alfredo Rolando-Ortiz, Hilary Purrington, Nicholas Davies, Elliott Bark, Tristan Coelho, Mark Oliverio, and Martin Kay. She has a close relationship with Ensemble Offspring and continues collaborating with it's Artistic Director and percussionist, Claire Edwardes.
Emily grew up in Kansas City Missouri where she began the harp at age 11. She participated in the Youth Symphony of Kansas City and spent many summers at the Interlochen Center for the Arts. She earned her Bachelor of Music from Indiana University's Jacobs School of Music where she studied with famed pedagogue, Susann McDonald, and her Masters of Music from the Chicago College of the Performing Arts studying with Principal Harp of the Chicago Symphony Orchestra, Sarah Bullen. Granger later served as the Principal Harp of the Chicago Civic Orchestra, National Repertory Orchestra and National Orchestral Institute.
When not traveling the world concertizing, you can find the avid hiker in the backcountry. Granger successfully walked Te Araroa, a 3,000 kilometer trail across New Zealand taking 138 days to complete the journey from Cape Reinga to Bluff. In addition, Emily has walked across Spain on the Camino de Santiago (900 kilometers) in January 2018 as well as a through hike of California's John Muir Trail, the Great North Walk, Overland Track, and climbed 14 of Colorado's highest mountains in one week and Australia's 15 highest mountains in three days.
Greenaway Studio House Concert Information
Emily Granger: In Transit
Ticket Price:
$45 (adult); $25 (youth - 25 yrs and under); $12 (children - 12 yrs and under)
Intimate salon-style concert experience in a lovely private home music studio.

Performance begins at 2pm (no interval). Doors open at 1:45pm

Chat with Emily after the concert - 'meet the artist'

Parking (free):
on-site for 5 cars;
overflow parking on-street in dedicated parking lane on Namatjira Drive;
additional parking at Chapman Oval on Tauchert St (approx 500m).

Public transport:
Buses 70 & 71 (Woden-Tuggeranong via Cooleman Court; every 15 minutes);
Closest bus stops are 1269 & 1264 (on Namatjira Drive).
ABOUT GREENAWAY STUDIO
Intimate, acoustically designed music space
High quality instruments, excellent acoustics, intimate venue for specialist musicians and music-loving audiences!
Hosts Peter and Sally wish to help support the finest jazz and classical musicians who visit Canberra and share their wonderful musicianship with Canberra audiences.
Location
Greenaway Studio
164 Namatjira Drive, Chapman ACT 2611
Contact Details
Sally Greenaway - studio.greenaway@gmail.com