St Paul's Primary School Bentleigh Fete 2022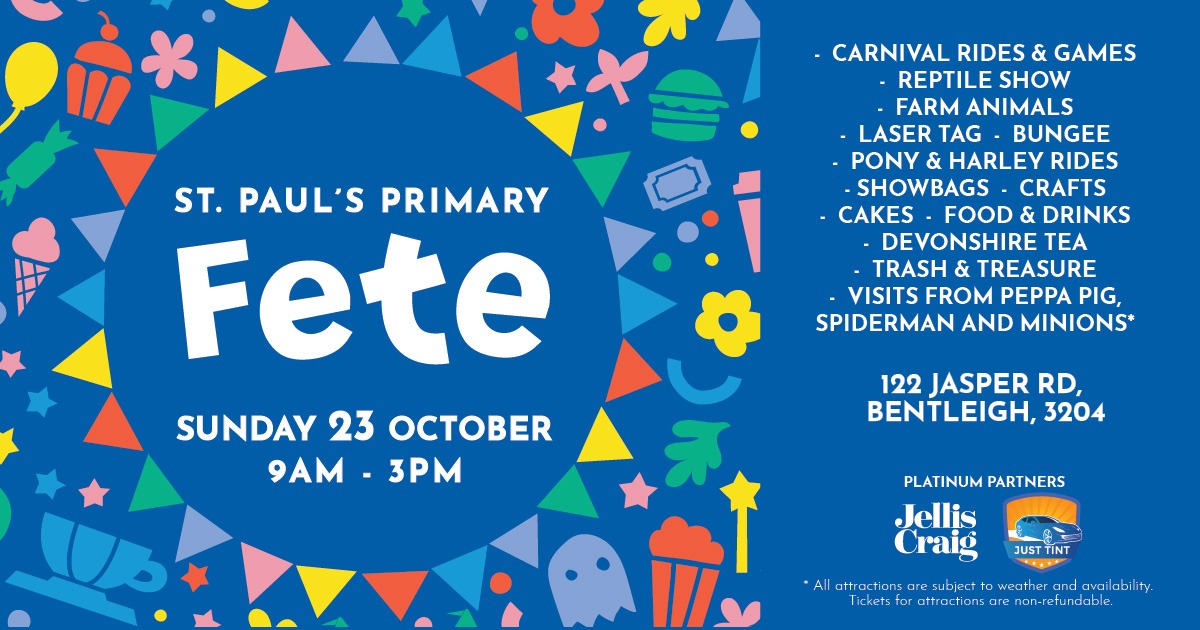 About
We have created the 'Ultimate Family Fun Day Out' - more rides and attractions than ever before!!
Avoid the queues, grab family and friends and support our school! Spread the great news.
EARLY BIRD FETE PASSES – ON SALE NOW till 15th October, 2022!
This year we have created two fantastic Fete passes:
Our Fete Pass gives you access to:
Star Scream - 4 years plus, 105cm minimum height
Chair-O-Plane - 3 years to 14 years
Cup & Saucer - 1 year +
Bungee Trampolines - 6 years plus, maximum weight 80kg
Adrenaline Rush - 90cm height minimum
Pony Rides
Animal Farm
Laser Tag
Dunking Machine
Glamour Tent - Hair or Face painting
Plaster Fun and Sand Art
Cupcake Decorating
Haunted Alleyway
*Each individual ride/activity is valued at $5 (one ticket stamp).
The Bungee Trampolines are valued at $15 (3 ticket stamps). - Sky's the limit!
The Eat & Play Pass $25 includes:
4 Rides or Activities (from above list- 4 holes on pass, worth $5 each)
1x Sausage or Hot Dog
1x Fairy Floss or Popcorn
1x Drink
No other food is available on this pass
- value $30 -
The 'Play Pass' $40 gives you access to:
10 Rides or Activities (from above list - 10 holes on pass, worth $5 each)
No food available on this pass
- value $50 -
NOTE:
-Early Bird ticket sales will close Monday, 15 October, 2022. Passes will be sent home with St Paul's Students on Thursday, 20 October.
-The general public can pick up their Fete passes on the day of the Fete (Look for the Pre-sales sign at the Ticket Tables).
-Bring coins for activities not included in Fete Pass: Carnival games, tattoos, Gelato ice cream, and Lucky dip bags.
-Single tickets are $5 on the day and Fete passes are available to purchase on the day but not at pre sale prices.

.
*All rides/attractions are subject to weather and availability. Tickets for rides/attractions/food/drink are non-refundable.
For the latest attractions, offers and news please follow our Fete Facebook page.
Location
122 Jasper Road
Bentleigh VIC 3204