Sorrento Room
The Commitments Revue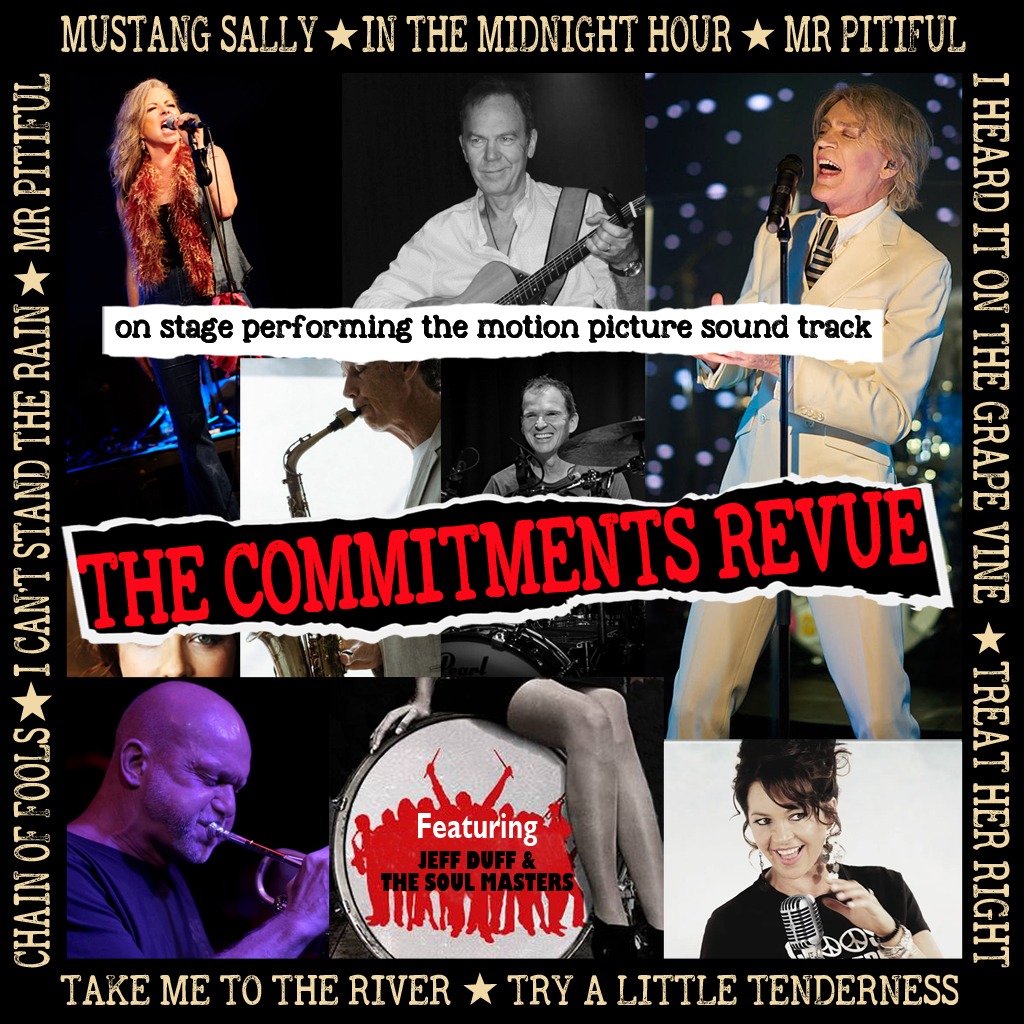 JEFF DUFF & THE SOUL MASTERS perform THE COMMITMENTS TRIBUTE. The
music, laughter and drama of the cult 1991 movie comes " alive" as the legendary JEFF
DUFF and the nine piece SOUL MASTERS recreate the music of THE COMMITMENTS
MOVIE SOUNDTRACK and more, in a 2 hour production celebrating the " soul" within us all.

THE COMMITMENTS movie's classic Jimmy Rabbitte quote……… " DO YOU NOT
GET IT LADS? THE IRISH ARE THE BLACKS OF EUROPE AND DUBLINERS ARE
THE BLACKS OF IRELAND. AND THE NORTHSIDE DUBLINERS ARE THE BLACKS
OF DUBLIN. SO SAY IT ONCE, SAY IT LOUD, I'M BLACK AND I'M PROUD"
THE COMMITMENTS TRIBUTE concert features the music of Wilson Pickett, Aretha
Franklin, Otis Redding, Al Green, James Brown, Mary Wells and Clarence Carter. Songs
performed include…..
TAKE ME TO THE RIVER
MUSTANG SALLY
CHAIN OF FOOLS
I CAN'T STAND THE RAIN
TRY A LITTLE TENDERNESS
THE DARK END OF THE STREET
TREAT HER RIGHT
IN THE MIDNIGHT HOUR
RESPECT
LAND OF 1000 DANCES
CHAIN GANG
I FEEL GOOD
THE COMMITMENTS TRIBUTE AN EXPLOSION OF EMOTION & RAW ENERGY
PERFORMED BY JEFF DUFF & THE SOUL MASTERS - ON TOUR NOW!!
OFFER 1 Dinner & Show - $84 ( Main Meal only) & show
OFFER 2 Show Only - $55 Limited tickets but you can still enjoy a meal down stairs by booking our A La Carte restaurant prior to the show.
Desserts are always on offer to purchase on the night at the concert
Drinks can now be delivered to your table by ordering & paying through our Mr YUM Ordering App
Due to catering tickets are closed off on the day of the concert
but can still be purchased by phone or emailing us.
Concert is performed upstairs in the Sorrento Room @ Centro CBD
please note that unfortunately at this stage there is no disable access or lift
Doors open 6.30pm Dining starts 7.15pm Show time 8pm
Booking Fees Apply