Cyber Protection – The Essential Eight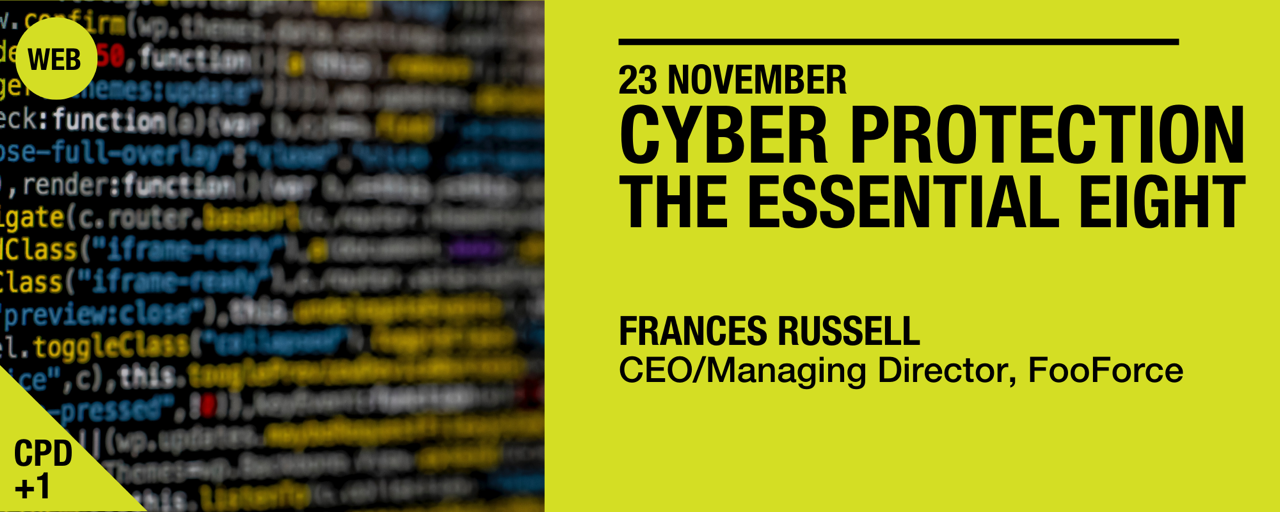 Join the ACA and FooForce for this timely CPD webinar for key strategies for protecting your business from cyber attack.
Security is an everyday task and requires constant vigilance to keep your business, your people and your systems safe. Proactive strategies that prevent cyber attacks from working are by far the best. That's why the Australian Cyber Security Centre (ACSC) has published The Essential Eight - a list of practical strategies to protect your systems. This webinar is an informative and practical session on the Essential Eight, why these strategies matter and how they should be applied in your business. The webinar will include discussion of -
The current cyber crime landscape

- c

yber crime has real consequences and Australian business owners are now accountable for their clients' security.

Security frameworks and standards – why choose the Essential Eight?

How and why should a business implement the Essential Eight and is this list of strategies supported by government and insurers?

Threats the Essential Eight can mitigate including example case studies
Speaker
Frances Russell is CEO and Managing Director of FooForce, a leading Australian managed service and security provider with offices in Sydney, Melbourne and Brisbane. Frances is ISACA certified: CISA CISM CRISC and has 20+ years experience advising organisations on business risk, IT strategy and security.
FooForce provides cyber security, IT strategy alignment, information security audits, cloud security reviews, cyber risk awareness and full IT support services to companies across sectors, including architecture, engineering, finance, manufacturing and others.
WHEN
Wednesday 23 November 2022 1–2pm AEDT
(WA 10am; NT 11.30am; Qld 12pm; SA 12.30pm; ACT, NSW, Vic & Tas 1–2pm)
COST
Members $25
Non-members $40
*One ticket per attendee. **Join the live session or opt for a recording-only ticket.
.CPD
Participation in this 1 hour webinar will deliver 1 formal CPD point.
Learning outcomes: Completion of this webinar will improve understanding of current cybercrime landscape and its impact on businesses; strategies to protect businesses and their clients to mitigate risks of cyber attacks.
Units of Competency and Performance Criteria: Practice Management and Professional Conduct – PC 1
APBSA Core Area: Practice Management
The webinar will include time for a Q&A with the speaker with a self-checked CPD assessment task. Certificates will be provided following participation in the full webinar and online submission of answers to CPD questions.