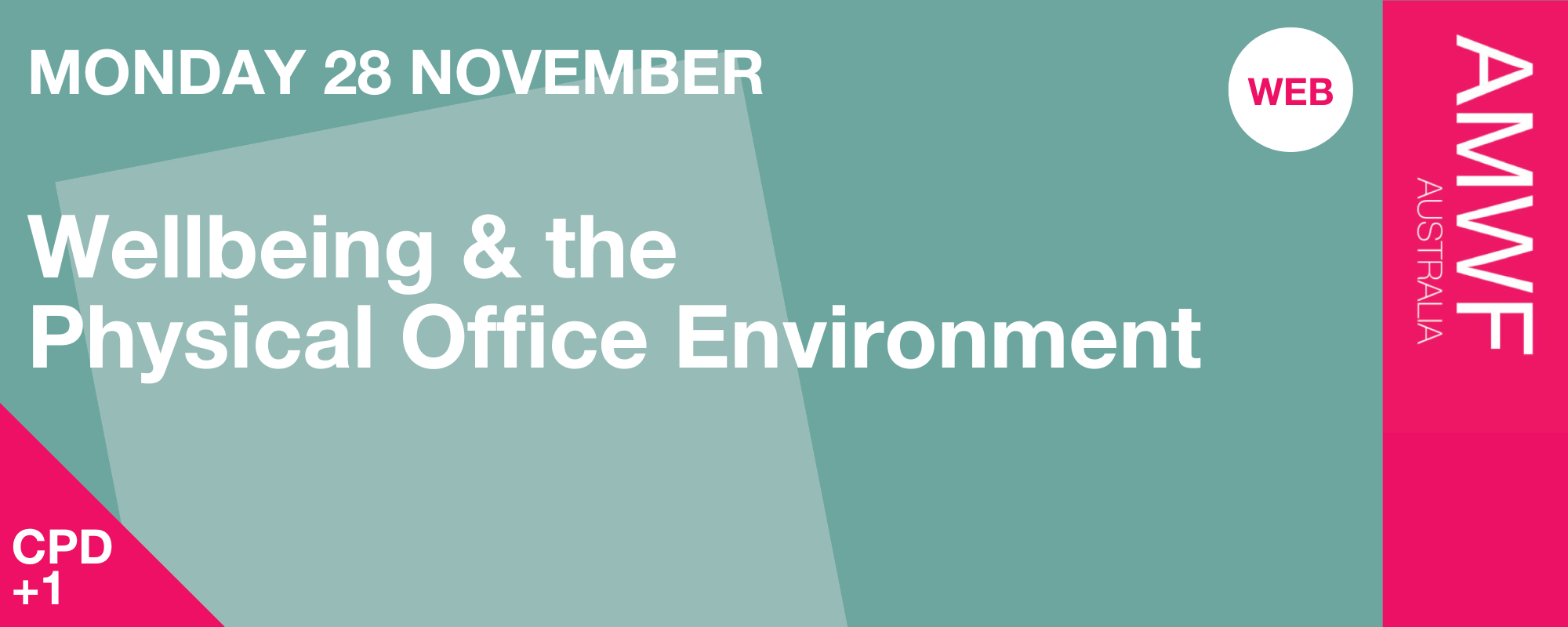 The ACA is proud to present the first in our AMWF Toolkit Event Series on 28 November. Book now for an important conversation about how the Physical Office Environment can impact on wellbeing. See you online!
Our first AMWF Toolkit theme is the Physical Office Environment and its impact on wellbeing. The quality of the environment in which you work, whether in practice or at home, can have an enormous impact on wellbeing and productivity, and the dramatic upheaval of the last few years has made this even more clear. It's important to recognise the impact of the physical workplace on staff happiness and productivity and make appropriate adaptations and improvements. There are numerous small, inexpensive changes that can be made to any office that can have a positive impact upon mental wellbeing. Changes to workplace behaviours and habits can also have a positive impact.
Our first national Architects Mental Wellbeing Forum event will feature the founder of AMWF UK, Ben Channon, zooming in from London along with Naomi Stead, leader of the major research project 'Architectural Work Cultures: professional identity, education and wellbeing'. We are also delighted to present three practitioners, who will share their experiences of the physical office environment and its impact on wellbeing – Kirby Roper from Kirby Architects, James Dujmovic from JPE Design Studio and Jock Lovell from Brown Falconer – along with facilitator and ACA CEO Angelina Pillai. See speaker bios below.

RESOURCES
The Australian version of the Architects Mental Wellbeing Toolkit is available for download.
Section five of the Architects Mental Wellbeing Toolkit covers the Physical Office Environment, offering tips on how to make positive adaptations to work spaces.
WHEN
Monday 28 November 2022
4.30-6pm (VIC, TAS, NSW, ACT)
4-5.30pm (SA)
3.30-5pm (QLD)
3-4.30pm (NT)
1.30-3pm (WA)
COST & BOOKINGS
ACA Members - $10.00
​Parlour Collective Members - $10.00
Non-Members - $20.00
Any proceeds over and above the costs of delivering the AMWF Toolkit program will be set aside for future AMWF projects led by ACA.
CPD
Participation in this event will deliver 1 formal CPD point.
Learning outcomes: Completion of this webinar will improve understanding of how to adapt the physical office environment to improve mental wellbeing within practice, with a particular focus on natural light, greenery, outdoor spaces and environments for collaboration; and how to incorporate recreational activities into day to day practice to improve the wellbeing of all in the business. Participants will also gain an understanding of the Architects Mental Wellbeing Forum Toolkit and how to use this document to start conversations and make changes to improve wellbeing; as well as gain a stronger understanding of the major research project 'Architectural Work Cultures: professional identity, education and wellbeing' and its progress to date.
Units of Competency and Performance Criteria: Practice Management and Professional Conduct – PC 1
APBSA Core Area: Practice Management
The webinar will include time for a Q&A with the speakers with a self-checked CPD reflection task. Certificates will be provided following participation in the full webinar and online submission of answers to CPD questions.