Children in Detention: A conversation with Manfred Nowak & Alice Barter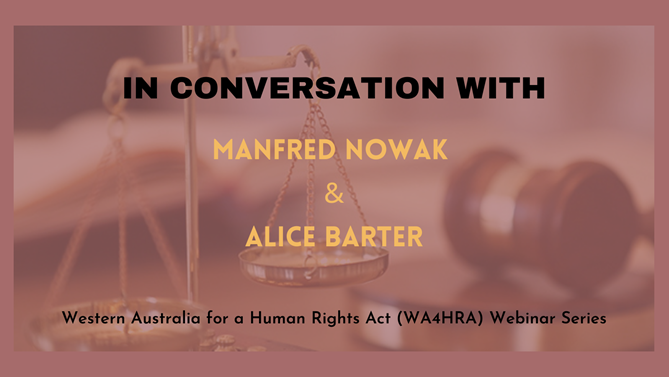 Dear Members and Supporters
Recently, the WA Government started transferring detainees from the beleaguered Banksia Hill Detention Centre to Casuarina adult prison. Around the same time, the Supreme Court found that the use of solitary confinement at Banksia Hill was unlawful. Despite this, the practice continues at both the juvenile and adult facilities.
Join us for a conversation about human rights and children in detention, which brings together local lawyer, Alice Barter (Managing Lawyer of Civil Law and Human Rights at the Aboriginal Legal Service of WA and lead in the Supreme Court challenge), and Professor Manfred Nowak (Independent Expert leading the United Nations Global Study on Children Deprived of Liberty).
Come and hear the local and international perspectives as they discuss the role of Human Rights in improving the outcomes for children in detention and how we can put their rights at the centre of this discussion. This promises to be a fascinating discussion for anyone interested in children's rights, juvenile justice, and the practice, promotion and protection of human rights in Australia.
Wednesday, 23 November 2022, from 4:00 PM to 5:00 PM (AWST)
A webinar link will be sent to all registrants 24 hours prior to the event
Meet our Panel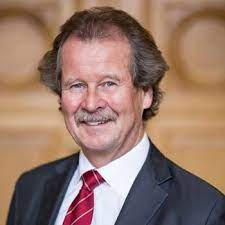 Manfred Nowak
Professor Manfred Nowak is the Independent Expert leading the United Nations (UN) Global Study on Children Deprived of Liberty. He carries out this function in close cooperation with the European Inter-University Center for Human Rights and Democratisation (EIUC), where he is Secretary General, and partner universities of the Global Campus of Human Rights, as well as with the Ludwig Boltzmann Institute for Human Rights (BIM), which he founded and co-directs.
Manfred is a Professor of International Human Rights at the University of Vienna, where he is the Scientific Director of the Vienna Master of Arts (MA) in Human Rights. He has also taught International Law and Human Rights at various other European universities and has published more than 600 articles and books, including treaty commentaries. His latest books explore human rights as an answer to growing economic inequality and the limits of privatisation from a human rights perspective.
In the past, Manfred Nowak has also carried out various expert functions for the United Nations, the Council of Europe, the European Union and other inter-governmental organisations. Most importantly, he served as UN Special Rapporteur on Torture, UN Expert on Enforced Disappearances, Vice-Chairperson of the Management Board of the EU Agency for Fundamental Rights, and as one of eight international judges in the Human Rights Chamber for Bosnia and Herzegovina in Sarajevo.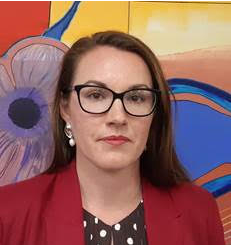 Alice Barter
Alice Barter is the Managing Lawyer of the Civil Law and Human Rights Unit at the Aboriginal Legal Service of Western Australia (ALSWA). Alice is based in the Perth head office but conducts outreach across the state, mainly in the Pilbara. Alice volunteered at ALSWA as a law student before commencing articles at the WA DPP and working as a State Prosecutor. She then worked in the ALSWA South Hedland office as a criminal defence lawyer, where she regularly represented young Aboriginal children in the Children's Court.
Alice also worked at SCALES Community Legal Centre as the Domestic Violence Lawyer before returning to ALSWA. In 2018-2019 Alice spent a year as Counsel Assisting at the Perth Coroner's Court. She holds a Bachelor of Laws with Honours, a Bachelor of Arts in Australian Indigenous Studies and a Masters in Criminology, including writing a thesis on Aboriginal Driving Issues in the Pilbara.
ALSWA's Civil Law and Human Rights Unit represents hundreds of children in relation to appalling conditions at Banksia Hill Detention Centre, including young people being locked down for up to 24 hours per day due to staff shortages at the centre. ALSWA has continually raised this issue with the Department of Justice between December 2021 and May 2022 and submitted over 20 individual complaints.
In June 2022, ALSWA commenced judicial review proceedings in the Supreme Court of WA. In August 2022, Justice Tottle declared that the confinement of ALSWA's client to his sleeping quarters for over 20 hours a day at the Centre on 26 dates was unlawful.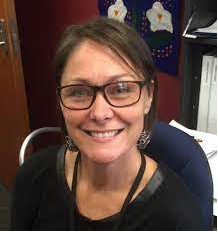 Anna Copeland
Our moderator for the evening is Anna Copeland, the Director of Clinical Legal Programs at Murdoch University. Her legal practice is in the area of human rights, including refugee and migration law, children's rights, discrimination and economic, social and cultural rights such as housing and welfare.
Anna's teaching interests are in the areas of human rights and clinical legal education. She teaches in Murdoch's International Program on Human Rights, run in Geneva, but most of her time is spent in the Clinical Program Murdoch runs in collaboration with SCALES Community Legal Centre.
Anna's research interests closely align with her human rights practice and clinical teaching.
This webinar is the first in a WA4HRA human rights webinar series, offering opportunities to listen to local and international human rights advocates share their expertise and experiences.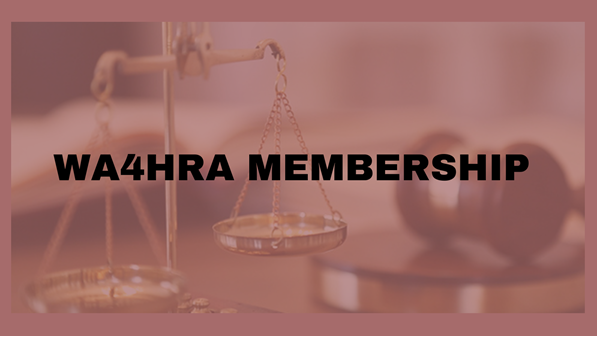 Support the call for a WA Human Rights Act
Become a member organisation or sign up as an individual supporter of the WA4HRA campaign here or by contacting us at wa4hra@gmail.com. We'll keep you updated and let you know how you can get involved.
WA4HRA acknowledges the traditional owners and custodians of the lands on which we work in Western Australia as the first people of this country. We recognise that the land belonging to these peoples was never ceded, given up, bought, or sold. We pay our respect to Elders past, present and emerging.
Contact Details