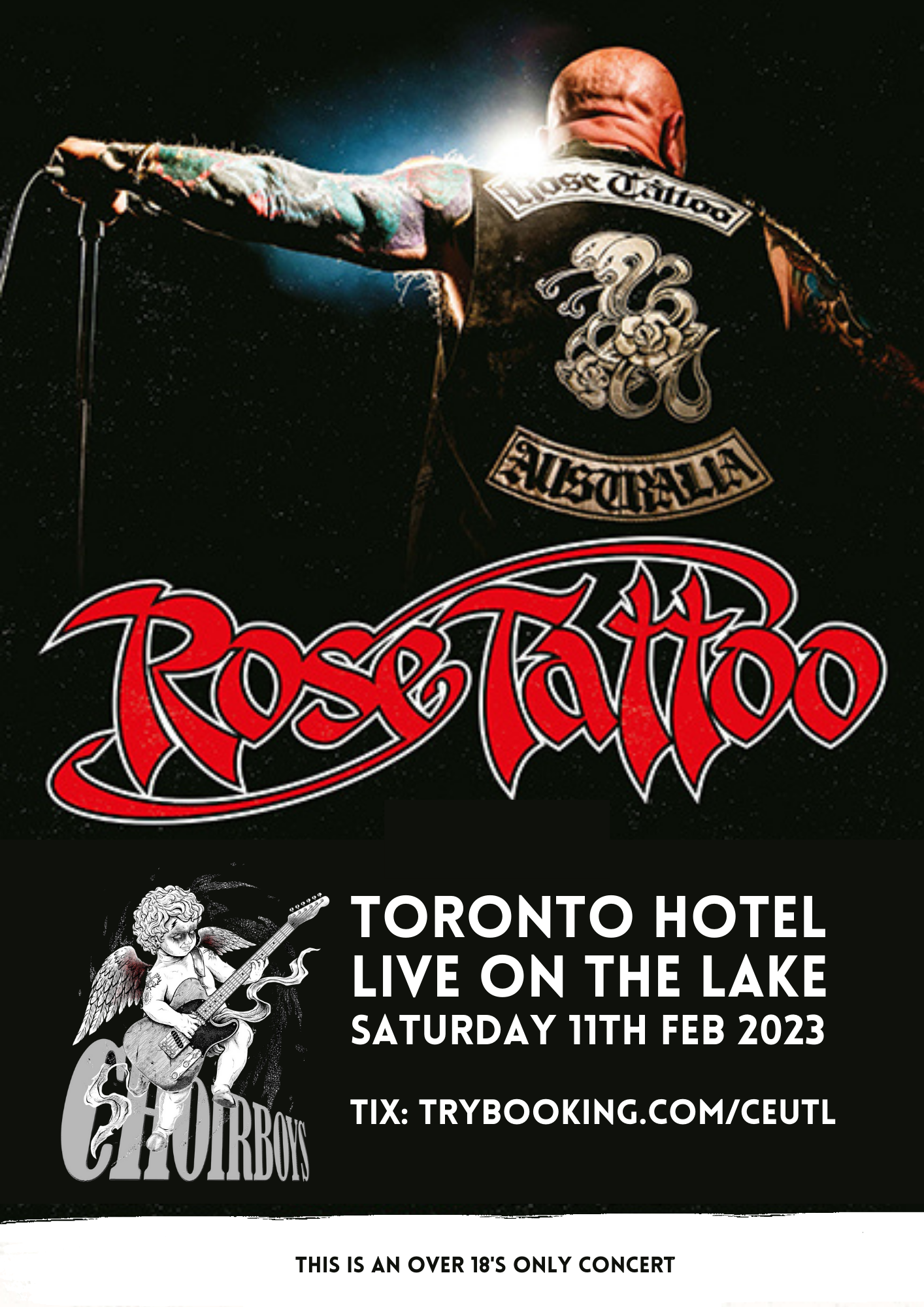 The Choirboys and Rose Tattoo: Live On The Lake - Saturday 11th of February 2023
Australia's hard rock icons Rose Tattoo return to demand everything from their fans who like it raw and loud with all their immortal songs and energy that they bring to the stage.
In 1976, the hard rock icons laid the foundation for a career that really deserves the attribute 'legendary'. The longest serving still-active hard rock band has stood up like the often-quoted phoenix out of the rock 'n' roll ashes, only to hit it even harder now.
Their sound is hard rock mixed with blues rock influences, with songs including 'Bad Boy for Love', 'Rock 'n' Roll Outlaw', 'Nice Boys', 'We Can't Be Beaten', 'Scarred for Life' and many more.
The 'extreme band for extreme people', as frontman Gary 'Angry' Anderson puts it in retrospect, is the soundtrack of several generations, the musical expression of a distinctive lifestyle and last but not least important, inspiration for numerous bands like Guns 'N' Roses!
Any utterance of Australian pub rock and you can't go past The Choirboys… a staple of Australia's rock n roll landscape since their inception in 1978. Over 40 years on, their songs are still as relevant as ever and none other than their seminal rock anthem, Run to Paradise and many more.
Gates open at 3.30 pm

Support act 1: Ian Sandercoe - 4.45 pm till 5.15 pm
Support act 2: Jake Hunt - 5.45 pm till 6.45 pm
Choirboys from 7.15 pm
Rose Tattoo from 9.00 pm

Band times are approximates only.
This is an outdoor event and will go ahead rain, hail or shine!
18+ event

Please refer to the terms and conditions of tickets when purchasing.
#Toronto #TorontoHotel #LakeMacquarie #LiveOnTheLake #Newcastle
Location
Toronto Hotel
74 Victory Parade, Toronto, NSW 2283
**NO REFUNDS** This is a rain, hail or shine event.