Voluntary Assisted Dying Forum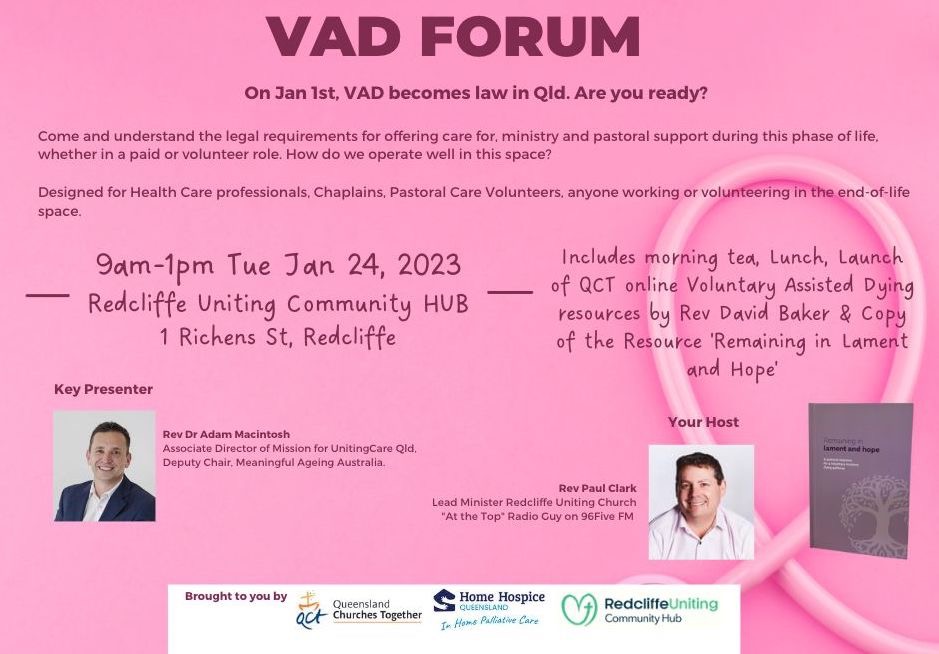 About
On 1 Jan 2023 VAD becomes law in Qld. This has implications for anyone volunteering or working in aged care, hospitals, mental health clinics, or simply offering care to a friend. This event is designed to give you information about the laws so you can work or volunteer with confidence in this space. We will also cover approaches to care if you conscientiously object to VAD and how you can do this with grace.

Presenter - Rev Dr Adam McIntosh
Adam is the Associate Director of Mission for UnitingCare Qld, the largest aged care provider in Qld. He oversees chaplaincy services, integration of spiritual care in aged care and hospitals across 47 aged care facilities and 4 hospitals.
Adam is passionate about raising awareness of, supporting and resourcing spiritual care in aged care across Australia. He sits on the Board of Meaningful Ageing Australia.
Adam led the Uniting Church's response to VAD developing a deep understanding of the laws and a Christian approach to this issue.
Location
Redcliffe Uniting Community HUB
1 Richens St, Redcliffe Qld 4020