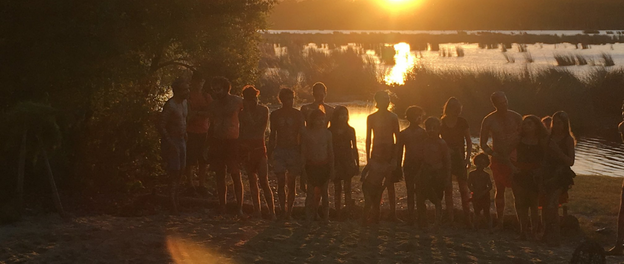 Join us for an annual celebration of the iconic Bunya Tree.

The day generates an understanding of Indigenous culture providing a space to connect, share knowledge and strengthen community.

Learn about people's connection to country and their links to both the physical and spiritual landscape.

Bunya Dreaming is a chance to build reciprocal relationships and develop opportunities for Reconciliation.

Activities include Bunya feasting, competitions, bushfoods, bush medicine, challenges, dance, ceremony, fire, yarning, workshops and more.

The event is family friendly, all generations are welcome. This is a drug and alcohol free event.
When you attend Bunya Dreaming, you are a part of something special, something real, something that occurred on country for thousands of years before our time. We acknowledge the Kabi Kabi ancestors for their diligence to country and countrymen.
If it had not been for their resilience and dedication to maintaining cultural connections it would not be possible to reclaim this cultural event for country and countrymen.
DETAILS
When: February 25 2023
Time: Gates open at 11 am - sundown
Where: Ewan Maddock Dam, Steve Irwin Way (opposite the Big Kart Track), Landsborough, QLD.
Tickets
Adults: $20 (18 years +)
Teens: $5 for 12-17 year olds
Children under 12 years are free
Challenge entry: $2 donation at the venue
If you need assistance with ticket purchasing, please call the Barung Landcare office on 07 5494 3151. If you prefer to pay with cash or pay in person, you can visit the Barung Landcare office at 38A Coral St, Maleny, QLD Mon - Fri between 9am - 4pm.
HELPING MAKE THE DAY A SUCCESS
The Bunya Dream Team is looking forward to seeing you in February!
There are a few things you can do to help us create a safe, stress-free time.
There will be plenty of parking available at the Landsborough train station where you can catch a shuttle bus to the event.
If you would like to enter a challenge event, a Challenge Entry Form will be available prior to the event to fill in.
Please bring your own drinking water bottle, chairs, picnic rug/mat, and pop up Marquees for shade.
We love it when people share. It's always nice to have lots of fruit available for the little humans on a hot day and the Elders enjoy the healthy home made cakes and biscuits. We really appreciate it. Makes for a happy day.
Please note that this is a drug and alcohol free event.
All children need to be accompanied by an adult.
Ewen Maddock Dam
Steve Irwin Way, Landsborough QLD 4550
We thank the current custodians SEQWater for providing the venue. We're proud of our enduring relationship with Barung Landcare in support with registrations and financial management. Maleny IGA for their ongoing support, and Nungeena, who help provide modest catering to share on the day.
If you would like to support Bunya Dreaming you can nominate your CBC points to go towards Bunya Dreaming at the Maleny IGA.
FOR MORE INFORMATION
Bunya Dreaming is driven 100% by volunteers. All funds raised through ticketing and donations go directly into running the annual gathering on country. We thank you for your support.