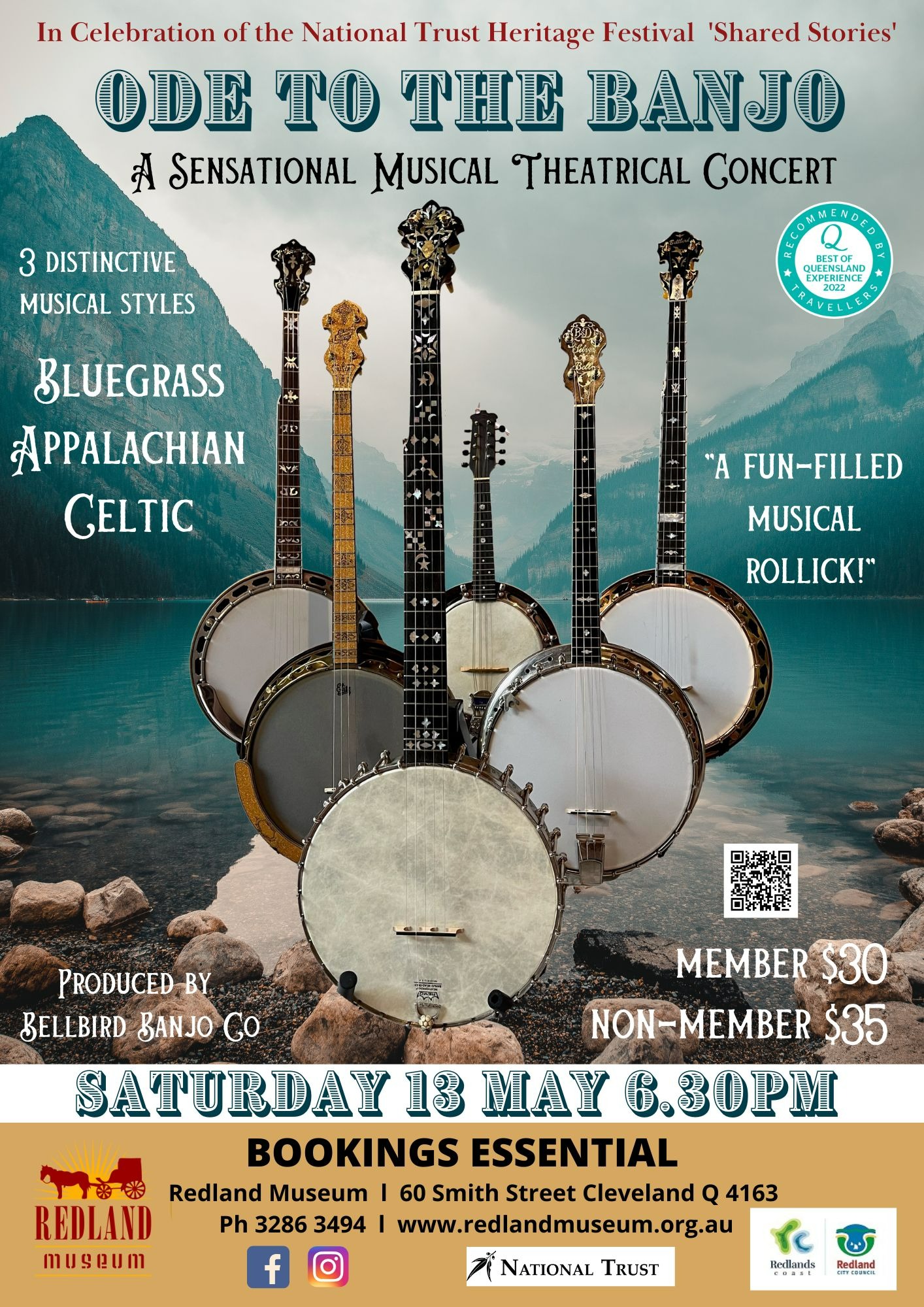 Celebrating the National Trust Heritage Festival 'Shared Stories'

A fun filled musical rollick!
Ode to the Banjo is a joyous celebration of one of music's most recognisable and beloved instruments, the banjo. The 90 minute program celebrates 3 of the most popular musical styles, Bluegrass, Appalachian and Celtic. Part theatre, part concert, you'll be transported from the stage of the legendary Grand Ol' Opry, to a mountain cabin high in the hills of the Blue Ridge Mountains of North Carolina and finally settling into the cosy confines of a beautiful old Irish pub. Ode to the Banjo guarantees much toe-tapping and smiles all round, as you enjoy a fun-filled and informative musical rollick.

Evening Performances
The Museum will open at 6:00 pm | The Curtain will rise at 6.30pm | Conclude 8.30pm
There will be a 20 min interval where you can purchase wine, beer, soft drink or tea/coffee.
Seating for the Show
Upon booking your tickets, please choose your seat row and number carefully. Single Tier theatre-style seating, in our air-conditioned theatre is allocated and confirmed upon payment, therefore cannot be changed.
*Booking fees apply
There will be raffle tickets for sale with some wonderful prizes to be won on the day!
Saturday 13 May 2023 6:30 PM - 8:30 PM (UTC+10)
Location
Redland Museum
60 Smith Street, Cleveland QLD 4163
Contact Details