Webinar - For The Term Of His Natural Life (1927)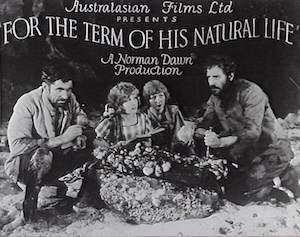 About
FOR THE TERM OF HIS NATURAL LIFE (1927) – A FILM LOST AND FOUND

A FREE WEBINAR BY GRAHAM SHIRLEY – 2 pm on Sunday 19 MARCH 2023

In talking about the 1927 Australian film adaptation of Marcus Clarke's novel, For the Term of His Natural Life, noted film historian Graham Shirley will cover the film's big-budgeted production, its vivid evocation of colonial era landscapes, its Australian box office success, the loss of most of the film over ensuing decades, and its 1981 reconstruction using a newly rediscovered print and other elements.

For background, check out this link on the NFSA website https://www.nfsa.gov.au/latest/natural-life and see a preview scene, with music. The entire 100-minute film will be available to view before the webinar on Vimeo, and the link will be sent to everyone who registers.
Date
Sunday 19 March 2023 2:00 PM - 3:30 PM (UTC+11)
Location
Online event access details will be provided by the event organiser