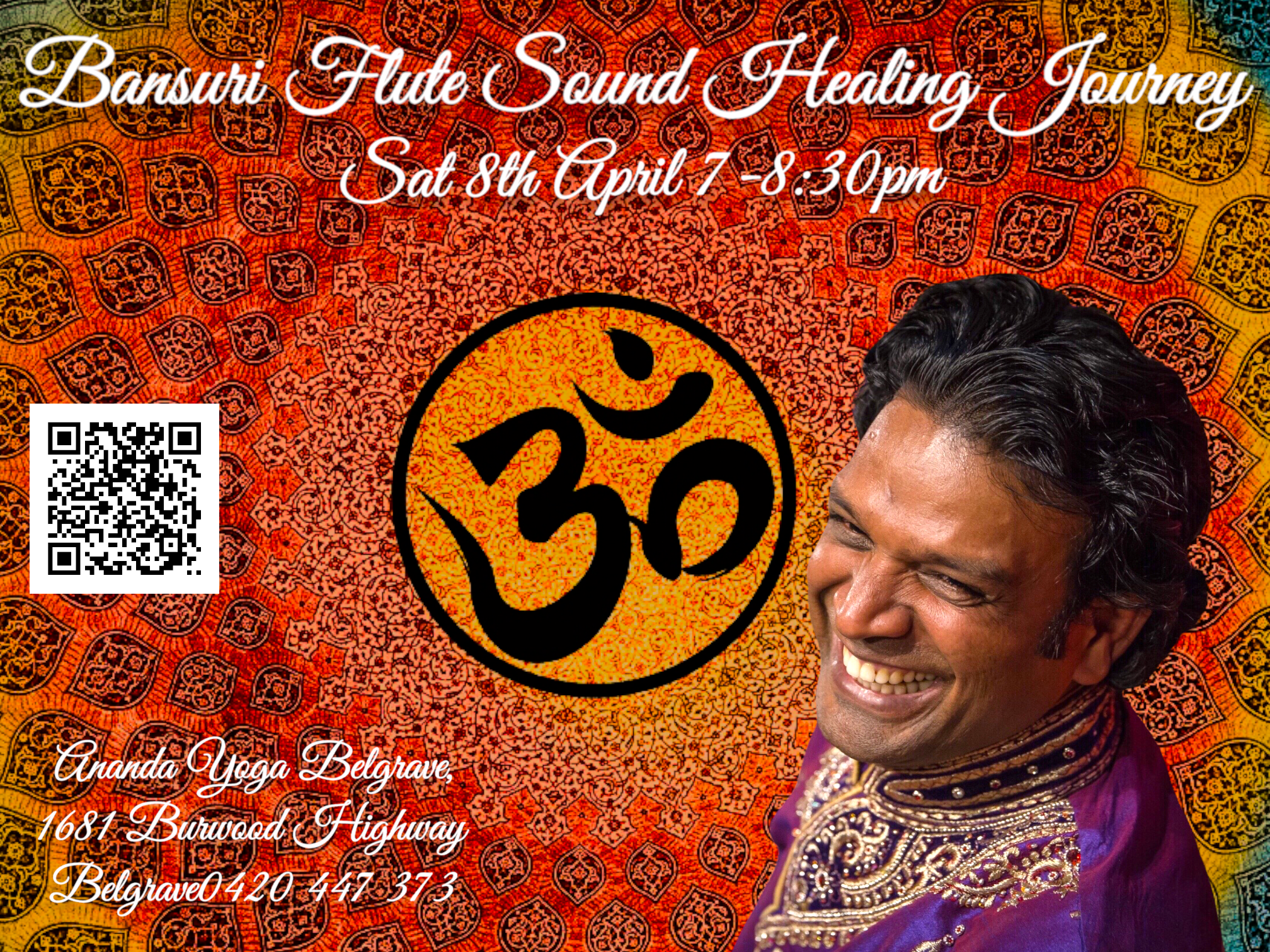 Bansuri Flute Sound Healing Journey
Vinod Prasanna is a Master of Indian Classical Music and has studied music from the age of 7 in Varanasi/India. Music has been in Vinod's family for over 250 years. This sound healing will assist in alleviating stress and connect you with your heart. The evening will start with deep meditation (if you wish you can lie down). You will then be taken on a transformational journey, where you will experience peace, Divine connection and harmony.
Note: please bring yoga mat and drink bottle.
Please arrive at 6:45pm for 7pm start.
About Vinod

Born into one of India's greatest flute-playing families, award-winning bansuri (flute) virtuoso Vinod Prasanna shines as an outstanding performer of authentic traditional and contemporary Indian music. Vinod's emotive melodies, exquisite improvisations and divine flute song distinguish his performance of Indian classical, world and meditation music.
Currently residing in Australia, Vinod is a performing and recording artist, teacher, craftsman and ambassador of the Bansuri. Vinod has more than 27 years of performing and teaching experience and continues a family legacy that celebrates more than two-and-a-half centuries of Indian music.

Vinod has attended serval Vipassana Meditation Courses and practices it daily

Recently he has been collaborating with a spectrum of electronic and acoustic musicians such as Shūnya, Grouch (NZ), Pan Electric (UK), Roderick Mcleod, Aarti Jadu, Aman Kalyaan and Bobby Singh to name a few.

CD releases include: "Evening Thoughts" (2008), "Samaya" with Glen Kniebeiss on Tabla (2009) and "First Meeting" with Brothers (2010), 'Kora and Bansuri' with Roderick Mcleod (2016), feat. on 'Quiet Earth' 2016 Produced by Matt Coldrick

Youtube: Morning Raag https://youtu.be/JIdT7P0oiaY
https://youtu.be/gQyRh_ufe6g
https://youtu.be/Z6Mt3Oict7Y

SoundCloud: https://soundcloud.com/vinod-prasanna/raag-hemavati-with-gyan-swarup

https://soundcloud.com/vinod-prasanna/surya-namaskar-for-yoga
https://soundcloud.com/vinod-prasanna/09-track-passage-of-time

https://www.monash.edu/arts/monash-indigenous-studies/literary-commons/literary-commons-participants/vinod-prasanna

https://www.melbournerecital.com.au/events/2019/vinod-prasanna-and-bobby-singh/

https://www.theindianweekly.com.au/riding-the-waves/

https://www.eventfinda.com.au/2016/vinod-prasanna-bansuri/melbourne/eltham

website: www.bansuri.com.au