World Elder Abuse Awareness Day Conference 2017


Friday 16 June 2017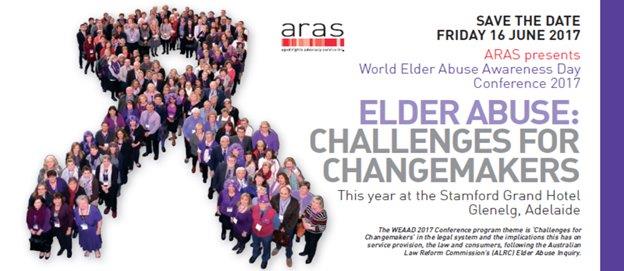 Elder Abuse: Challenges for Changemakers
Registrations from 8.30am. Finish 4.30pm

This year's World Elder Abuse Awareness Day (WEAAD) Conference program has been developed with the theme around the 'Challenges for Changemakers' in the legal system and the implications this has on service provision, the law and consumers.
Elder abuse has attracted a great deal of attention in the public arena with media highlighting the rising concerns about the incidence and extent of elder abuse in Australia. Whilst this has been occurring, there have been many overarching legal changes. The Australian Law Reform Commission's (ALRC) Elder Abuse Inquiry have been asked to consider existing Commonwealth laws and frameworks which seek to safeguard and protect older persons from abuse whilst at the same time promoting respect for their rights.
This conference will inform delegates about the changes to the legal system and responses to the inquiries of elder abuse from both state and federal governments that will impact the way practitioners respond to elder abuse. You will also hear for the first time the consumer perspective from a notable case highlighted in the media.
Venue
Stamford Grand Hotel
2 Jetty Road,
Glenelg, South Australia 5045
Contact Details:
Doris Gioffre (08) 8232 5377 dorisg@agedrights.asn.au
Louise Herft (08) 8232 5377 louiseh@agedrights.asn.au