A Lenten Cantata - The Consort of Melbourne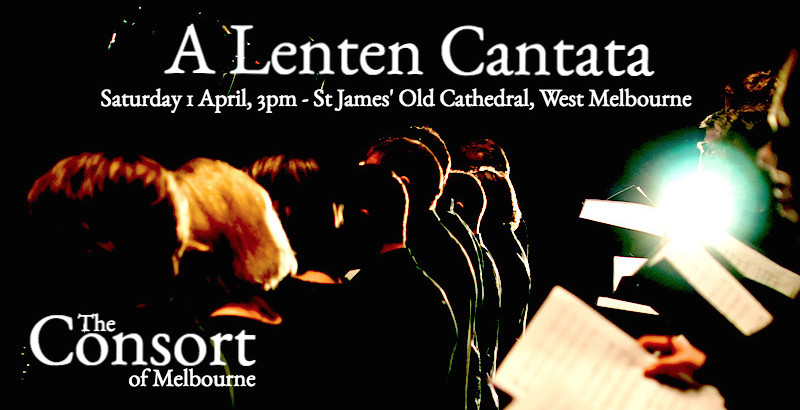 The Consort of Melbourne perform a moving programme of music for Lent, featuring the world premiere of Andrew Anderson's stunning A Lenten Cantata, co-commissioned with St James' Old Cathedral, West Melbourne. This will be heard alongside masterpieces by Lotti, de Lassus, Casals and Bach - some of the most moving music ever written.

On Saturday 1 April 2017, 3pm*
*The duration of the concert will be approximately 70 minutes
Location

St James' Old Cathedral
2-10 Batman St, West Melbourne, Victoria 3003

Contact Details

Steven Hodgson, director@thecom.com.au
Programme

Andrew Anderson - A Lenten cantata
Orlande de Lassus - Timor et tremor
Antonio Lotti - Crucifixus á 8
Pablo Casals - O vos omnes
Kaija Saariaho - Nocturne
Gianandrea Pauletta - Agnus dei
Johann Sebastian Bach - Singet dem Herrn ein neues Lied

===============================================
Featuring the superb vocal talents of Megan Nelson, Kristy Biber, Miranda Gronow, Jennifer George, Dan Walker, Daniel Riley, Lucien Fischer and Oliver Mann. With guest artists Elizabeth Welsh, Natasha Conrau, Naomi Wileman and David Brown. Directed by Steven Hodgson.
Get directions