Trio Alba (Vienna) - Haydn and Schubert
7pm Thursday June 8
St Johns Southgate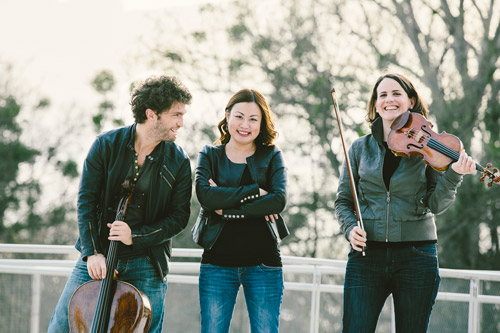 Joseph Haydn - Piano Trio in C-Major
Kelly-Marie Murphy - "Give me phoenix wings to fly"
Franz Schubert - Trio in E flat Major D 929
The Melbourne Musicians present Trio Alba from Vienna in Great Piano Trios.

Trio Alba was founded in Graz in 2008. In 2009 they performed in Shanghai and Peking. Invitations to festivals and chamber music series in Italy, Austria, Germany and South America followed. In 2012 they won the International Schubert Chamber Music Competition in Graz as "one of the most promising and talented young trios on the international scene". They performed in Buenos Aires during a two week concert tour of Argentina. Since then they have performed with great success in Konzerthaus Vienna, Mozarteum Salzburg and the prestigious Schleswig-Holstein Music Festival in Germany.

Their first CD of Mendelssohn Piano Trios on the renowned German label MDG was awarded the Pasticcio Prize of Austrian National Radio, as was the second CD in 2015. Their new CD of Schubert Piano Trios is being released in 2017.

Haydn's Piano Trio No.43 in C major was composed in Vienna in 1795 after his return from a triumphant second visit to London, where he met the brilliant pianist Therese Bertoluzzi (née Jansen). He wrote it for her with a virtuosic piano part and a typically witty finale, a sparkling Presto. It is one of Haydn's most attractive and popular works.

Kelly-Marie Murphy is one of Canada's most successful composers. Her widely performed trio is inspired by the myth of the phoenix which immolates in fire
and then rises up again from its own ashes. She believes it is relevant to modern life and the need to recover from disaster and emerge stronger than ever before.

Schubert's Piano Trio No.2 in E flat is one of his last and finest works and the only one he heard in a public performance. Composed in 1827 he edited in 1828 and it was published just before his death. It is famous for the soulful melody in the Andante (repeated in the Finale) based on a Swedish folksong.
Location

St Johns Southgate
20 City Road, Southbank, VIC 3006