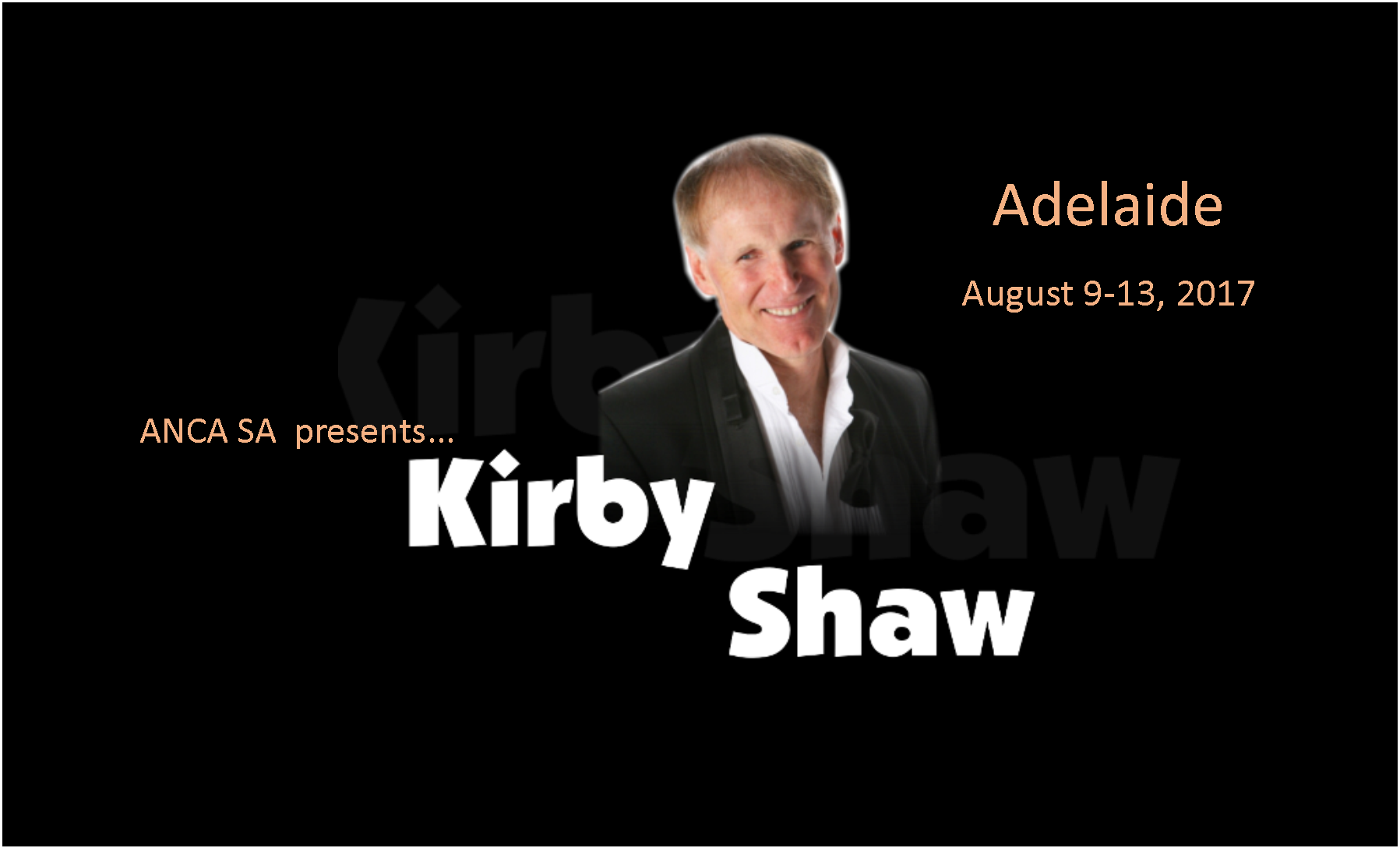 ANCAsa presents….
A choral festival featuring the world renowned music educator Dr. Kirby Shaw!!
Kirby Shaw's music is found in the repertoire of almost every choir! His writing is inspiring and accessible to all levels of experience. His work covers many genres, from pop and jazz to sacred and has been well loved for over 30 years. Kirby Shaw first came to Adelaide at the invitation of John McKenzie (the Adelaide University) in 1981, inspiring a generation of music teachers and musicians. ANCAsa together with St. Peter's Girls' School are thrilled to welcome him back to Adelaide in 2017!
Featured in the Kirby Shaw Festival program are workshops for school choirs, community choirs, individuals that love choral singing, teachers and choral directors.
During the workshops, Kirby will work with you to develop your performance, interpretation and understanding of each genre, leading to a performance as a massed choir for the finale of the Festival Concert. Additionally, each choir attending the workshops will be invited to perform at the Festival Concert. They will perform 2 songs: their own favourite Kirby Shaw chart plus another free choice.
The fees include all the workshops, rehearsal, the performance and the music, and in case you can't get to every workshop, there are a couple of alternate options. There will be no refunds for non-attendance on the Festival weekend. We will send you a copy of the set music when you make your booking. We will give you hard copies of the music at the Festival. Choirs accessing group discount will be issued hard copies to share. Two of the songs will have a PRACTICE recording for your part. Kirby would like us to have pre-prepared as much as possible, so do your best!
School Choirs – are able to access a 3 hour workshop with Kirby at your school to work on these pieces and your own pieces, or to access other topics like scat singing! Please email your interest to Bevan Bates or Saz Burton ANCA. - Ancasa20@gmail.com
FESTIVAL PROGRAM
Kirby Shaw Festival Weekend
Venue: St Peter's Girls' School: Stonyfell Rd, Stonyfell SA 5066
Saturday, 12 August, 2017
9am-12.30pm Teacher/Director Workshop
2pm-5pm Everyone Welcome: Open Rehearsal Workshop 1
Sunday, 13 August, 2017
Sound-check individual choirs: TBA
4.00pm-6pm Open Rehearsal Workshop 2: Massed Rehearsal – everyone!
6pm BBQ Dinner ($ not included)
7pm Kirby Shaw Festival Concert Performance:
Kirby Shaw Festival - prices

Member

Non-member

Kirby Shaw Festival Weekend Pass: Individual Adult Singer

open rehearsal 1+ open rehearsal 2 + perform in concert

$45* $52**

$60

(open rehearsal 1 Saturday only)

$15* $17**

$20

(open rehearsal 2 + perform in concert Sun only)

$30* $35**

$40

Kirby Shaw Festival: Weekend Choir Package

open rehearsal 1 + 2 + concert performance

$450

$600
Kirby Shaw Festival Weekend Package: Individual Teacher/Director

teacher director workshop + open rehearsal 1 + 2 + concert performance in massed choir items

$90* $100**

$110

(Teacher/Director workshop only)

$60* $70**

$80
Kirby Shaw Festival Weekend Pass: Individual Student

Any/all of: Teacher/Director workshop + Open Rehearsal 1

+ Open Rehearsal 2 + Perform in Concert

N/A

$50 student
Kirby Shaw Festival Concert Only

Concert

$20* $22.50**

$25
*Member price is for ANCA individual members for individual packages or ANCA choir/school/institution members for choir packages. Member choirs/school/institutions can designate 1 only person to receive the full discount in designated events. (the lower member price)
**The rest of the member choir can access the higher of the member prices. Your director will be given a gift/promotional code for this. You will need to select the regular package then apply the code.
St Peter's Girl's School Performing Arts Centre
Cnr Stonyfell and Hallett Roads
[CITY]