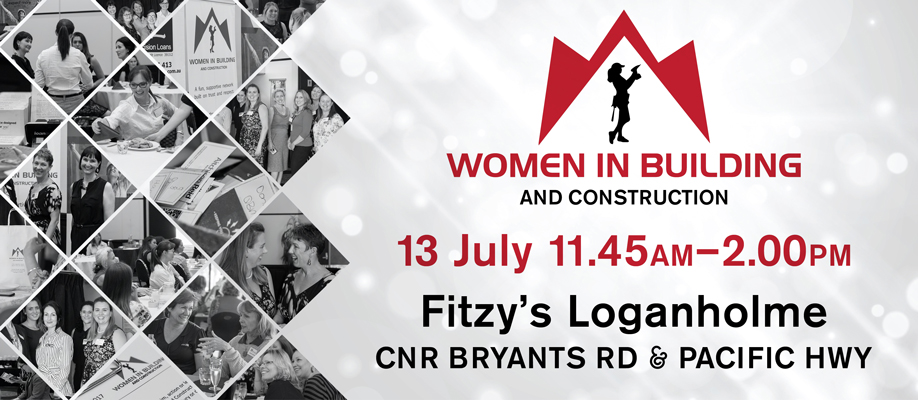 WIBC - SURVIVING THE TOUGH TIMES
Description
Join us for a delicious lunch at Fitzy's Loganholme and be inspired by our speaker, Lynette Gray.
As always, anyone from the building and construction industry is welcome (including the blokes), so please grab a friend and come along.
Speaker: Lynette Gray
We are delighted to have the inspiring Lynette Gray discussing how to stay balanced and focussed through the tough times. Lynette aims that all attendees will take away a good solid plan to achieve their own ambitions.
Lynette Gray is the author of "Women in Workboots", a book of inspirational stories of women who have broken through barriers. Lynette has had a diverse career including working with Michael McNab from McNab Constructions.
What is WIBC?
Women in Building and Construction (WIBC) is a grass-roots support group for women from all parts of the construction industry, from women onsite, investors, construction engineers and architects, work health and safety consultants, builders, suppliers, subcontractors, contractors' wives (who often describe themselves as "just" doing the books), successful business women in the industry and service providers.
The group provides:
An opportunity to meet like-minded women in the building and construction industry;

A link between industry trades and professionals in a warm and supportive environment;

Opportunities for inexperienced members of the industry to create formal and informal mentoring relationships with experienced members;

Presentations that empower and inspire; and

A local business network.
Proudly Sponsored By:
Aitchison Reid Building & Construction Lawyers; and
Precision Loans.
Venue
Fitzy's Loganholme
Cnr Bryants Road & Pacific Highway
Loganholme QLD 4129
Date
Thursday 13 July 2017 at 11.45am
Get directions