The new ACA Short Form Architect Client Agreement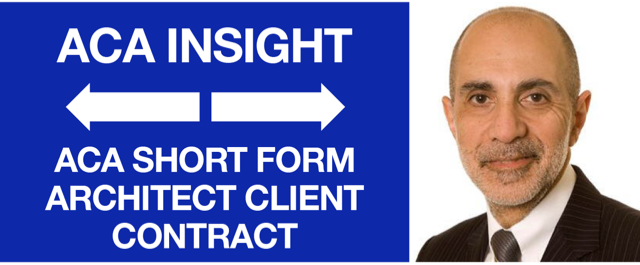 Join Christopher Larcos, lawyer/architect, as he presents the new ACA Short Form Architect Client Agreement. The Agreement was launched in May at a discussion event in Sydney and this webinar will open the forum to the rest of the nation.
Prepared by Christopher, on behalf of the ACA, the new agreement has been developed to provide a less cumbersome, but fair and balanced model contract for use on small to medium projects. The agreement consists of just three pages and a cover letter and has been approved by insurers Planned Cover.
To learn more, join us for the ACA Insight webinar when Christopher will discuss:
The need for the new ACA Short Form Architect Client Agreement

Key provisions of the agreement, and how they improve upon the corresponding provisions in the Institute client-architect agreement

The importance of the cover letter, and how it should be filled out and customised
There will be time for questions at the end of the webinar. The ACA Short Form Architect Client Agreement is an ACA member resource, part of the ACA Toolbox. If you are not a member, find out more about the benefits of ACA membership or join here.
Christopher has degrees in both architecture and law, and is registered as both a practising architect and a practising solicitor. He has been involved in architecture since the mid-1970s and has been a solicitor for about 15 years.
Christopher is a Fellow of the Institute of Architects, presents at the PALS course, is with the Institute's Senior Counsellor service, is an adjudicator for security of payment matters in NSW, and was formerly a member of the Institute's Practice Committee. He presently works as a Special Counsel in the Commercial group at Moray and Agnew.
His practice is in construction law and he has advised on everything from disputes involving backyard fences to multi-billion dollar PPP structures. He advised Thiess and Degrémont on their successful bid to design, construct, operate and maintain the $2.8 billion Victorian Desalination Plant, and he was seconded to Samsung C&T in Western Australia where he advised on the upstream and downstream contractual structures on the $5 billion Roy Hill mine project. He also advises architects, contractors and their clients.
Venues across Australia or remote access for those unable to attend a venue or who prefer to join online
See next page for list of venues - now new venue for this webinar in Newcastle where Chris will be presenting.
CONTACT
M: 0413 520 548