NO LIMITS BOOK LAUNCH WITH ELLIE MARNEY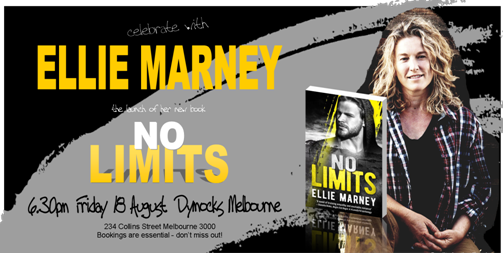 New Australian YA romantic crime from the author of the award-winning Every series…
Boozer, brawler, ladies' man – nineteen-year-old Harris Derwent is not a good guy.
His one attempt to play the hero – helping out his old flame, Rachel Watts – has landed him in hospital. Now injured, broke, and unemployed, he's stuck back in the country, at his father's mercy. Harris needs to pay off his dad's debts, and fast. But working as a runner for a drug cartel is a dangerous path – especially if Harris agrees to narc…
Eighteen-year-old Amita Blunt is the perfect police sergeant's daughter – practical, trustworthy, and oh-so responsible. Getting involved in Harris's case was never part of the plan. But working at the hospital, she's invisible – which makes her the ideal contact for a boy feeding information back to the police…
Harris and Amie's connection is sizzling hot – but if the cartel finds out about them, things could get downright explosive. Backed into a corner, with everything at stake, it's time for Harris and Amie to find out if love really has no limits…
"A novel of bruising empathy and excitable romance…This is modern Australia for so many growing up on the periphery right now, picked apart with exquisite and smart insight from one of Australia's best crime and YA writers." – Danielle Binks, Begin End Begin: A #LoveOzYA Anthology
Celebrate the release of Ellie Marney's newest YA novel - NO LIMITS - and get your copy signed by Ellie herself (books will be for sale at the event)!
This is a free event!
Location
Dymocks Melbourne
Lower Ground, 234 Collins Street, Melbourne VIC 3000