KRYSTAL SUTHERLAND
at Dymocks Melbourne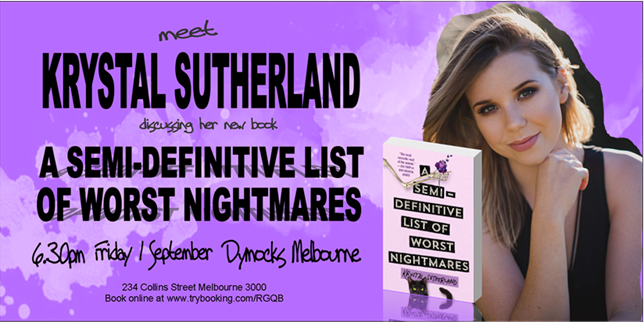 6.30pm Friday 1 September 2017
From the author of Our Chemical Hearts comes the hilarious, reality-bending tale of two outsiders facing their greatest fears about life and love - one debilitating phobia at a time.
Ever since Esther Solar's grandfather was cursed by Death, everyone in her family has been doomed to suffer (and die from) one great fear in their lifetime. Esther doesn't know what her great fear is yet (nor does she want to), a feat achieved by avoiding pretty much everything.
Then Esther is pickpocketed by Jonah Smallwood, an old elementary school classmate. Along with her phone, money and a fruit roll-up she'd been saving, Jonah also steals her list of fears. Despite the theft, Esther and Jonah become friends, and he sets a challenge for them: in an effort to break the curse that has crippled her family, they will meet every Sunday of senior year to work their way through the list, facing one terrifying fear at a time, including one that Esther hadn't counted on: love.
Join us for an evening with Krystal Sutherland as she discusses her brilliant new book - and get your copy signed while you're here (books will be for sale at the event)!
RSVPs are essential, book now and don't miss out!
This is a free event.
Location
Dymocks Melbourne
234 Collins Street, Melbourne VIC 3000