WORLD VEGAN DAY LUNCH Sat 4 Nov 2017
Great Hall Parliament House Canberra

The vegan community, supported by Vegan Australia has arranged a special event to celebrate the growth of the vegan community in Australia. A World Vegan Day Lunch in the Great Hall venue of Parliament House Canberra on Saturday 4 November.
Celebrate vegan food and vegan voices in the political heart of the nation with a world class vegan menu featuring Indigenous and gourmet plant produce. Toast World Vegan Day with a fine vegan Sparkling Pinot Rose from Goodwill Wine.
Displays include the newly created Vegan Kids Magazine and Cruelty Free Super information together with a lucky door prize and inspiring videos from animal sanctuary charities from around Australia.
Thought provoking speakers include Joey Carbstrong, Greg McFarlane from Vegan Australia, Dr Anthony Hadj and Melissa Vanderhorst. MC for the occasion is Ron Prasad.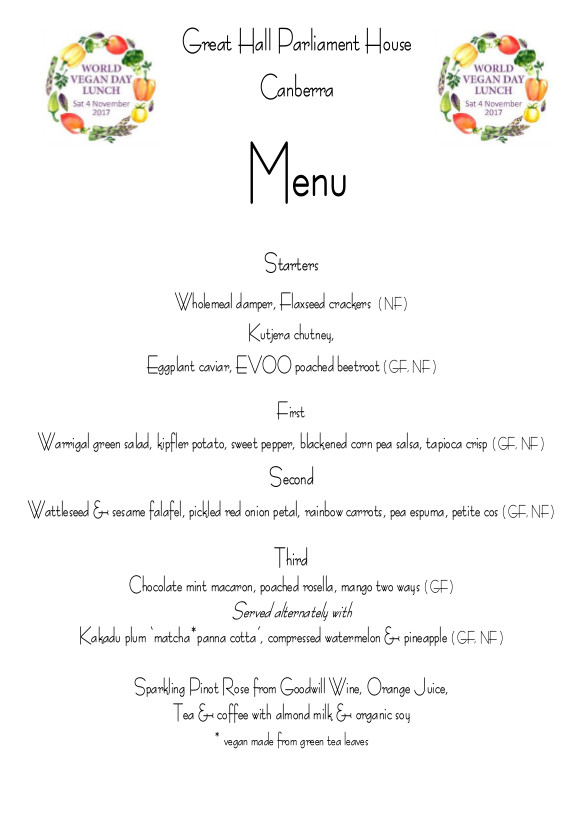 TO MAKE A DONATION TO SAVE A COW FOUNDATION, PLEASE CLICK here.
SATURDAY 4 NOVEMBER 2017
LUNCH 11:45 AM - 2:45 PM
STALLS open 11:00 AM
Location
Great Hall Parliament House Canberra
Parliament Drive, ACT 2600