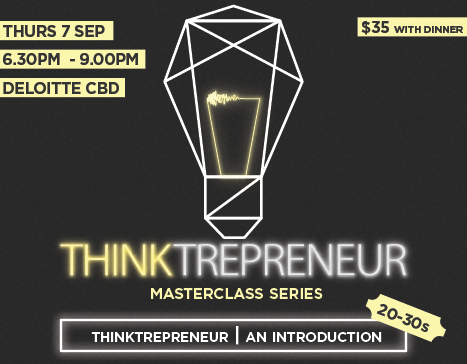 Launching the Thinktrepreneur Masterclass Series. Designed for young professionals, this series teaches strategies and skills for the entrepreneur and intrapreneur.
Do you want to think more creatively at work? Do you need to innovate within a large company? Do you have an idea and don't know what to do with it?
Learn to think outside the box and take risk. Be agile and problem solve effectively. Network and pitch like a pro.
THINKTREPRENEUR | AN INTRODUCTION
MASTERCLASS ONE
In this masterclass we'll uncover how you develop the mindset and toolkit of an entrepreneur, which will enable you to look at risk, deal with failure and examine your own creativity. Facilitated by Gauri Bhalla, CEO of Curious Collective and School of Life Teacher she will set the context of the series in a learn-by-doing workshop to help you understand how you might apply an agile mindset to make the impact you wish to see in your world.
Ticket price includes a light dinner (KA)
Watch this space, we will be releasing more masterclasses shortly!
Date: Thursday 7th September 2017
Time: 6:30pm
Venue: Deloitte Office CBD
225 George Street, Sydney
NSW, 2000
For more information contact Rebecca @ Shalom
P: (02) 9381 4281
E: rebecca@shalom.edu.au
www.shalom.edu.au