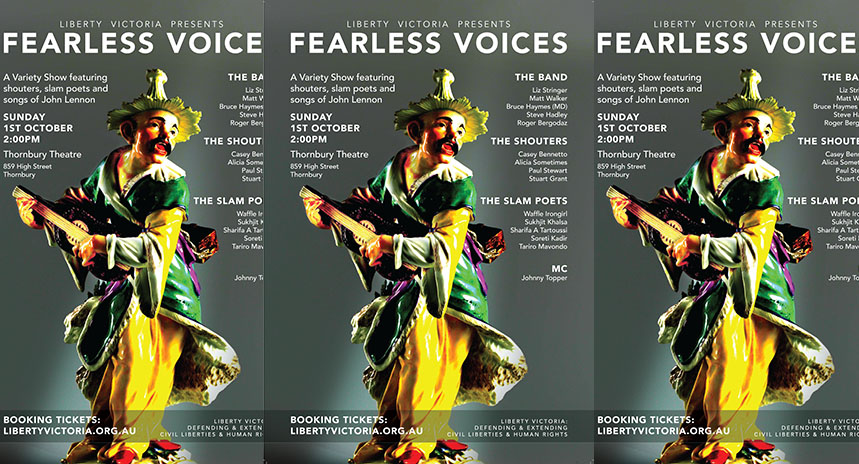 FEARLESS VOICES
A Variety Show featuring shouters, slam poets and songs of John Lennon
It's nearly 37 years ago since John Lennon was tragically murdered in New York. From the late 60's till he died in 1980, Lennon wrote a score of sweet and angry songs.
In acknowledging his penetrating social observations, Liberty Victoria is holding a Sunday afternoon event featuring his best songs.
Bruce Haymes, pianist virtuoso (Paul Kelly, Bachelors of Prague) will be performing with the rich and soulful voice of Liz Stringer, and backing band, Matt Walker, Steve Hadley and Roger Bergodaz.
Shouters: Casey Bennetto, Alicia Sometimes, Paul Stewart, Stuart Grant.
Slam poets: Waffle Irongirl, Sukhjit Khalsa, Sharifa A Tartoussi, Soreti Kadir and Tariro Mavondo.
Fearless Voices will be hosted by RRR's inimitable Johnny Topper.
It promises to be fun-filled and delightfully angry afternoon.
Sunday October 1. Doors open at 2.00 pm. Drinks and food available.
Table seating: Liberty Members $50 / Individuals $55 / Table of ten $500
THE THORNBURY THEATRE
859 High Street, Thornbury Vic 3071
Contact Liberty Victoria
info@libertyvictoria.org.au