The Wired Lab presents the 2017 Wired Open Day Festival


Join us as we open the gate to our site in the beautiful rolling hills of rural South-West New South Wales for 'The Wired Open Day Festival'.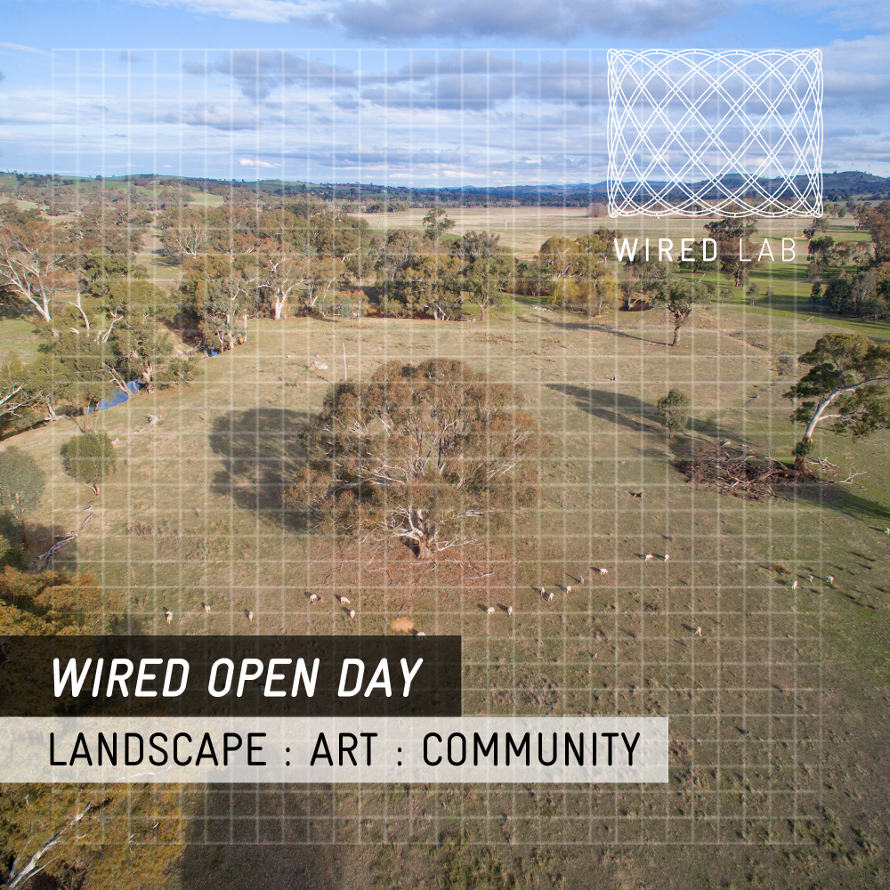 WIRED OPEN DAY
SATURDAY 21ST OCTOBER 2017
The Wired Open Day Festival is our signature all ages event featuring some of Australia's most notable visual and performing artists. Explore the land and discover specially commissioned projects as we premiere the 'agri(culture)' project, a collaborative series exploring the rural vernacular, emerging and ancient agricultural systems.
An all ages open-air event held from late afternoon into the evening, the 2017 'Wired Open Day Festival' is a celebration of place incorporating landscape, community, art, theatre, an evening concert, fantastic food and beverages.
Local produce will also a feature of this year's festival with food and drinks provided by outstanding local producers such as Grove Estate Wines, The Apple Thief Cider, and Tumut River Brewing Company.

This year's festival will premiere 'the agri(culture) project', a collaborative series with artists exploring the rural vernacular, emerging and ancient agricultural systems.

ARTISTS
Chris Watson (UK)
Field Theory
Cat Jones
Julie Vulcan
Bron Batten
The Ronalds
David Burraston
Chef Soon Lee Low
Harriet Goodall
Melanie Evans
Members of the Wiradjuri & Natural Resource Management Communities
Tamara Dean and Participants of 'The Edge' project - Young people from Cootamundra and Tumut.
TICKETING & EVENT DETAILS
SATURDAY 21st OCTOBER
Adults (18+ years)

$60 per ticket (GST inc)
Junior (4-17 years)

$40 per ticket (GST inc)

Please Note:
The Wired Open Day Festival bus departs from Cootamundra Post Office at 2.30pm and returns at 10.00pm.

Children 0-3 free entry.

Ticket price includes entry to The Wired Open Day Festival, your selected meal and bus travel to and from Cootamundra to The Wired Lab.

A main meal is included in the purchase price of your ticket and will be available on site from 7.30pm.

A selection of local Champagne, Beer, Cider and Wines will be available on site, along with hot beverages and soft drinks.




Please bring cash to pay for your drinks on the night.

We ask that no food, drink or animals to be bought on premises. This is to minimise waste disposal, comply with licensing laws and to help raise funds for our future initiatives.
VOLUNTEER CALL OUT
The Wired Lab has a wonderful crew of Volunteers and we are seeking additional Volunteers to assist with event logistics such as checking tickets, guiding people around the site, serving food and drinks. We are particularly interested in people who hold a current RSA (Responsible Service of Alcohol) Certificate.
In exchange for your efforts you will be provided with FREE event entry, travel to/from site and a meal/drink ticket. And fear not, we will ensure you have free time to enjoy the festival.
If you are a people person who likes to support cultural events please email us at: info@wiredlab.org
ATTIRE
The Wired Open Day Festival is an outdoor event, covered shoes and practical clothing must be worn.
If you suffer from allergies we suggest you wear long trousers and come prepared with your regular antihistamine medications. Spring can be a cool time of year in the evenings, bring warm clothes and a waterproof jacket in case we get a sprinkle of rain.
ACCESSIBILITY
As The Wired Open Day Festival is presented in the landscape and on a working farm, access to all the works could be challenging for those in a wheelchair or with mobility needs. Some works will require audiences to traverse the landscape, others such as the works after nightfall, require you to be seated. We have endeavored to make as many works as accessible as possible via an onsite 4WD that will suit people who require a cane or cannot walk more than 500 metres across a paddock or sloped terrain.
When you book your ticket please indicate if you will require the onsite 4WD or if you have any other access needs.
Anyone who can walk will easily access all the works.
ACCOMMODATION
HOTELS
Credit card details will be required to secure the booking.
The Heritage Motel: 1300 22 1000. 94 Hurley Street, Cootamundra
Southern Comfort Motor Inn: (02) 6942 3366 or 1 800 028 279. 24-28 Parker Street (Olympic Way) – Cootamundra
Cootamundra Gardens Motor Inn: (02) 6942 1833, 96 Sutton Street
Elm and Wren: BnB (& the BEST coffee in town): 0405 346 818, 37 Hurley Street, Cootamundra
PUB accommodation
An economical alternative
Central Hotel: (02) 6942 1346
The Globe: (02) 6942 1446
The Family Hotel: (02) 6942 1338.
Many Air BnB options are available too
Further information about accommodation options such as B&B's and more hotels can be found here: http://www.visitnsw.com/destinations/country-nsw/wagga-wagga-area/cootamundra/accommodation
TRAVELLING TO COOTAMUNDRA
Getting to Cootamundra, our nearest town, is easy peasy.
You can travel to Cootamundra by road, rail or air.
CAR:
Cootamundra is located on the Olympic Highway, from Canberra, Sydney and Melbourne you get to Cootamundra by primarily driving along the Hume highway.
From Sydney it's 385 km, approximately 4 hours.

From Melbourne its 563km's, approximately 6-7 hours drive.

From Canberra it is 185km's, approximately 2 hours drive.

From Wagga Wagga it is 96km, approximately 1 hour drive.
TRAIN:
CountryLink has XPT services daily from Melbourne and Sydney to Cootamundra.
From Sydney the train has 3 services per day leaving Central at 6.57am, 07:33am and 20:34pm arriving in Cootamundra at 12.17pm, 12:46pm and 01:42am respectively.

From Southern Cross station Melbourne the train has 2 services per day leaving at 8:30am and 19:50pm arriving in Cootamundra 14:38pm and 1:35am respectively.
Bookings: https://transportnsw.info/regional
PLANE:
The closest airport is Wagga Wagga, 1 hour drive away. Qantas, REX and JetGO service this airport with flights from Sydney, Melbourne and Brisbane.
Canberra Airport is 2 hours drive away. Qantas, Virgin, Tiger Air and Pelican service this airport with flights from all capital cities and many regional cities.
Both Wagga and Canberra airports are serviced by all of the major car hire companies
REX: http://www.rex.com.au/
Qantas: http://www.qantas.com.au/
Virgin: http://www.virginaustralia.com/
JetGO: https://jetgo.com/
Pelican Air: http://www.flypelican.com.au/
CONTACT DETAILS
The WIRED Lab | info@wiredlab.org | 0414 22 66 23
SUPPORTERS

THE WIRED OPEN DAY FESTIVAL and The 'agri(culture)' Project has been made possible by funding, sponsorship and in-kind support from State, Federal and Local government entities, Community Organisations and Private Businesses.
We are incredibly grateful for their support.