Changing the World through Self-Transformation: Walking your dharma with purpose, love and clarity.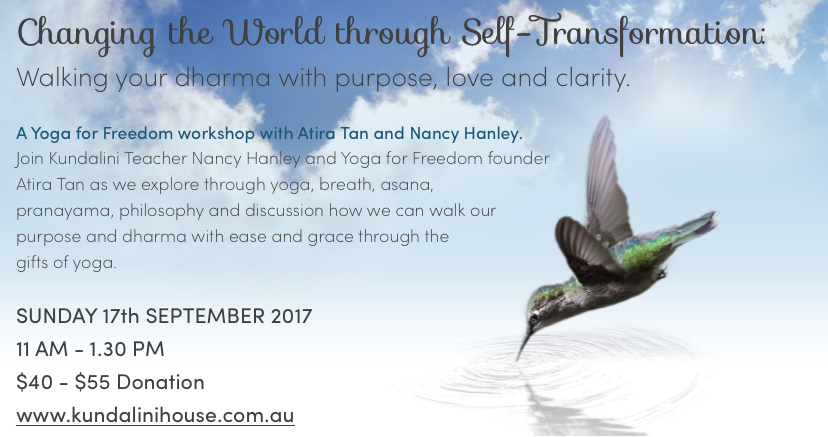 A Yoga for Freedom workshop with Atira Tan and Nancy Hanley.
Join Kundalini Teacher Nancy Hanley and Yoga for Freedom founder Atira Tan as we explore through yoga, breath, asana, pranayama, philosophy and discussion how we can walk our purpose and dharma with ease and grace through the gifts of yoga.
If you're passionate about transforming humanity or working in as a healthcare professional where you genuinely care about humanity and the planet, and want to do it sustainably and with joy, this workshop is for you! We will be sharing many tools, and you will leave feeling uplifted and inspired to love and serve the world!
This is Yoga for Freedom event, which means that 100% of all proceeds go directly to ending the vicious cycle of sex slavery through Art to Healing, our charity partner. For more information, please go to www.arttohealing.org and www.yogaforfreedom.org.au.
Sunday 17th September 11 am - 1.30 pm
Location
Kundalini House
391 St Georges Rd, North Fitzroy Vic 3068