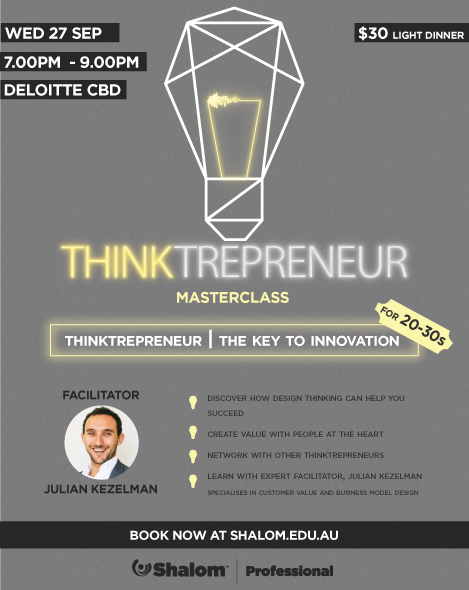 THINKTREPRENEUR | The Key to Innovation
What's all this talk about Design Thinking? Hint: it's a thinktrepreneur's best kept secret!
Innovation leader, Julian Kezelman, will show you how to design for your customers/patients/stakeholders/students/humans/animals to be at the heart of your work using this tool.
Innovative. Create solutions. Succeed.
Ticket price includes a light dinner (KA) and drinks.
Date: Wednesday 27th September 2017
Time: 7:00 pm
Venue: Deloitte Office CBD
225 George Street, Sydney
NSW, 2000
For more information contact Rebecca @ Shalom
P: (02) 9381 4281
E: rebecca@shalom.edu.au
www.shalom.edu.au
About Thinktrepreneur
The Thinktrepreneur Masterclass Series is designed for young professionals and teaches strategies and skills for the entrepreneur and intrapreneur.
Do you want to think more creatively at work? Do you need to innovate within a large company? Do you have an idea and don't know what to do with it?
Learn to think outside the box and take risk. Be agile and problem solve effectively. Network and pitch like a pro.