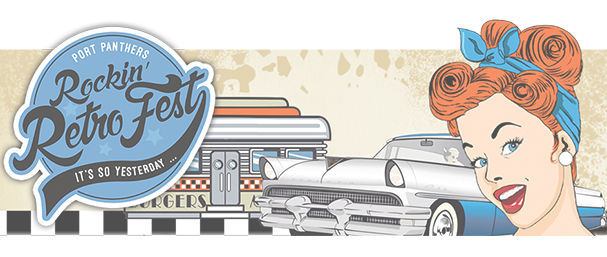 Description -
Tickets sales closed 23 August 2018.
There will be 30 weekend passes available at the door tonight (Friday). Its likely that the Gala Ball has been sold out.
Port Macquarie Panthers Rock & Roll Dance Club hosting Port Macquarie's biggest Retro and Rock & Roll nostalgia festival bring you RetroFest 2018.
The event will draw visitors who have an interest in Rock & Roll, Music, Dance and Fashion. Held 24 - 26 August 2018 with Whole Weekend Dance Pass or individual event tickets available.
Note: Weekend Dance Pass is for access to the Panthers Auditorium Only. $5 from each Weekend Dance Pass will be donated to "Make a Difference" the local promoter of Orange Sky Vans. Does not give Entry to "Sydney Swing Katz" workshops.
Fashion Parade (using storeholders clothing and accessories) will be in the Panthers Auditorium 10:10am on Saturday.
Pinup Parade (Miss Dolly & Miss Retrofest) will be in the Panthers Auditorium 11:30pm to 12:15pm on Saturday.
The crowning of Miss RetroFest 2018 will be at 8:30 pm.
Venue
Port Panthers Auditorium
1 Bay Street
Port Macquarie, NSW 2444
Contact Details:
Ross Cutrupi 0458 429 944
or